MBW's Stat Of The Week is a series in which we highlight a single data point that deserves the attention of the global music industry. Stat Of the Week is supported by Cinq Music Group, a technology-driven record label, distribution, and rights management company.
---
Back at the start of last year, if you were to place bets on which companies would thrive the most in the world's 'new normal', Alphabet's YouTube might not have topped your shortlist.
That's because the prevailing wisdom, and the early signs, suggested that online advertising was going to take a severe hit as lockdowns were enforced worldwide.
In the end, YouTube rode out 2020 having generated some $19.77 billion from ads in the year – actually up 30.5% on the equivalent annual figure from 2019.
In 2021, however, YouTube is hitting new heights that even its most fervent commercial believers may not have dreamed of.
In the three months to end of June 2021 (Q2), YouTube generated a whopping $7.002 billion from advertising alone – equivalent to approximately $77 million a day, or $3.2 million every hour.
That's according to new fiscal results from Alphabet for the period, which tell us that YouTube's Q2 2021 ad revenue ($7.002bn) was up by 83.7% on the equivalent figure from 2020 ($3.812 billion).
---
Earlier this year, MBW forecast that, with a lucky headwind, YouTube might even surpass $29 billion in annual advertising revenue across the whole of 2021.
Right now, that's looking very plausible: In the six months to end of June this year, the platform generated $13.007 billion in ad revenues, according to Alphabet.
That's not too far off double what YouTube generated in the equivalent six months of 2020 ($7.850 billion).
---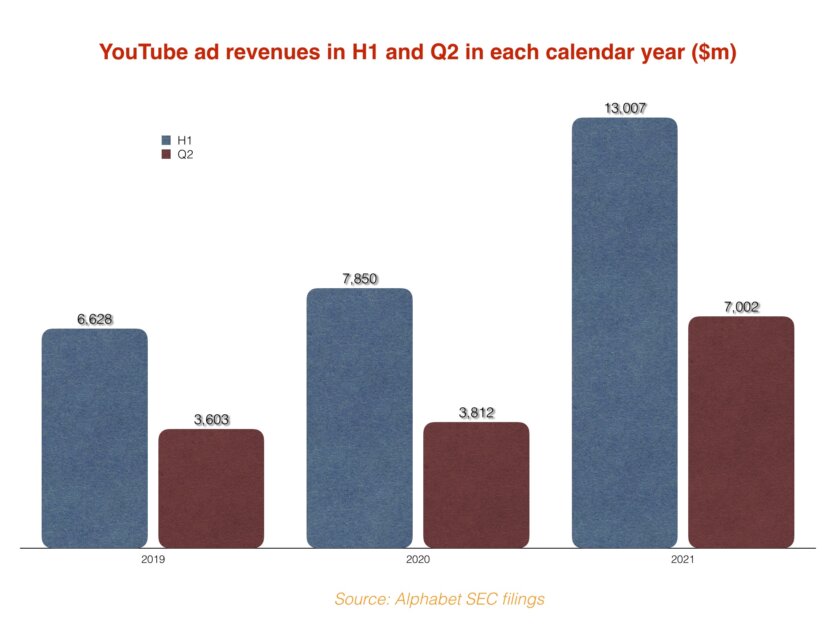 ---
These numbers, don't forget, don't include subscription revenue on YouTube generated by those customers paying for YouTube Music and YouTube Premium each month. (YouTube Premium subscribers, who pay $11.99 per month as standard in the US, get a YouTube Music sub wrapped into their membership.)
According to recent data from Midia Research, YouTube Music / Google claimed an 8% share of the global music subscription market at the close of Q1 this year. With 487 million total music subscribers worldwide, that put Alphabet/Google/YouTube at approximately 39 million music subs globally.
"We are pleased with the progress we are making with YouTube subscription products across Music, Premium and YouTube TV."

Sundar Pichai, ALphabet
During Alphabet's Q2 results reveal yesterday (July 27), the company offered no updates on the number of subscribers signed up to YouTube Music.
However, Alphabet CEO Sundar Pichai did say on an earnings call that he was "pleased with the progress we are making with YouTube subscription products across Music, Premium and YouTube TV".
---
Last month, YouTube's global Head of Music, Lyor Cohen, claimed that YouTube Music was "the fastest growing [music] subscription service out there".
In the same week, YouTube revealed that it had paid the music industry over $4 billion in the previous 12 months via the "twin engines" of advertising and subscription revenue.
With over $7 billion now being generated by ads alone on YouTube in a single quarter, music rightsholders will no doubt start wondering what kind of slice of that money might be coming their way. Especially as research suggests that music videos account for more than 20% of all views on the platform.
"Our business is built on revenue share models that succeed only when our partners succeed."

Philipp Schindler, Alphabet
Speaking in June, Martin Mills, Chairman of indie label powerhouse Beggars Group, applauded YouTube's most recent royalty payouts to the music industry.
Mills commented: "YouTube's growth for the Beggars business over the past couple of years has outpaced everyone as well as the market itself, and is now well on its way to deliver the potential of its huge audience to the music industry, as these revenue figures now show."
Speaking to investors yesterday, Alphabet's Chief Business Officer, Philipp Schindler, said: "Since our founding, we've always believed that the future of Google and the future of our partners are intrinsically linked, from individual YouTube creators and major music labels, to global and local online publishers, to play developers, big and small.
"Our business is built on revenue share models that succeed only when our partners succeed."
---

Cinq Music Group's repertoire has won Grammy awards, dozens of Gold and Platinum RIAA certifications, and numerous No.1 chart positions on a variety of Billboard charts. Its repertoire includes heavyweights such as Bad Bunny, Janet Jackson, Daddy Yankee, T.I., Sean Kingston, Anuel, and hundreds more.Music Business Worldwide