Spotify has launched a new version of its Premium tier in India called Premium Mini with daily and weekly pricing options.
Premium Mini costs 7 rupees (approximately $0.10 ) per day and 25 rupees ($0.34) per week.
A monthly subscription for the full Premium Individual service in India costs 119 rupees per month, which works out to around $1.62, while a Premium Duo plan costs 149 rupees ($2.02) per month.
Premium Mini offers 30 song downloads and unlimited ad-free music, on one mobile device, compared to 10,000 song downloads for Premium Individual, which can be also be used on a desktop.
According to Spotify's FAQs, Premium Mini users can "add more Premium" to their accounts any time without using a credit card and can load their account with up to three months of Premium if they buy Mini.
Spotify adds that if a user doesn't top up their account with Premium Mini before their plan ends, their account will automatically revert back to Spotify's free service.
When that happens, they'll keep their library and playlists, but any downloaded songs will be removed.
As reported by news site INC42, SPOT has also cut the annual price of its Premium subscription from 1,189 rupees ($16) to 999 rupees ($14) until December 31, 2020.
---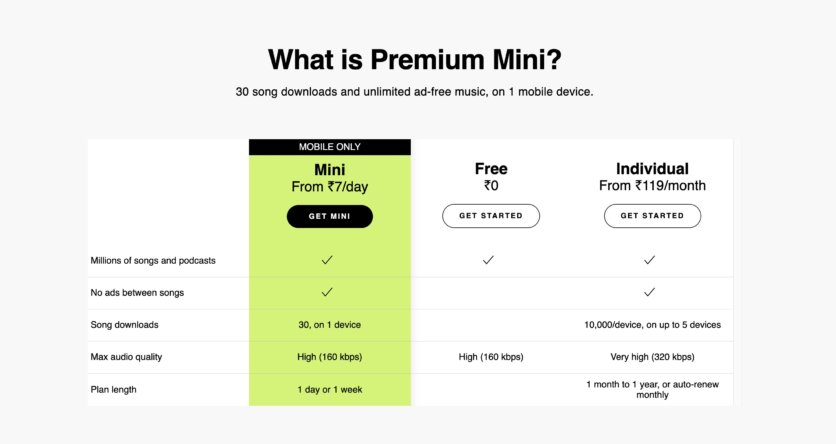 ---
Premium Mini might help Daniel Ek's company to compete with other players in the market such as JioSaavn and Gaana, but there's a good chance the new pricing won't exactly please those in the industry who are sceptical about where the company's ARPU is heading.
In Spotify's Q3 2020 results, published at the end of October, the company revealed that its premium subscriber growth (+27%) was outpacing its premium revenue growth (+15%) across the quarter.
What that means is that in Q3, the average revenue paid each month by its Premium subscribers around the world (ARPU) continued to fall.
SPOT's ARPU of €4.19 in Q3 was down 10% year-on-year on the €4.67 reported in Q3 2019, which was itself down 1% compared to the same quarter in 2018.
Spotify stated in October that outside of currency effects, "product mix accounted for the majority of the ARPU decline, followed by geographic mix".
In other words, the average amount paid by Spotify Premium subscribers worldwide is being reduced by promotional deals, family plans, telco bundles and international pricing.
Spotify launched in India in February last year.Music Business Worldwide