Montreal-based LANDR launched the world's first AI-powered mastering service back in 2014, allowing musicians to master tracks instantly without the help of an audio engineer.
Since then, LANDR, which recently secured $26m in Series B financing from the likes of Sony Innovation Fund and Warner Music, has become a full service creative platform for musicians. Today, it offers distribution services to streaming platforms like Spotify and Apple Music, in addition to rent-to-own plugins, collaboration and social promotion tools as well as sample packs.
"We think that providing artists with the right samples, through artificial intelligence, is the best way to help them focus on their art."

Pascal Pilon, LANDR
LANDR works with over 2.5 million artists, songwriters, composers, producers, engineers and labels from 160 countries around the world.
Now, the firm is aiming to cause yet another major disruption with the launch of an AI-based sample recommendation service – the first of its kind, says LANDR, and one that will completely revolutionize the way artists make music.  
Here, MBW grills LANDR CEO Pascal Pilon about AI, and why his company believes it can changed the landscape for musicians and songwriters…
---
What can AI do for musicians?
Musicians rely on technology to make music, and AI can help them achieve a number of music-related tasks, faster. By replicating certain behaviors that are typically done by humans, an AI can save artists money, speed up their workflow and improve the overall quality of their sound, while allowing them to stay focused on the creative aspects of their work. 
Our goal at LANDR is to support and enable our users' incredible creativity. We think that providing artists with the right samples, through artificial intelligence, is the best way to help them focus on their art. By using AI as a curation tool, we're able to simplify the process of looking for sounds significantly. 
LANDR's new sample recommendation tool, Selector, uses artificial intelligence to deliver tailored sounds and suggestions to musicians – in seconds. By looking at a range of data points – including acoustic similarity, key, timbre and rhythm – Selector serves artists the perfect loops, single hits and one shots to drop into their DAW and gets even more personalized over time.
It's a revolutionary tool and something we're extremely proud of.
---
Why samples?
Samples have become a huge part of music production. From instruments, to vocals, to SFX, you can find a sound for everything and anything online. But browsing through an ocean of samples can be a tedious process. 
We used our AI expertise to eliminate that pain point for musicians, and allow them to explore our sample database in a way that is driven by sound. LANDR's powerful AI looks through hundreds of thousands of samples for you. It gets to know you and your taste, filters through a vast library of royalty-free sounds from major artists, labels and producers and delivers the perfect sample each time. It's a huge time saver and a game-changer for musicians everywhere. 
The expansion of LANDR Samples also includes signature sounds from renowned artists like Chris Liebing, Loco Dice, Pan-Pot and Alan Parsons, as well as catalogs from top labels such as Cr2 Records, Function Loops, Carma Studios, Engineering Samples, WA Production, Catalyst Samples and many more.
---
---
How does it work? 
We've added one million sounds to our database and completely re-designed our interface for a better, more efficient browsing experience.
LANDR Samples is also mobile-friendly. It lets artists find inspiration on-the-go and stay creative anywhere. 
Finally, like all of our products, it's affordable.  
[To find out for yourself: (i) Visit samples.landr.com; (ii) Find a sound you love and let LANDR's Selector suggest the perfect match; (iii) Narrow down the sounds by exploring the powerful filters on offer; (iv) Download the perfect sound; (v) Make your best music.]
---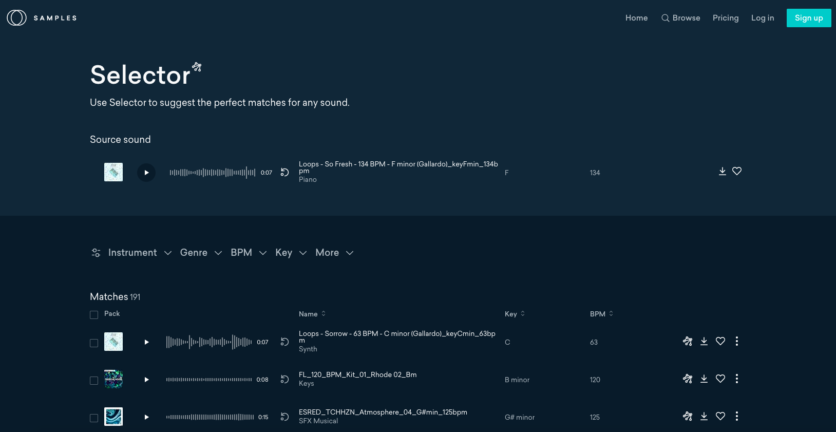 ---
Who uses LANDR?
Both established and emerging musicians. LANDR has mastered over 12 million tracks, and releases about 20 000 tracks monthly. It's been used by renowned artists and top labels, like Atlantic Records and Interscope. 
---
What else is coming up?
We want artists to focus on what they love most, making music, and to feel closer to their goals with every dollar spent on the LANDR platform. 
LANDR just closed a $26 million round of financing with investments from Shure, Sony Innovation Fund and Warner Music Group. It will use this new capital to grow the team, expand into new markets and further capitalize on its position as a leader in music AI. New products and innovation will also be a key area of focus, as LANDR continues to add powerful features to its platform.
We set out on a mission to empower artists with AI and democratize great sound, and we're just getting started.
---
Those keen to check out more about LANDR can do so through here.Music Business Worldwide