2014 probably won't go down as one of Lucian Grainge's all-time favourite years at Universal.
Despite global success with artists like Sam Smith, 5 Seconds Of Summer, Maroon 5 and Taylor Swift, digital income from recorded music fell at UMG for the first time in history.
Notably, it dropped for the first time since Grainge started as CEO of the company in 2011.
Digital revenues declined by 0.4% at UMG in 2014 on a constant currency and perimeter basis – a metric which excludes 2013 revenues from UMG's temporary ownership of Parlophone Label Group before it was sold to Warner.
But further MBW analysis shows that in straight monetary terms, digital income at UMG declined by 4.1% year-on-year – from €1.705bn in 2013 to €1.636bn in 2014. And on a constant currency basis alone, the decline represented a 2.8% fall.
Whichever way you view the numbers, it's very clear is that, in 2014 at least, huge increases in streaming usage (Spotify's total user base has now surpassed 60m) failed to offset declines in digital downloads at UMG.
And that, for Universal boss Grainge, simply won't do.
Behind-the-scenes, this decline – in a digital sector whose continuing growth is vital to UMG's future stability – will surely now prove a factor in driving Grainge's growing, vocal impatience with 'freemium' services. And his insistence that some music, if not all music, deserves to be paid for out of the pocket of consumers.
On the other side of this debate is Spotify's Daniel Ek, who refuses to allow certain new music to be released as 'premium only' on his platform – arguing that maximising freemium content is the only way to kill piracy before you upsell users to paying a monthly subscription.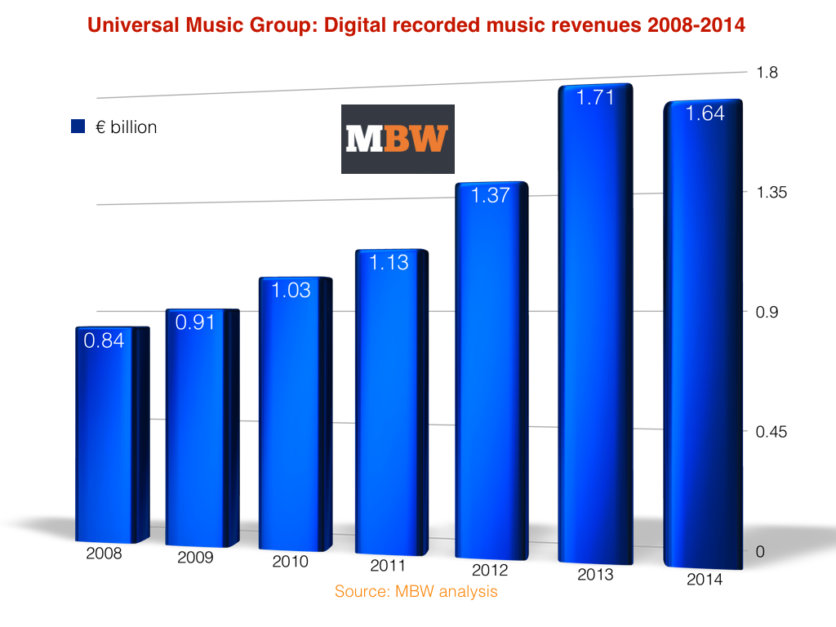 Universal has parted ways with two senior digital executives in the past couple of weeks – Global Digital President Rob Wells and one of his understudies, David Ring.
Meanwhile, Grainge has gone on record as saying that the ad-funded streaming model alone simply cannot "sustain" the music business and its artists.
This information, combined with the graph above, suggests we're almost certain to see some kind of change in streaming strategy from Universal in 2015. Adding spice to the story is the fact that new, premium-only streaming launches from Apple and YouTube are now just months away.
Grainge's recent announcement that UMG would be windowing music video content on Vessel, ahead of a general release on YouTube and Vevo, strongly hints at the direction that Universal may now take its audio catalogue.
With a market share of more than 30% worldwide, whatever UMG decided to do with streaming services in 2015 (and some sources suggest it is threatening to pull elements of its catalogue from Spotify in a worst-case-scenario by the end of the year) will doubtlessly impact on the wider music market.
Something that may bring Grainge some cause for annoyance is that UMG's rival, Warner Music Group, hasn't suffered from the same digital income pattern – although an accurate like-for-like comparison is very difficult without knowing exactly what one-off income streams (ie. advances) are being reported when.
Within WMG's fiscal full year, which finishes at the end of September, Warner has posted increases in annual digital income every year on record – including in 2014.
Perhaps this explains why the major's CEO, Stephen Cooper, appears to be in less of a hurry than UMG and Grainge to push Spotify to increase its free-to-premium consumer split from its current (and consistent) 25%/75% ratio.
(Sony Music's specific digital income figures are hard to come by as the company reports its financials as part of Sony Corp.)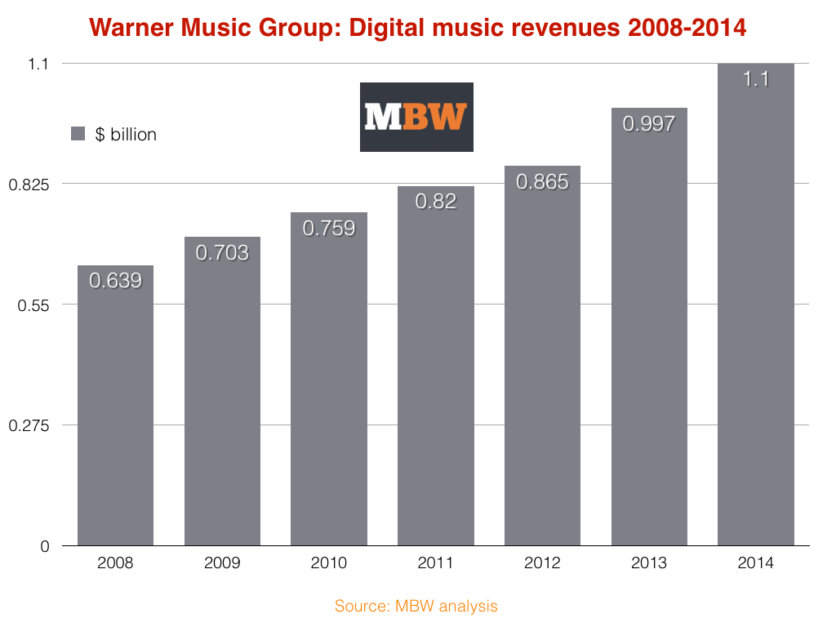 The good news for Grainge and his executive team is that, despite 2014's blip, UMG parent Vivendi certainly still appears to have faith in the future acceleration of the digital streaming music marketplace.
Vivendi chairman Arnaud de Puyfontaine joked to investors on Friday that when it came to streaming, "Rome wasn't built in a day" and that UMG would be working "eight days a week" to take advantage of a fast-developing marketplace soon set to include Apple and Google.
Also, let's not forget that Universal Music Group's overall business is still in good health. Despite sales declines, it maintained a €4.5bn-plus annual turnover in 2014 and posted an EBITDA up 10.7% (or 20.2% at constant currency/perimeter) to €565m in the year.
As MBW reported on Friday, Universal Music Group's full-year revenue fell 6.7% in 2014 to €4.56bn, as its recorded music division's sales dropped 7.6% to €3.69bn.
As you can see below, UMG's physical music sales fell 15% in basic terms in the year (12.2% in constant currency/perimeter) – from €1.665bn in 2013 to €1.417bn in 2014.
UMG said this decline was in line with industry-wide trends.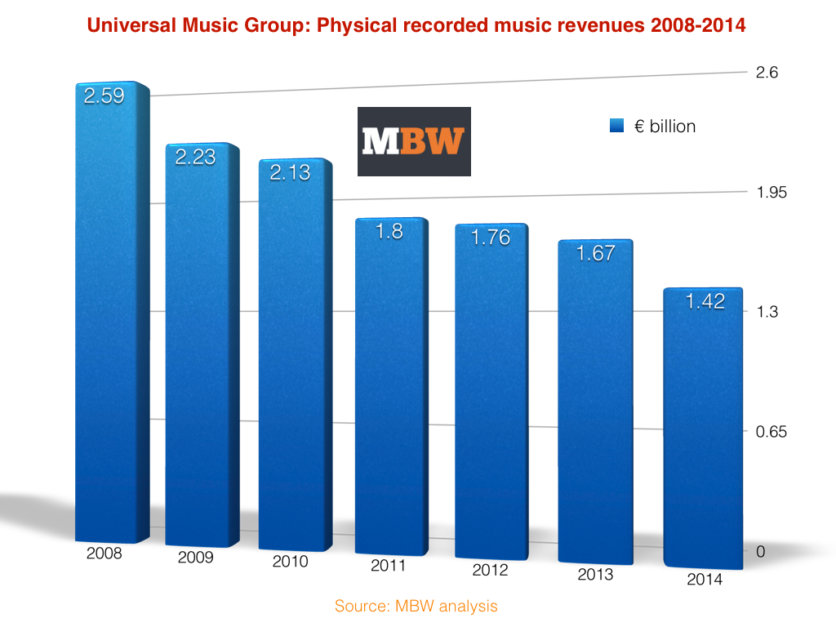 Explaining other reasons for Universal's declines in 2014, Vivendi's Arnaud de Puyfontaine stated that there had "been some schedule slippage in Q4 2014", which meant that Vivendi now "expected our schedule in the first part of [2015] to be strong".
This 'slippage' almost certainly included a Rihanna album, which was widely expected to arrive in time for Christmas but never showed.
(When viewing the below graphs, bear in mind that on July 1, 2013, Vivendi sold Parlophone Label Group to Warner Music Group for a consideration of €591 million. The arbitration process in respect of contractual restatements to Parlophone Label Group's sale price completed at the end of November 2014 and UMG was awarded a further €30 million.)