The following MBW blog comes from respected veteran music biz journalist Larry LeBlanc with X-Ray Touring agent Beckie Sugden. The duo joined five other senior industry figures – Martin Goldschmidt (Cooking Vinyl) Martin Elbourne (Glastonbury), Malcolm Haynes (Glastonbury), Mark Meharry (Music Glue) and Scott Cohen (The Orchard) – last month in Ramallah, Palestine. It was the 'dry run' for the Palestine Music Expo, taking place in April 2017, which aims to support and highlight local musical talent in the region. For more information, please visit: https://palestinemusicexpo.com/
---
Imagine not being able to play a gig 40 minutes down the road because you don't have the right permit to travel, imagine there were no promoters to put on your shows at any stage in your career; these are just a few of the issues facing the Palestinian musicians we met recently as part of the newly set-up Palestine Music Expo (PMX).
On a humid November day in Ramallah, West Bank, seven international music industry representatives settled down in a local restaurant, ready to meet 12 Palestinian musicians for a historic lunch.
The décor was much like you would expect in a basic family run Mediterranean restaurant, with fans buzzing overhead and terracotta paint on the walls. A printed menu, with 5 dishes listed, graced each seat and fresh orange and lemonade in carafes waited for us on the tables.
With admittedly a basic understanding of the situation and a view completely constructed by the western media, I was intrigued and excited to meet everyone and hear what life for a musician in Palestine really meant.
Having started our tour of Ramallah in a local refugee camp, the day had begun in an emotionally testing way, but with the entrance of the musicians the mood was instantly lifted. What followed was an afternoon of education, laughter, excellent food, beers, hookah pipes and open and frank conversation.
"I was intrigued and excited to meet everyone and hear what life for a musician in Palestine really meant."
On both sides, there were big questions about how things worked, both in the industry and how everything operated on a ground level. One of the things that struck me most from these conversations was as Palestinian's they must obtain permits to travel into Israel, which are very rarely granted meaning not only can they not play in the country, but that some of their favourite artists will come to Tel Aviv and they have no way of going to see them; as no international acts play in Palestine.
In addition to this we heard frustrations of papers being delayed, meaning that tours and festival performances in Europe had to be cancelled, and to add to the problem there is no airport in Palestine so they have no choice but to travel to Jordan to fly anywhere, meaning more papers and added costs.
What was also clear was there is a lack of industry infrastructure. There are venues, but the bands have no option but to put on gigs themselves as there are no promoters, and beyond that an obvious lack of managers, agents and labels. These musicians have no choice but to be in control of every element of their careers, which is a big job on a full-time basis. Yes, bands starting out have to do this for a few years, but there seems to be no-one to turn to take things to the next level.
Everything about the Palestine music scene is internalised. No international acts are playing there and it is complicated for them to play outside of the country, plus the bands only have themselves to rely on; how could you not to feel frustrated and trapped in this situation?
"how could you not to feel frustrated and trapped in this situation?"
That is precisely what Martin Goldschmidt and the founding team of PMX are hoping to begin to change by educating the future music industry and opening the doors to Palestine, both to international acts considering it as a touring destination and to aid the growth of Palestinian musicians in the global market. This is not a small challenge and this is only the beginning, but with the first PMX taking place taking place 5-7 April 2017, following this trip, I for one am determined to begin to try and change the outlook for these musicians.
To spend any time in these guys' company you feel their hunger and determination for more, and to have been afforded the opportunity to meet them, and to be part of this historic lunch was a true honour, and I don't exaggerate when I say it was life changing. It's hard to make people realise how frustrating this situation is when just looking in, but to hear it from the affected musicians themselves was mind blowing; as to think of this situation applying to any of the artists on my roster was completely implausible.
No artist should have to go what these guys go through daily to do what they love, especially when the chances of breaking out of the local market given the current situation are almost zero.
PMX needs your support to change this and I hope together we can begin to add Palestine to the touring map and Palestinian musicians to our rosters.
---
Comments from the attendees of the November Palestine trip:
---

Mahmood Jrere, Co-Founder of the Palestinian Hip Hop group, DAM
It was a great opportunity to meet professionals from the music industry, tour with them and introduce them to the Palestinian music scene. Palestinian musicians work hard to bring their music to the international stage and events like PMX, help make that a reality.
---

Scott Cohen / founder and vp international, The Orchard
Throw away everything you think you know about Palestine. Unless you've been to places like the West Bank, you've been fed stories that don't match reality. I visited Ramallah last week. I was surprised to learn of the music scene. Yes, a music scene. Super cool hip hop artists, rock bands, you name it. Artists struggling with limited resources but filled with ambition. Fuck Brooklyn and Shoreditch. This is where the shit is happening. But they could use some help. Who couldn't.
Maybe their challenges are greater. They are forced to live behind a wall. Subject to open discrimination and violence. Caught up in political and often military battles. But they are artists. They have a voice. And they deserve to be heard.
I was lucky enough to meet some of these artists. We ate and drank together. We laughed. And then we plotted. How can we help? How can we bring the industry to them and how can they travel outside? We have some answers but it is only the beginning. We can't promise success but we can promise them an opportunity. They just need the door cracked open. They can take it from there.
---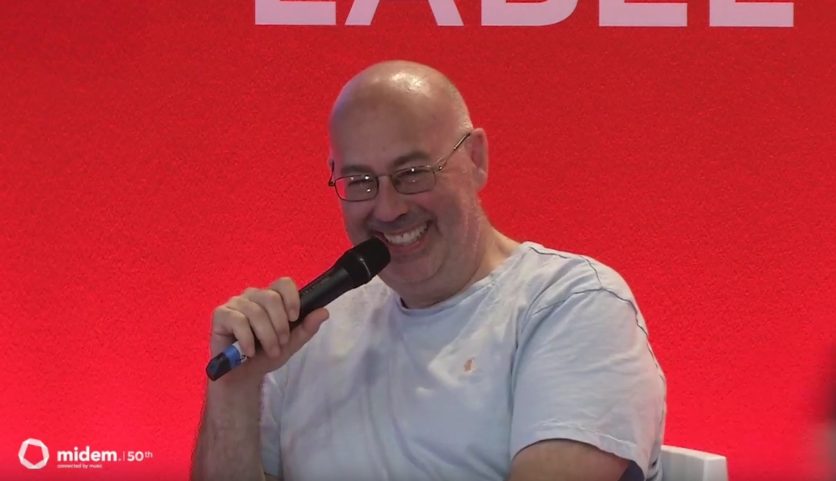 Martin Goldschmidt, Chairman – Cooking Vinyl Group
When they bring in the hookahs in the West Bank it's something else. Beckie's (Sugden X-Ray touring) face lit up. She puffed away on a 3ft high hubbly bubbly.
Seven music industry vets were having lunch with 12 Palestinian musicians. The Palestinians had arrived fashionably late, not sure what to expect. The atmosphere was charged. Everyone started mixing and talking.
The noise level became a 10. It was a historic first meeting for Palestine Music Expo. Once the ice had broken the musicians were overwhelmed that we wanted to help them, and we were gobsmacked by their personal stories of life under the occupation. Larry told the Palestinians that their experiences were unique and no one else could rap or sing about their situation. It stuck in many people's heads.
"we were gobsmacked by their personal stories of life under the occupation."
Two days later my PMX Comrades (Mahmood from Dam, Abed from Khalas, and Rami, journalist and activist) did a panel in Haifa, Israel for Palestinian musicians.
75 turned up and it was another first. Mahmood and Abed talked about creating the Palestinian Rap and Rock scenes from nothing and gave the strong message that you can be successful but you really have to be prepared to work hard and suffer for your art along the way. I fielded a variety of questions from what is streaming, to how do you release a record…
At 1.30am we left. 2 people kindly offered us their venues for free in April. The musicians are going to have monthly meetings in Haifa to help each other and share skills leading up to Palestine Music Expo in April in Ramallah and Haifa.
Our dry run was a great result, thanks everyone who participated!
---
Malcolm Haynes, Glastonbury
I want to give my gratitude for everyone who welcomed us to Ramallah. It was certainly an eye opener and life changing trip. To see and hear the stories of how you survive hits me with a heavy heart.
I hope that from our trip this will open doors to getting Palestinian music out to the wider world and in some way help the overall situation which I fully understand how complicated it is.Music Business Worldwide