The following MBW blog comes from Kim Bayley (pictured), CEO of the UK's Entertainment Retailers Association (ERA). ERA recently published statistics which show that 'Superfans' of CD and vinyl – ie. those spending £400 or more a year on either format – shelled out £180m on physical music last year, equivalent to 15% of the UK's total music retail market… including streaming.
---
We love streaming at ERA. And why would we not?
Streaming has not just put a spring into the step of the entertainment market, it has also transformed our association itself, helping turn what was a fairly standard trade association focused on physical stores into a thriving, dynamic community which represents not just the cream of Britain's physical retailers, but also some of the biggest and most successful tech companies in the world.
We have been in the trenches with our music streaming members like Napster, Deezer, Google Play and Spotify pretty much since day one.
So we have no hesitation in saying streaming is A Good Thing.
But is it possible that amid all the excitement about Spotify's share listing, Apple Music hitting 50m subscribers and YouTube launching its new music service that we are forgetting something really rather significant: music on disc is also A Good Thing.
---
In fact, according to figures from ERA's authoritative quarterly consumer tracking study the compact disc and the vinyl record have considerable commercial advantages over the streaming subscription.
We recently revealed that an astonishing 157,000 people in the UK – equivalent to the entire population of a town like Chelmsford in Essex – are spending £400 or more a year on vinyl records.
At an average retail price of around £20, that's 20 vinyl LPs a year, per head.
To put that in streaming terms, these people are spending more than three times the annual cost of a nominal £9.99 streaming subscription for a product which is less convenient, cannot be played on the daily commute or at the gym and which offers them, across 20 albums, perhaps no more than 250 tracks compared with the tens of millions of tracks they could access with a streaming subscription.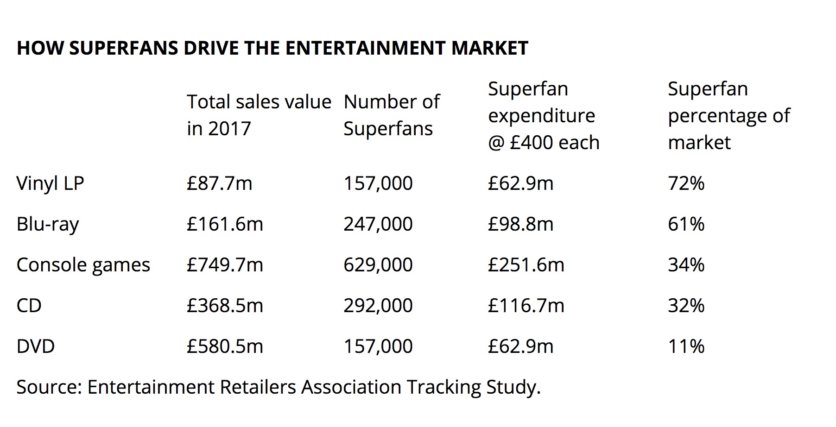 ---
The dominant narrative of the music industry for at least a decade has been to "transition" music fans from physical to digital, but it is clear that in the case of these 157,000 people a transition to digital would not be good business.
On the contrary, since between Superfans account for 72% of vinyl sales, it would effectively undo all the gains of the vinyl revival, and most likely sound the death-knell for scores, if not 100s, of independent record shops.
"Superfans spent between them £63m on vinyl in 2017, equivalent to more than half a million – 525,000 – premium music subscriptions."
Naturally it would have a clear financial cost: according to ERA's research those 157,000 vinyl Superfans spent between them £63m on vinyl in 2017, equivalent to more than half a million – 525,000 – premium music subscriptions.
In other words, lose a town's worth of vinyl buyers the size of Chelmsford and you need a city's worth of premium music subscribers the size of Manchester to make up the loss.
---
When it comes to CD, the impact is even greater. ERA's researches show that in 2017 an incredible 292,000 Britons spent £400 or more on the format. That's equivalent to buying a CD virtually every week.
These CD Superfans spent in aggregate nearly £117m. Convert them all to premium streamers and their expenditure would shrink to just £35m.
Or, to put it another way, if they were unwilling or unable to buy CDs, you would need 972,500 premium subscribers to replace that lost revenue.
Which is another way of saying that the industry should ignore its Superfans at its peril.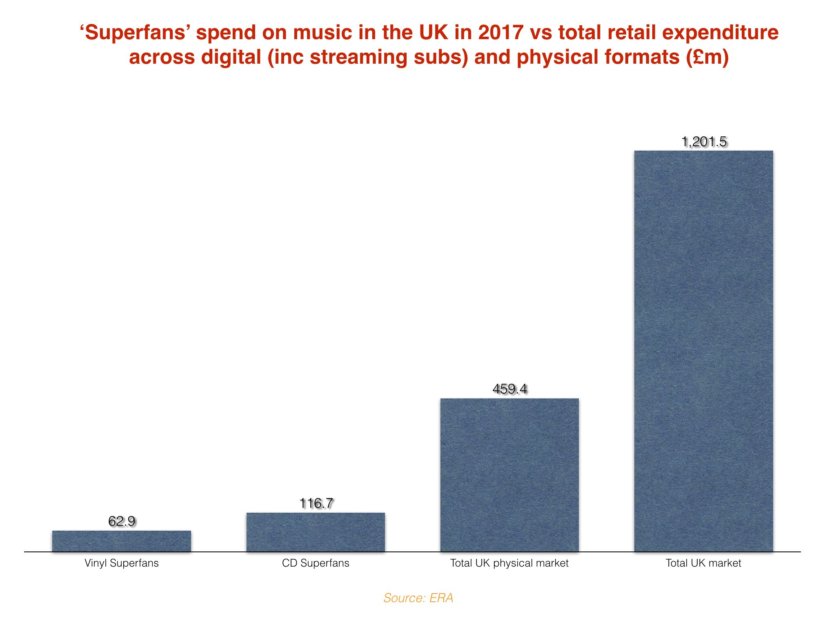 ---
It is fair to say that the record industry now mostly acknowledges the virtues of a mixed physical-digital ecology.
The fact is that not everybody wants to stream. The dramatic increase in sales of vinyl proves that physical formats offer features which streaming can never match. Physicality can be a virtue in itself.
And no matter how much what the Daily Mail might describe as the "Metropolitan elite" might argue that streaming is the modern way, there are hundreds of thousands of consumers in the UK who have yet to be convinced.
ERA continues to believe that a multi-channel market which offers music fans multiple ways to consume music is the best way of maximising the value of the market.
Any premature curtailing of format choice for consumers will damage not just retailers, but the overall health of the music industry itself.Music Business Worldwide