Overall, 2023 has been a good year so far for Spotify. Despite two rounds of job cuts – in January, then June – that affected around 800 employees, the firm's market cap so far this year has nearly doubled (up from USD $15.83 billion on January 3 to $30.9 billion on September 5, according to YCharts).
But how much longer can Spotify hold on to its position as the world's biggest music streaming provider in terms of global paid-for subscriptions?
According to Goldman Sachs, for a long time yet.
This is illustrated in Goldman's latest Music In The Air report, which was published in June, and forecast that Spotify will remain the biggest music DSP by global subscribers all the way through to 2030.
What's more, Goldman predicts that SPOT will maintain its market share of global paying subs in music at around the mid-30% level throughout the rest of the 2020s, despite not being available in China.
(Tencent Music Entertainment/TME, China's biggest music streaming subscriber, plus majority-parent, Tencent Holdings, jointly own around 8.6% of Spotify's equity today; Spotify in turn also owns an 8%+ stake in TME.)
---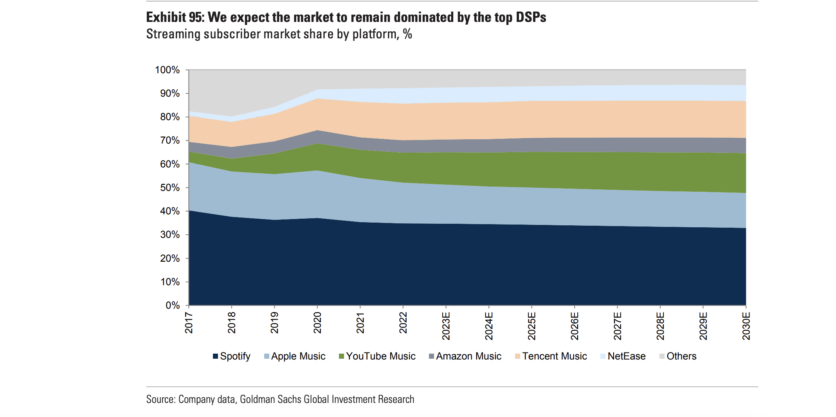 ---
Lisa Yang, MD of Media & Internet at Goldman Sachs' Global Investment Research, explained Goldman's confidence in Spotify's long-term prospects on the latest Music Business Worldwide Podcast. (Listen to Yang's interview through here.)
Said Yang: "Spotify is probably the most important independent music streaming 'pure play', and competes against services that are part of larger tech conglomerates, that obviously have deep pockets and don't necessarily think about music [as] the center of their profit pool.
"Despite that, and despite the proliferation of new services… what you find is that, outside of China, if you look at the [global market] share of Spotify, it has been actually broadly stable since 2017, at around 41% or 42%.
"Outside of China, if you look at the [global market] share of Spotify, it has been actually broadly stable since 2017, at around 41% or 42%. That [suggests] it's going to remain dominant, and that's what we project."

Lisa Yang, Goldman Sachs
"That [suggests it] is going to continue to remain dominant, and that's what we project. We actually expect Spotify's forecasted share [of global music subs outside China] to decline only marginally to about 39% over time. I think if Spotify were at risk of losing its [market share] leadership, it probably would have done so already."
According to Goldman's numbers, there were 589 million paying subscribers on music services globally at the end of 2022; the company forecasts that there will be 663 million globally by the end of 2023.
Spotify ended 2022 with 205 million global paying subscribers, and finished the first half of 2023 (end of June) with 220 million subscribers.
Added Yang on the MBW Podcast: "Outside of Spotify, what's interesting is [that] YouTube Music has been taking the most share amongst the major DSPs. We do think YouTube Music will probably become the second-largest DSP by 2030, overtaking Apple Music.
"Then you're probably going to see a consolidation amongst the long tail [of music streaming platforms]; I think there's still probably 200 different streaming services in the world that will probably consolidate. Their share will probably decline."
Yang further suggested that there is also a "big question mark" over how successful TikTok Music – the newly-branded subscription music streaming service from TikTok – is going to be in future.
"I do think TikTok Music is a differentiated offering versus what you find with Spotify or Apple Music," she said. "It has a lot more social stuff… it will be interesting [to see] how much growth TikTok Music can attract over time."
---
In the latest Music In The Air report, Yang and her team at Goldman Sachs estimate that Spotify claimed a 34.8% market share of total global music subscribers at the end of 2022.
That was down slightly (6 basis points / 0.6%) from the figure that Spotify claimed at the end of 2021, but Goldman pointed out that its share loss decelerated in 2022.
On Apple Music, the Music In The Air report says: "Apple Music lost momentum last year, with market share of 17.3% (-140bp yoy) with 102mn paid subscribers on our estimates, having conceded over 280bp share across 2020-22.
"We believe the number of subscribers of the premium Apple Music service increased only marginally (<1mn) in 2022, with the majority of the 7mn net adds driven by the Apple One bundle."
---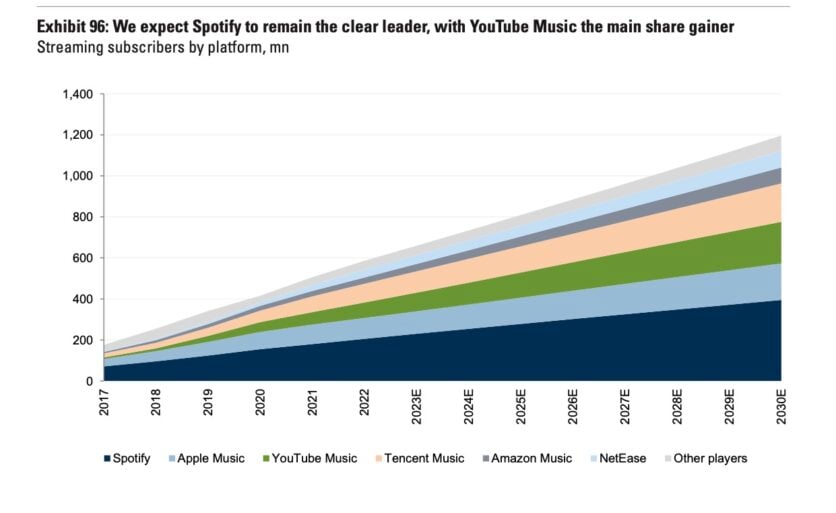 ---
And of YouTube Music, the Music In The Air report added: "YouTube Music was once again the major share gainer outside of China with 75mn paid accounts [at the end of 2022] on our estimates, from 61mn in 2021, implying 70bp of share gain to 12.7% in 2022, driven by strong growth in both developed and emerging markets.
"YouTube Music has now gained almost 3ppt of market share over the last 3 years. YouTube reported >80mn YouTube Music/Premium accounts in September 2022 (including those in trials), a 30mn increase from Sept 2021."
Looking ahead, Goldman's report says it expects Spotify to broadly maintain the global subs market share it achieved in 2023 (34.7%) – and that Spotify will even be able to lock in a 32.9% global share of subs in 2030.Music Business Worldwide