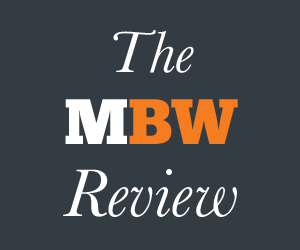 The MBW Review offers our take on some of the music biz's biggest recent goings-on. This time, we mull over Warner Music Group's recent purchase of European merch empire EMP for a nine-figure fee. The MBW Review is supported by Instrumental.
---
Lil Pump knows.
His limited edition Unhappy line of clothing, bundled with his upcoming mixtape The Harverd Dropout, sold out pretty soon after going on sale at the end of August.
The kicker? At the time of writing, with loads of merch sold, there's still no release date for the record.
Three months ago, Lil Pump even (jokingly?) claimed that he'd "lost" the masters.
---

---
Album sales might be in decline and ad-funded YouTube might be the world's biggest music streaming platform – but selling $45 T-Shirts and $65 hoodies with a free (non-existent) album is evidently becoming big business for today's superstar artists.
We saw a similar approach by Travis Scott ahead of the release of his No.1 LP Astroworld (Cactus Jack/Epic) earlier this year, when the Texan rapper bundled his album with merch and tickets to an unannounced tour – much to Nicki Minaj's chagrin.
Another recent Billboard 200 No.1 album campaign, Brockhampton's Iridescence (RCA), also owed a lot to limited edition merch bundles, as did other recent releases from acts including Lil Wayne and Logic.
The merchandise business is clearly booming, and affecting the US charts – which is why there's perhaps never been a more obvious time for a major music company to expand its merch capabilities.
Last month, Warner Music Group completed a $180m deal to do just that, buying Germany-based music merch maker and e-tailer EMP Merchandising. (Technically speaking, according to Warner filings, that price actually grew to $191m (€165m) due to additional net debt.)
So why did Warner lay down a nine-figure sum? Here are three theories…
---
1) WMG is making sure that it can compete with the other majors – and Spotify…
Following the EMP acquisition, Max Lousada, CEO of Recorded Music, WMG, said: "In today's streaming world, merchandise is still one of the best ways that fans can express their passions and personalities. It's also a big part of how music has visible and physical impact on global culture and fashion."
Apparel companies like New York-born Supreme, (which went as as far as to sell a limited edition brick,) are experts at creating this kind of cult brand following – and now artists and record labels are capitalizing on the hypebeast culture in a similar way.
WMG's acquisition of youth media brand UPROXX in August was an obvious move in this direction. Lousada stated at the time that WMG "aim to tell engaging and original stories that influence culture".
Universal Music Group and Sony Music Entertainment already have recognizable and visible standalone brands in merch – something that, pre-EMP, Warner was arguably lacking.
Take UMG for example, which highlighted the importance of its merch arm, Bravado, in two of its global deals with heritage artists this year.
"In today's streaming world, merchandise is still one of the best ways that fans can express their passions and personalities."

Max Lousada, Warner Music Group
The first of these was with the Rolling Stones in July, a deal which covered recorded music, audio-visual, archival support, global merchandising and brand management (including the Stones' iconic tongue logo).
Then, in September, UMG signed a worldwide deal for Elton John. According to Universal: "Bravado will work closely with Rocket to expand and develop global merchandising, branding and retail licensing opportunities around Elton's Farewell Yellow Brick Road world tour and catalogue."
Sony Music's merchandise arm, The Thread Shop, handles everything from design, licensing, retail partnerships, tour merchandising and fulfilment, e-commerce platforms and pop up events – with a roster that includes A$AP Rocky, A$AP Ferg, DJ Khaled, Camilla Cabello, Bob Dylan, Michael Jackson and many others.
Then there's that new competitor of Warner and its fellow major labels to consider – Spotify, which has started striking direct distribution and licensing agreements with independent artists this year.
The major labels' biggest argument against this evolution has been the fact that they can offer a much broader scope of blockbuster services to artists – and, right now, Spotify doesn't have a dedicated in-house merch company like Bravado, the Thread Shop or EMP.
"When people compare what Spotify or 'artist services' companies with 'the major labels', they're usually referring to what a major label might have looked like in the 1970s," one senior major insider recently told MBW.
"We have evolved far beyond that definition, and merch is a really important part of that. When we're involved with an artist in multiple ways – recorded music, publishing, merchandise, brand partnerships etc. – we can think longer-term about our relationship and make decisions on a holistic basis. You can take a loss in one segment and not worry about it if you know your company is going to make that revenue up elsewhere."
Personnel plays a key role here, too.
For instance, the Vice President of Production and Product Development at UMG's Bravado USA is Kelly Mustpha, who was previously Production and Product Development at skate brand Diamond Supply Co. and prior to that was V.P. of Production & Product Development at sportswear licensee RVC Enterprises, where she worked with brands ranging from Tommy Girl by Tommy Hilfiger to Rocawear Juniors.
The Thread Shop's Vice President is Frances Wong, the former VP of Merchandising and Design at UMG. Wong was also the VP of Merchandising, Design and Product Development at Jay –Z's clothing line Rocawear for six years.
WMG has recently been hiring a new Director of Retail Merchandising. So watch this space.
---
2) Super fans and data
Stu Bergen, WMG's CEO of International & Global Commercial Services, Recorded Music, has said that, "EMP has built a powerful lifestyle destination."  He's not wrong.
EMP sells over 20,000 items via a network of websites serving 18 European countries, with a community of millions of customers and a fast-growing, Amazon Prime-esque loyalty scheme called the EMP Backstage Club.
This program costs £9.95 ($13) per year, for which members get pre-sale access, free delivery, 100 days' right of return, discounts, free gifts and even access to exclusive EMP member's areas at European festivals.
EMP's roots are in alternative, metal and rock. Its most popular artist brands include Twenty One Pilots to Panic! At The Disco, Metallica, Motörhead, Guns n Roses, Nirvana, Pink Floyd, AC/DC, The Doors (pictured inset), and many others.
"EMP has built a powerful lifestyle destination."

Stu Bergen, Warner Music Group
Rock and metal audiences are loyal and engaged music fans who don't mind spending money on physical products.
Buzzangle's 2016 Music Report showed that 63% of vinyl albums sold in the US in 2016 were from the combined rock genres. According to Nielsen's data, 36.8% of physical albums sold in the US during last year were by rock acts, while the genre accounted for 34.6% of all total album sales.
In the UK, the Entertainment Retailers Association recently published a study which showed that "superfans" are driving Britain's physical music market.
A total of 157,000 UK superfans spent an average of £400 ($515) each in 2017 – £62.9m ($81m) in total – making up 72% of the country's CD and vinyl market.
Bergen added that EMP's "music-led expertise will give [Warner] great insight into what audiences love and what they want, and at the same time open up exciting new opportunities for our artists."
EMP's vast existing customer base of 'superfans' will not only improve WMG's European merchandising capabilities, from licensing to fulfilment – it will also help the major plan release campaigns, new signings, tours, reissues and more.
---
3) WMG is investing in an area of its business that already saw its revenue increase by $141m between 2012 and 2017…
WEA Corp is WMG's global artist and label services division.
In 2016 WEA Corp combined of all its direct-to-fan and merchandise capabilities into one division called 'Warner Music Artist Services' – to handle direct-to-fan e-commerce, fan-clubs, website design, ticketing, merchandising, marketing, account management, and data research & analysis. The division is still part of WEA Corp, which today is headed up by President Tony Harlow.
According to Warner, EMP will now become an additional, standalone, direct-to-fan business unit within WEA.
WMG's financial filings show that artist services and expanded-rights Recorded Music revenue – which includes revenue from expanded-rights deals as well as revenue from its artist services business – represented approximately 9% of its total revenue during the nine months ended June 30, 2018.
WMG offers the disclaimer that "artist services and expanded-rights revenue will fluctuate from period to period depending upon touring schedules, among other things" – but the consistent growth over the past five years is plain to see:
---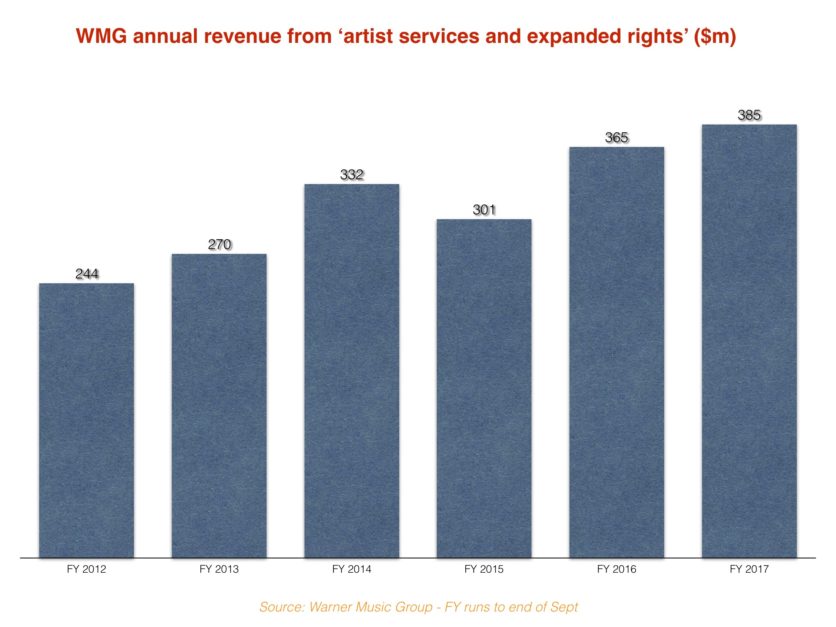 ---
This correlates with a trend seen in the wider global music business.
An annual survey published by the international Licensing Industry Merchandisers Association (LIMA) showed that the global music merchandise grew 9.4% in 2016 to $3.1 billion, compared to $2.83 billion in 2015.
We may now be seeing the beginnings of a music merchandise gold-rush. With its $180m EMP buyout, Warner has just placed itself in the center of the storm.
---

The MBW Review is supported by Instrumental, which powers online scouting for A&R and talent teams within the music industry. Their leading scouting platform applies AI processes to Spotify and social data to unearth the fastest growing artists and tracks each day. Get in touch with the Instrumental team to find out how they can help power your scouting efforts.Music Business Worldwide