Did you wake up with a warm, fuzzy feeling in your stomach today?
No, not you, Mr. Ek. I should imagine you've been on the Absolut.
I'm talking to the music rights-holders: artists, songwriters, producers, labels, publishers. Yes?
Well, that's what happens when Apple starts putting its marketing juggernaut behind music.
It's almost enough to make you believe people are going to pay for the stuff.
By reinvigorating the record labels' entire industry, though, Apple just stole a significant hunk of power from them.
Jimmy Iovine knows what is is to run a label, of course.
The Interscope co-founder turned Apple Music guru kicked off Apple's WWDC address in San Fran on Monday by saying: "I'm here because in 2003, the record industry was a ball of confusion.
"We had Napster, Limewire, BitTorrent. This giant invader from the north: technology! I'm saying to my guys, 'What do we do with this?'
"The music industry is a fragmented mess. We wanted to build a better ecosystem, with the elegance and simplicity only Apple can do."

Jimmy Iovine
"So I go up to Apple and see Steve Jobs and Eddy Cue and they show me something brilliant and groundbreaking: a simple, elegant way to buy music online, iTunes.
"I'm like, wow, the ads are real – these guys really do think differently. Technology and art can work together – at least at Apple."
His view of today's digital music solar system was less glowing.
"In 2015, the music industry is a fragmented mess," said Iovine.
"I reached out to Tim Cook and Eddy Cue and asked: 'Guys, can we build a bigger and better ecosystem with the elegance and simplicity that only Apple can do? One complete thought around music?"
It's not what 'only Apple can do' that risks spooking the labels, though.
It's the stuff Apple seems ready to do – the stuff that once used to be the music biz's exclusive domain – that they may not take kindly to.
Here's six key areas of what's been announced so far that will have likely left record companies with mixed feelings…
1) Pricing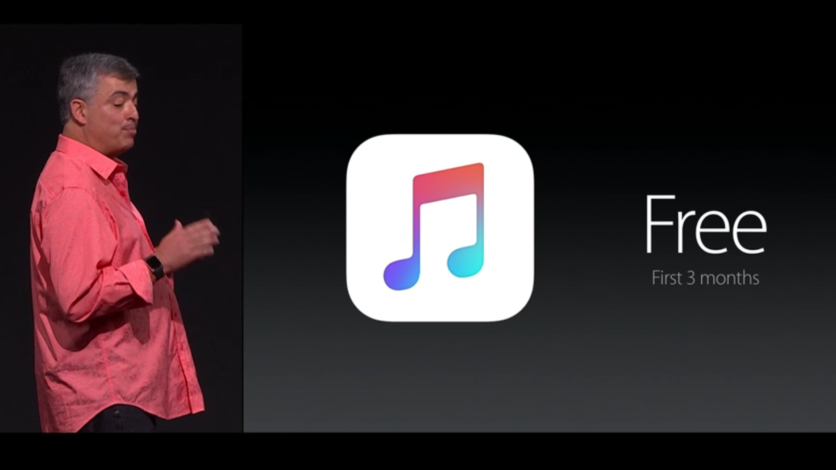 There would have been plenty of eye rolls across the music industry when Apple confirmed Apple Music's standard pricing of US $9.99 per month.
This has been streaming's de facto price point ever since Spotify arrived in 2008.
We heard so much in the lead up to WWDC about whether Apple would try to hurt Spotify on price by shaving a dollar or two off its tariff – and whether the labels would let them. Not to be.
Apple might yet usher in a Spotify-beating price point in the UK and other territories due to its usual adherence to currency exchange; today, $9.99 is worth around £6.50 in the UK.
On the face of it, Apple Music hasn't experimented with any 'pay as you go' or 'bitesize' sub-$10 pricing ideas.
Yet there's certainly price experimentation in Apple Music if you're willing to find it.
Apple Music's family tariff offers up to six people the chance to join the platform for $15 a month.
"If you and your five fellow family members spread the cost, you could effectively get six months of Apple music for $7.50 each."
As Apple's Eddy Cue said at WWDC: "Everyone gets their own account, their own library, their own recommendations. It's incredible value."
He's not kidding: if a family of three sign up, that equates to $5 each per month.
If a family of six take full advantage, they're effectively paying $2.50 per month for an unlimited streaming service. A quarter of the price of Spotify.
There's your mainstream streaming bid.
Don't forget that Apple are also giving away the first three months of Apple Music completely free.
So, if you and your five fellow family members were willing to spread the cost evenly, you could effectively grab yourself six months of Apple Music for $7.50… or $1.25 per month.
Spotify Premium costs eight times more than that.
Does this really offer sufficient value for labels who have presumably licensed the 30m+ songs available on Apple Music at launch?
---
 2) A&R. APPLE-style.

Apple Music hadn't even been announced at WWDC before Apple started flexing its muscles as a music curator.
Tim Cook told the San Francisco crowd that he wanted to share "a great video about the history of music" and Apple's place within it.
It was typically evocative and stylish, with nostalgic, blocky Apple products littered throughout.
But what was that alluringly catatonic sound over the top? A cacophony of violent cymbal crashes building into a desperate, arresting Joplin-esque wail.
"There is no light! There is no light! My eyelids hurt from too much darkness…"
What a line, what a track!
Someone at Apple knew this. Did you?
"It reared its head time and time again last night: Not only do we care about artists, we know how to break them."
The song is There Is No Light from Swedish jazz duo Andreas Werliin and Mariam Wallentins, aka Wildbirds & Peacedrums.
It's off their 2009 album The Snake, released by indie The Leaf Label.
I had to Google it. Don't pretend you didn't.
Perhaps it was handpicked by Zane Lowe, or maybe it was one of those four producers Apple stole from Radio 1. It doesn't matter.
Why didn't Apple just choose an off-the-peg suspenseful sync standard?
Surely because it wanted to make a statement: this is a track we love – and soon, you'll love it too.
Tastemaking on the grandest stage possible. Welcome to Apple A&R.
This trend reared its head numerous times throughout WWDC: not only do we care about artists – we know how to break them.
How much of this veers into a traditional label's work is up for debate. For now, I'm sure the Leaf Label are delighted to be part of the experiment.
Then again, Apple's authoritative stance on the hip and the unknown may need a little fine-tuning.
At one stage, Eddy Cue unleashed "the new song from Spoon" – They Want My Soul.
It came out in August last year.
But that wasn't Cue's only moment of playing at being, well, Jimmy Iovine…
---
 3) Loren Kramar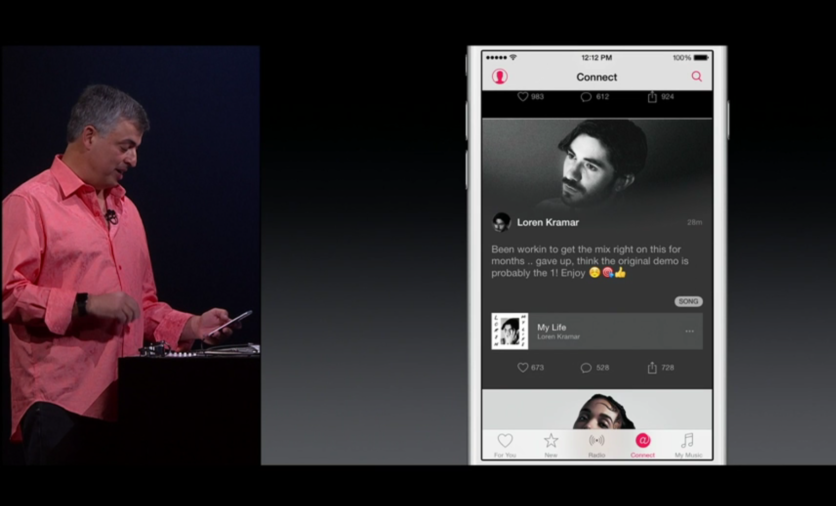 One track that was definitely hot off the press at WWDC was another choice of Cue's: Loren Kramar's My Life.
This was definitely the moment that made any labels watching most uncomfortable.
Subsequent research suggests that Kramar seems to be a genuine unknown: at least, his (hastily erased?) internet history tells us as much…
"You've probably never heard of him," said Cue.
He was right.
"Loren's an unsigned artist. I just started following him. He's posted a new song right up on Connect. This is the first time anyone's heard it."
And then we did hear it. Ghostly keys, polished production, fragile vocal… it had all the ingredients to do damage to any pop chart.
As an irate article in Forbes has since pointed out, Kramar's suspicious lack of online media presence could been seen as a missed opportunity.
"Remember the name. We think he's going to be really, really huge."

Eddy cue, Apple
But then there's a different, more cynical take.
Surely you'd have to be daft to think this is the last time Apple will plug Loren.
His suspiciously quiet online history suggests the tech company is holding him back, building suspense – just like a label.
Whispers even suggest that Iovine has historical connections with the singer/songwriter from the exec's Interscope days.
This all points to Loren the lab rat.
How better to convince artists that the direct-to-fan buzz they're all looking for is right here on Apple Music, than by directly breaking a global artist on Apple Music.
"Just imagine: you're a new artist and just look at all the people you've been able to reach," said a beaming Cue.
"Loren Kramar, remember that name. We think he's going to be really, really huge."
They're going to make sure of it.
If Apple commands the people power Cue clearly thinks it does – and he overtly referenced that nearly a billion people will have the Apple Music app on their phones –  it can completely hand-pick tomorrow's stars.
And it says it believes it can find them all by itself; thanks all the same, labels.
As Iovine put it at WWDC: "Algorithms can't do this emotional task. You need a human touch. That's why Apple Music will give you the right song, from the right playlist at the right moment. All on demand.
"When you upload your music to Apple Music, anything can happen."
---
 4) Connect and apple as soundcloud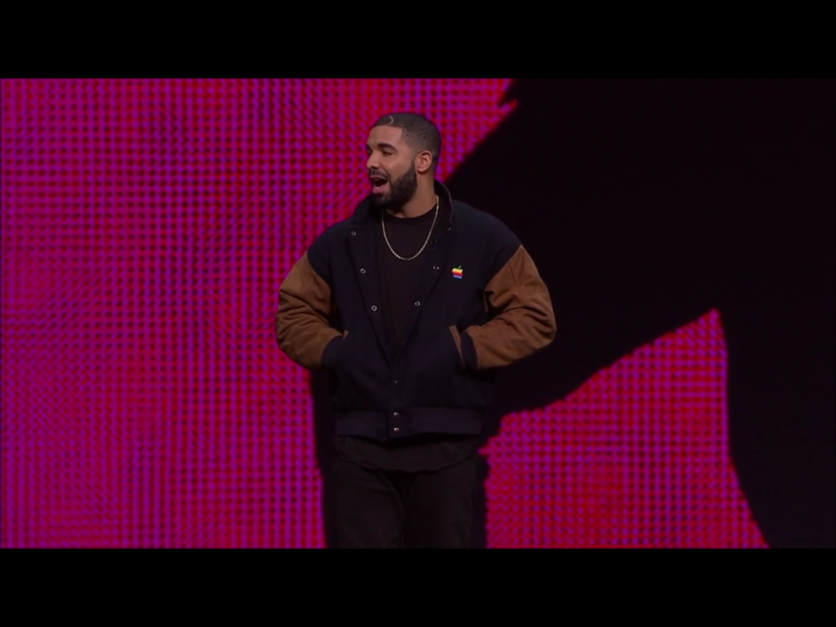 As well as conveniently demonstrating 'what can happen' when Apple anoints a new artist on Apple Music, Loren Kramar was also used as something of a pawn to show off Connect.
This feature is the supposed solution to that "fragmented" music industry which Iovine so dismissively described.
Essentially, it allows artists to accrue followers through Apple Music, just like any other social network.
These acts are then encouraged to share photos, lyrics, demos or clips from new tracks.
The same goes for messages which, crucially, can also be synched to an artist's Twitter and Facebook to automatically update.
Why would this risk pissing off labels?
Firstly, because the stuff Apple wants artists to share with their fans has another name in the music biz: assets.
Lady Gaga deciding to ping round a demo of a track to fans on her iPhone may sound innocent – but what if the same song is being planned for a reveal on US TV in two months, tied to an expensive marketing splash announcing her return?
"I tried to do it the traditional way, the towering label buildings, the lobby littered with other people's accomplishments."

Drake on relying on record companies
In a way, this is no different to rogue artists unilaterally posting this sort of stuff on SoundCloud. (A process which has angered the world's biggest labels plenty in its time.)
Except with Connect… Apple's got its arm round these stars, whispering "go on, upload it" into their ear.
Hip-hop superstar Drake took to the stage at WWDC to explain the potential of Connect for direct artist power, and couldn't resist a dig at the limitations of the major label system.
"I tried to do it the traditional way – the towering New York label buildings; the lobby littered with other people's accomplishments," he said, referring to his own struggle to get backing from music's gatekeepers in his early years, before self-releasing mixtapes on his own label, OVO Sound.
"It's improbable to think that every talented artist is going to get a shot to have their vision validated. My team brought our vision and our music directly to the people.
"We encourage you to spend time on your body of work, your craft, and instead of having to post your stuff on all these different and confusing places. [With Connect] it all lives in one very simple, very easy home."
Drake then hinted that his next album campaign will be the beneficiary of a teaser campaign on Connect – so we can expect lots of video clips and pictures from the studio, demos etc. before release; perhaps even fan interaction will help him make decisions about tracks.
Sound familiar? Apple has certainly 'learned' a trick or two from those experts at maximising a pre-order campaign, PledgeMusic.
At WWDC, we were shown Chris Cornell using Connect to post lyrics of a new song before he'd even recorded it, while Bastille premiered the riff of new track Blame in a homemade video from the studio.
Alabama Shakes even uploaded an exclusive performance of Don't Wanna Fight.
Quite what the label approval process was for all of this is another matter.
---
 5) Beats 1 and the return of zane lowe

Jimmy Iovine explained to the WWDC crowd how Beats 1, dubbed the first 24/7 global live radio station, came to be:
"Trent Reznor calls me up and says: 'I got it. Let's build the first ever live radio station broadcast from three cities that plays music not based on research, genre or drum-beats; only music that is great and feels great.
"A station with only one master: music itself.'"
"So I said, 'Why do artists always have the greatest ideas that are practically impossible to execute?"
"Then I said, wait a second. That's why we're at Apple; to help artists' dreams be realised."
Beats 1 is naturally most scary for traditional, territorial broadcasters.
The blink-and-you'll-miss it video above suggests that both Drake and no less a figure than Dr. Dre will be hosting their own shows from time to time – while artists including Florence & The Machine are already in the can for a regular slot from Zane Lowe.
The other 'anchor' producers for Beats 1 will be Ebro Darden in New York and Julie Adenuga in London.
Apple hopes to steal away listeners to the likes of Pandora with the offering.
"The truth is, internet radio isn't really radio – it's just a playlist of songs," said Eddy Cue.
"We wanted to do something really big; a worldwide live radio station broadcasting around the world. And we've done that with Beats 1."
Said Lowe: "When Apple first asked me to get involved in this, they told us to put the great music in front of the average; the unexpected, the undiscovered, the anticipated, the underrated.
"Their words? 'Move the needle.'
"The only place that can pull together an idea as imaginative and big as this? Apple."
Why would this possibly irk record labels?
As they'll tell you, it's pretty hard to plug BBC Radio 1 or K-IIS FM. There's a lot of supply, and very little demand.
Well try promoting your music to a single, global station with three confirmed DJs whose mission is to play 'the undiscovered'.
A station owned by an untouchable corporation that thinks it knows artists better than you do…
---
6) Apple vs android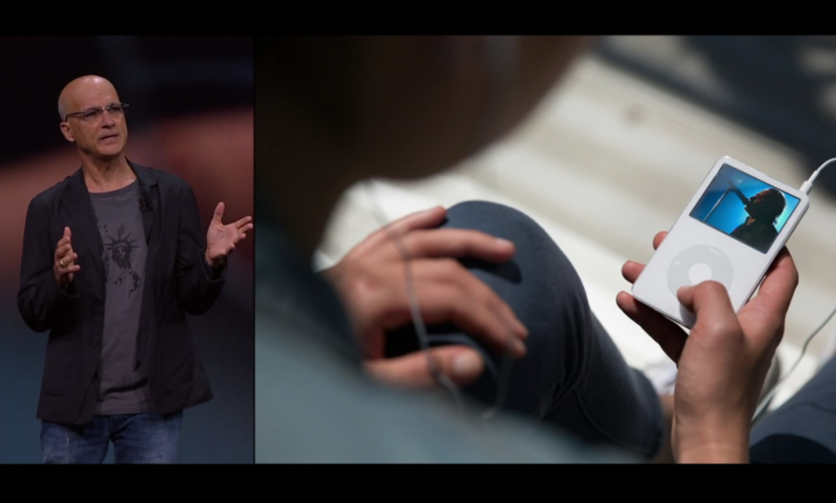 Do you really believe Apple is doing this out of the kindness of its heart?
Oh, sure, it loves artists. But they just happen to be hugely valuable to its No.1 mission.
Apple does everything – everything – to sell devices. That's why it makes $18bn profit each quarter.
The wake of WWDC is a really good time to ask ourselves: why did Apple pay $3bn for Beats?
Executive talent, certainly – Dr. Dre, Ian Rogers and Jimmy Iovine clearly haven't been twiddling their thumbs.
Why else? A decent little paid-for streaming music platform, yes. And undoubtedly, those megabucks headphones.
But the main reason Apple spent such a pretty penny is because it still believes in the power of music to sway consumers.
Apple made us wait for two hours of WWDC before unveiling Apple Music – then dedicated the final 40 mins of its conference to the announcement.
It spoke volumes. Finish with a flourish.
"Essentially, apple music is freemium on iPhone but premium-only on android."
For Apple, the end game of its entertainment strategy is tempting Android and Windows device users over to iOS.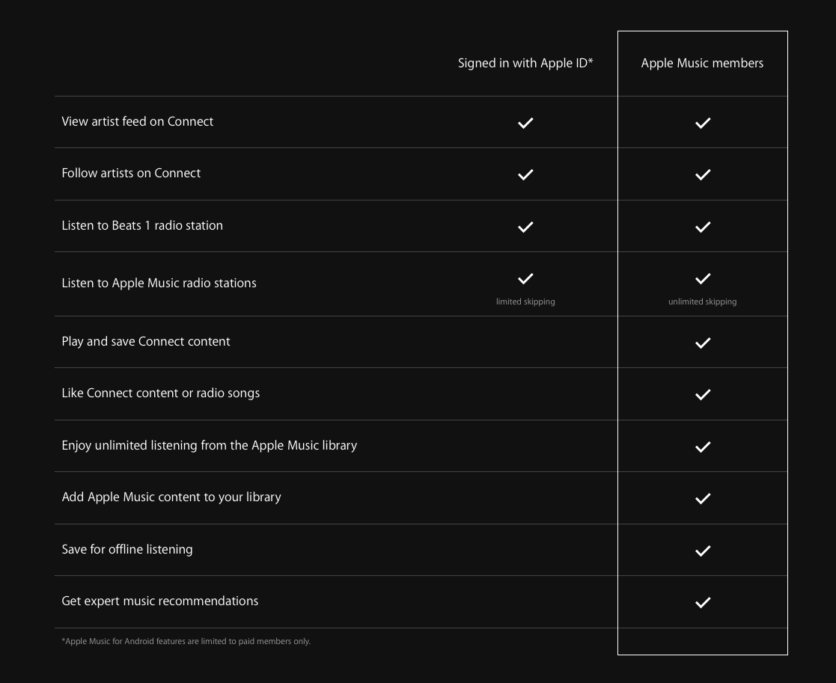 If you missed the small print (see right), Android owners miss out on a lot with Apple Music.
Essentially, the service is paid-for only on Android but freemium on iOS.
Android users won't be able to listen to Beats 1 or any other Apple Radio station without paying. They won't be able to follow any artist on Connect without paying.
iOS users get all that for nowt.
Connect is especially interesting: should artists take to it, it will essentially becomes a superstar-sponsored funnel into buying an iPhone.
Smart.
It's not inconceivable that more iOS exclusives will follow, of course, as Apple cranks up the heat – especially if some kind of joint Apple TV/Music/Movie streaming subscription comes to pass.
That's not to mention the raging billion-dollar turf war going on with Spotify right now.
The industry could very feasibly lose some helpful music partners during this bloody battle; casualties of either not having Spotify's gigantic investment resources or Apple's mountain of cash.
We often hear the phrase 'a rising tide lifts all boats'. But people rarely mention that a rising tide also drags people under, and drowns them dead.
"Sure, A rising tide can lift all boats. But it can also drag people under, and drown them dead."
Do labels really want to assist Apple's mutating dominance in these fields? Probably not.
Then again, what are they going to do? Stand in its way?
Apple evidently wants a closer-than-ever direct relationship with artists; that's one of the main goals of Apple Music.
It recognises that stars – not Universal, Sony or Warner – wield the sort of influence you need to win big, hugely lucrative tech battles.
As Trent Reznor said last night, Apple needs to "support and accommodate the artists who make the music – not just the top tier artists, but the kids in their bedrooms too".
He offered no such guarantees to record companies.Music Business Worldwide