MBW has been tracking the US sales numbers of Adele's 25 very closely this week.
As we reported yesterday, 25 overtook the all-time sales record of NSYNC's No Strings Attached on Monday (November 23), after just four days on sale.
The official numbers are now in: according to BuzzAngle, 25 sold 2.3m copies in its first three days on sale in the US, and then sold an additional 260,000 units on Monday – bringing its four-day total to 2.56m.
That's already comfortably ahead of the record-holding 2.42m tally that NSYNC's album sold in its opening week during March, 2000.
Interestingly, 54% of Adele's 25 US unit sales so far are digital, with 46% coming on physical formats.
The obvious next question: can Adele top 3m US sales in the remaining three sales days we have left to track?
MBW has been crunching numbers, and we think it's going to be an extremely close run thing.
To hit the 3m week on milestone, Adele will need to sell 440,000 more copies before end of play on Thursday (November 26).
According to BuzzAngle, with three days left to play, here's how 25's approximate US sales breakdown across digital and physical looks so far:
Friday, November 20 + Saturday, November 21: 1.9m
Sunday, November 22: 400,000
Monday, November 23: 260,000
In order to hit 3m, Team Adele will have to halt the 35% daily decline in sales it saw between Sunday and Monday's figures.
If that 35% daily drop continues, 25 will have sold around 170,000 yesterday (November 24) and will sell just under 110,000 today (November 25) – bringing its total with one day to spare to 2.84m.
A further 35% drop on Thursday would mean around 72,000 sales on 25's final week one chart day.
That would mean an opening week total of 2.91m – agonisingly, not quite enough to break through the magic 3m barrier.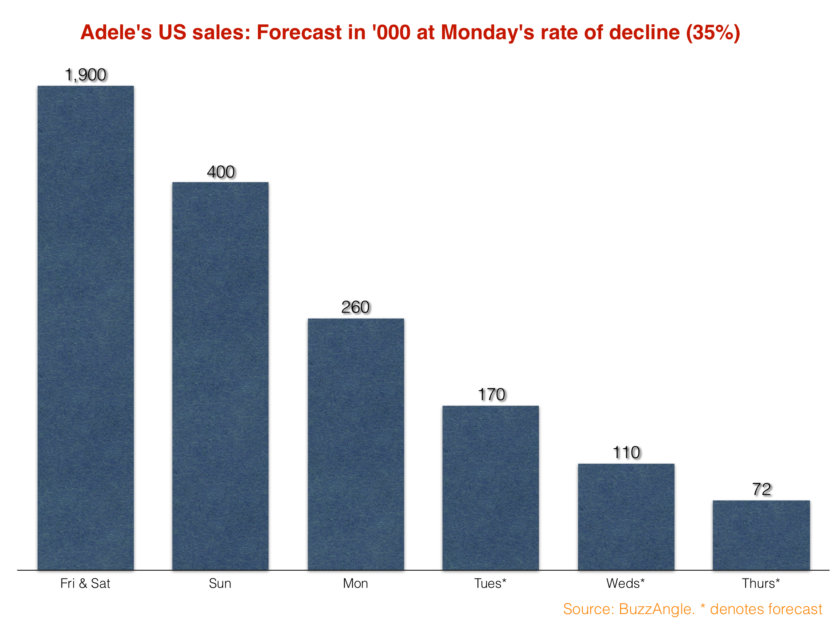 But look what happens if that daily decline is reduced to 25%. (Appropriately, Team Adele's lucky number right now.)
Remember, we only have official numbers up to and including Monday (November 23) at the moment.
So at a 25% rate of decrease from there, 25 would have sold around 195,000 yesterday (November 24) and would shift just over 145,000 today (November 25).
Combined, that's 340,000 album sales, and would push 25's running total to 2.9m with one day left to go.
Another 25% drop would bring Thursday's sales to 110,000… A jackpot weekly sum of 3.01m sales.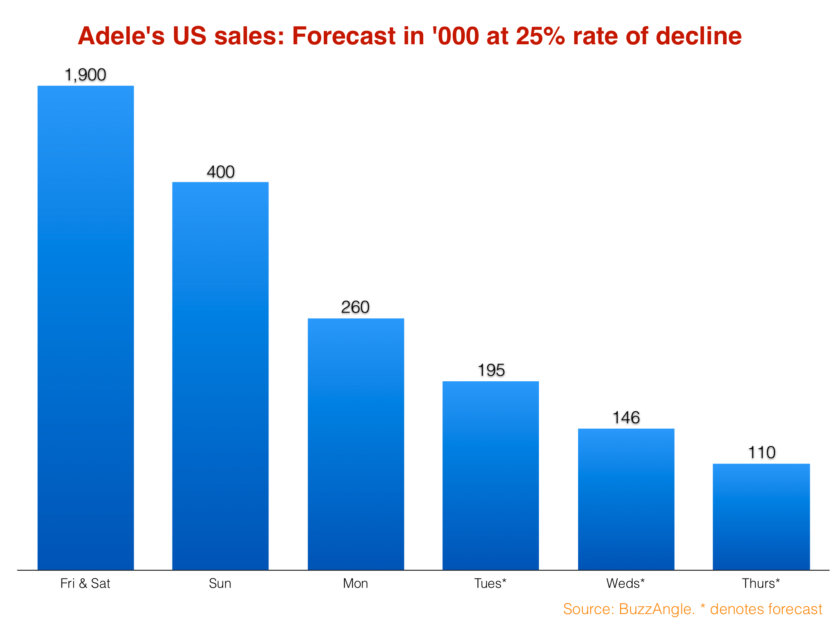 Team Adele are working hard to fight 25's commercial drop-off.
(We say, 'commercial drop-off' – we're literally still talking about day-to-day numbers that many major artists would be delighted to sell in a week. In fact, making out that 3m is somehow a magic figure is in itself a bit of a misnomer. Adele already smashed through the really magic mark when she claimed the all-time week one sales figure. In 2015. After 15+ years of industry decline. But, hey, everyone loves a target.)
On Monday night, Adele turned out on Jimmy Fallon's Tonight Show to perform Water Under The Bridge for the first time.
The Tonight Show typically pulls in around 3.5m viewers. Adele left that audience on its feet, with a standing ovation in the studio.
Today, the British star is set to appear on yet another staple of the US talkshow circuit – The Today Show.
Official ratings are harder to come by, but it seems a safe bet that Today will be watched by more than 4m people, possibly up and over 6m.
Adele will smile, and sing, and tell jokes, and many, many people will think, "She's cool. I like her."
But will they buy her record in enough numbers to push it over the magical 3m week one barrier?
Stay tuned.Music Business Worldwide