There are various methods you can use to define 'power' at the biggest companies in the music business. The most traditional, of course, is market share – but this is rarely shown in terms of annual revenue.
While unit sales and airplay spins are important, ultimately they're not a patch on the big one: turnover.
So, despite some unavoidable obstacles, MBW is taking a crack at working out who's the real sheriff in town in terms of cold, hard cash.
Our existing analysis of Sony Music Entertainment's latest results is a good starting point. This gives us some robust projections for what Sony will post in its FY 2014 (the 12 months to end of March this year).
These projections, in turn, give us some useful new information to pit against the two other major music groups – helping us discover not only who is king of the jungle in both recorded music and publishing, but also to how dominant the market leaders are in each field.
But first: to get a handle on the below analysis, it's important to recognise that the independent sector – including the likes of Beggars Group, Glassnote and Ministry Of Sound – represents somewhere around 25% of all global annual sales in recorded music. And that the independent publishing sector – including BMG and Kobalt – represents somewhere north of 30% in their segment.
Unfortunately, these private companies' financials are not publicly reported in a timely manner, so for now we'll have to focus all our attention on the majors.
As such, the below analysis is purely majors vs. majors: a comparison of who earnt what in the last financial year, and what that tells us about the total major recorded music / publishing market.
---
Recorded Music
Universal's last full-year results, for FY 2014, were reported in Euros by parent Vivendi in February.
In terms of recorded music alone, UMG posted €3.69bn in revenues in the 12 months to end of December 2014, which at current exchange rates equates to around $4bn.
Warner Music Group's last full financial year, FY 2014, ended on September 30, 2014. A US company, its recorded music operation reported $2.5bn in revenues in the period .
Sony Music will report its FY 2014 later this year. However, MBW analysis of its first three quarters predicts that its recorded music operation will post 12-month revenues at around 360bn Yen – $3bn at current exchange rates.
Add all of that together, and the following major-only global market share chart for FY2014 based on annual revenues become apparent.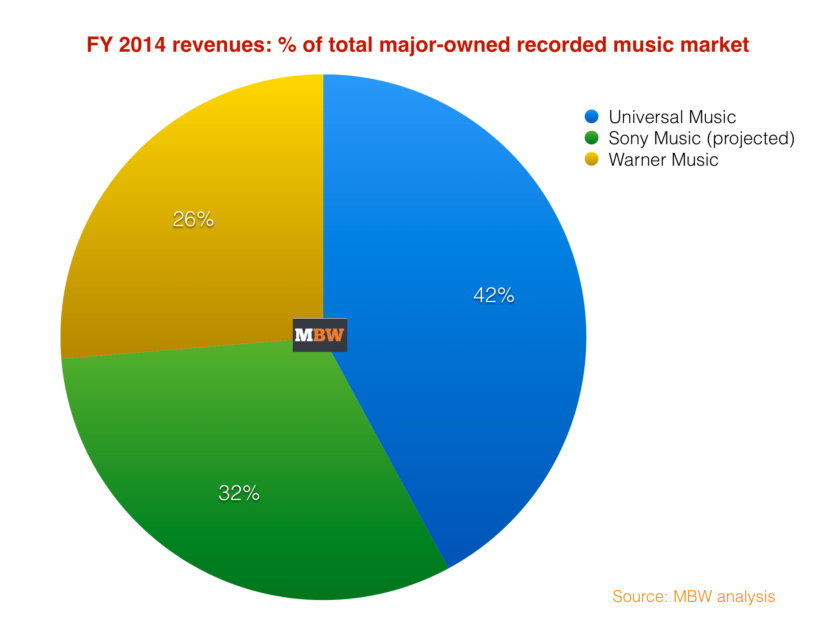 Publishing
Universal Music Publishing posted full-year revenues of €673m for the year to end of December 2014, which converts at current exchange rates to US $728m.
According to Warner Music Group's full-year results for Warner/Chappell, the publishing group posted $517m in FY 2014 to the end of September 2014.
Sony/ATV is an interesting proposition, as Sony Music Entertainment (SME) owns only 50% in the company.
However, according to MBW's projections for SME in FY2014, Sony/ATV will contribute around 70bn Yen. That translates into $584m at current exchange rates.
* Nb. All analysis based on conversion to US Dollars under current exchange rates.
** Some individual chart % rounded up so total may be in excess of 100%Music Business Worldwide