Warner Music Group (WMG)'s stock price hasn't had the smoothest of years so far in 2023 – it's down around 27% since the year began.
That said, after taking a tumble last Tuesday (May 9) following its latest earnings report, WMG's share price bounced up by around 4% yesterday (May 15), closing on the Nasdaq at USD $26.34.
Though Warner posted 4.6% YoY growth in revenue in the first calendar quarter of 2023, that lagged behind the revenue increases of other industry leaders such as Spotify (+13% YoY) and Universal Music Group (+9.3% YoY) in the same quarter.
Warner told investors last week that it expects its revenue growth to "reaccelerate" in the second half of its fiscal year (to end of September), partly thanks to a stronger slate of new releases from established stars.
Yet when Warner's value is viewed via a longer-term historical perspective, there's no doubt the company's commercial worth has come a long way.
When Access Industries – controlled by billionaire Len Blavatnik – bought out WMG in 2011, it paid USD $3.3 billion for the company.
WMG's current share price yesterday evening (via YCharts) implied a market cap of $13.59 billion, a more than four-fold increase over 12 years.
---
Who owns Warner Music Group?
All of which brings into focus the question of who actually owns Warner Music Group, and the percentage of the company each of these multiple parties controls.
MBW has conducted a deep dive into WMG's SEC filings – via both annual shareholding updates (14A) and additional disclosures from individual shareholders (SC 13GA) across the past few years.
Here's what we found.
Len Blavatnik personally controlled 73.03% of Warner Music Group's total outstanding shares as of the start of this year, according to MBW's calculations based on Warner's SEC filings (see below).
Access Industries founder Blavatnik – who, at last count, ranked in 38th place on the Bloomberg Billionaires Index, with a net worth of $33.5 billion – actually exerts even more control over WMG than his raw share count suggests when it comes to his voting power at the firm.
WMG's shares are divided into two classes: Class A shares come with one vote each, while Class B shares get 20 votes each.
As of the beginning of 2023, Blavatnik personally controlled 99.8% of WMG's Class B shares, according to the company's annual 14A report (see below).
There were far more of these Class B shares in existence than there were Class A shares as of early January 2023: 377.65 million Class B shares in all, compared to 138.29 million Class A shares.
---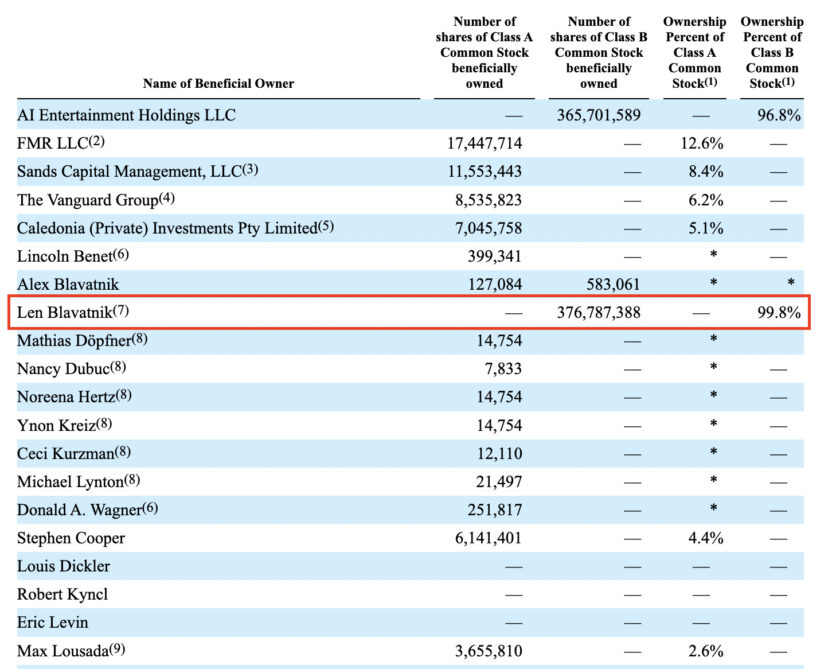 ---
In all, what that means is that – as of the start of the year – Len Blavatnik personally controlled over 97% of the voting power at WMG.
At the average price of WMG's shares in 2022, Blavatnik's holdings of 376.79 million shares would have been worth approximately $11.63 billion.
At yesterday's closing price of $26.34, those shares would be worth about $9.92 billion.
---
Who else owns shares in Warner Music Group?
Shareholders who own more than 5% of a class of shares in publicly traded companies in the US – Warner Music Group included – must file with the SEC each year to confirm the latest size of their shareholding.
Thanks to a flurry of these filings in January and February this year, MBW can present an updated picture of what Warner Music Group's shareholding looked like as of Q1 2023.
What we've learned: the largest minority shareholder in Warner Music Group is Boston-headquartered Fidelity Investments.
The financial services firm reported in a February 2023 filing that it controlled 17.18 million 'Class A' shares in WMG.
According to MBW's calculations, that gave Fidelity 12.42% of all WMG's Class A shares, or 3.33% of the total company (including Class B shares).
---

---
Fidelity's portfolio of WMG shares is therefore worth nearly half a billion dollars ($452.5 million) at the company's latest stock price.
Per the SEC filings, Fidelity bought into WMG in 2021, and its holdings have stayed relatively steady since then.
However, there are many other significant minority shareholders in WMG, too.
---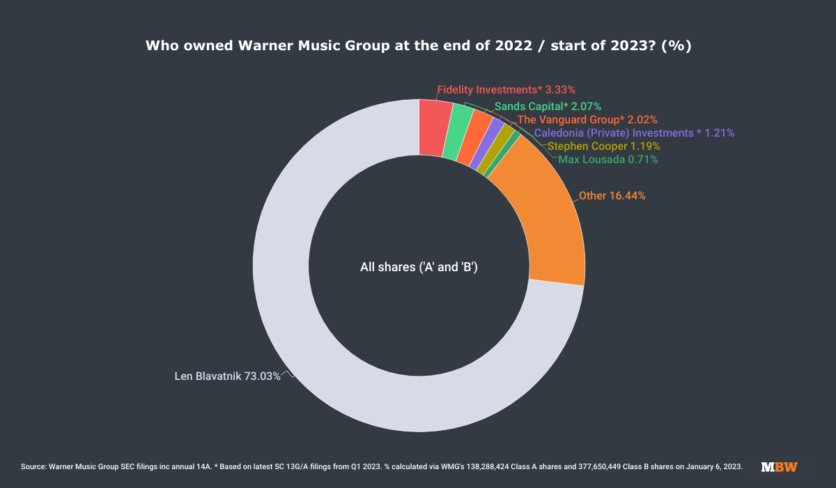 ---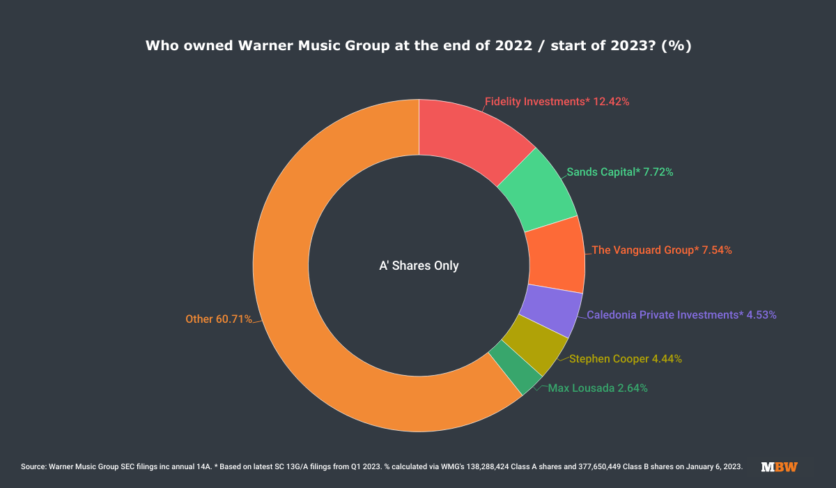 ---
From Sands Capital to Steve Cooper… and beyond
Another large shareholder in WMG is Arlington, Virginia-headquartered Sands Capital, with 11.55 million shares reported as of the start of this year, according to SEC filings.
That represented 7.72% of all of Warner's Class A shares, according to MBW's calculations, or 2.07% of all shares combined.
These holdings would be worth $304.2 million at Warner's current stock price.
Sands has held WMG stock since the music company went public on the Nasdaq in 2020, though Sands has reduced its holdings somewhat.
It owned 13.12 million shares shortly after WMG's IPO in June of 2020, an SEC filing shows.
---
Among other major equity owners in WMG is Stephen Cooper, who succeeded Edgar Bronfman Jr. as CEO of WMG in 2011, following the takeover by Len Blavatnik's Access Industries.
Cooper, who served as CEO until Robert Kyncl succeeded him earlier this year, controlled 6.14 million Class A shares in Warner Music Group as of the start of 2023.
That equated to 4.44% of all WMG's Class A shares, and 1.19% of the whole company.
Cooper's shareholding volume would be worth $161.7 million at WMG's latest share price.
---
Elsewhere, Australia-founded Caledonia (Private) Investments Pty held 6.26 million Class A shares in Warner Music Group as of the start of 2023.
That represented 4.53% of all Class A shares in the company, MBW calculates, and 1.21% of the firm's entire shareholding.
Caledonia's shares would be worth $164.9 million at yesterday's closing share price.
Another Warner investor, Pennsylvania-headquartered investment advisor Vanguard Group, held 10.42 million shares as of February 9, 2023 – representing 7.54% of all Class A shares.
Vanguard's shareholding would have been worth over quarter of a billion dollars – $274.5 million – at yesterday's share price.
---
A changing of the guard
Some previously large investors in WMG are today conspicuous by their absence in WMG's latest SEC filings – suggesting their holding of Class A shares has fallen beneath the tell-tale level of 5% of this share class.
Perhaps the most notable example is Shenzhen-headquartered tech and media giant, Tencent.
As recently as February 2022, Tencent reported holding 6.76 million Class A shares of WMG, according to an SEC filing, split between a holding company (Huang River Investment) and its subsidiary, Tencent Music Entertainment.
That shareholding equated to 1.31% of Warner's entire shareholding, according to MBW's calculations, and 4.93% of Class A shares in the company at the time.
---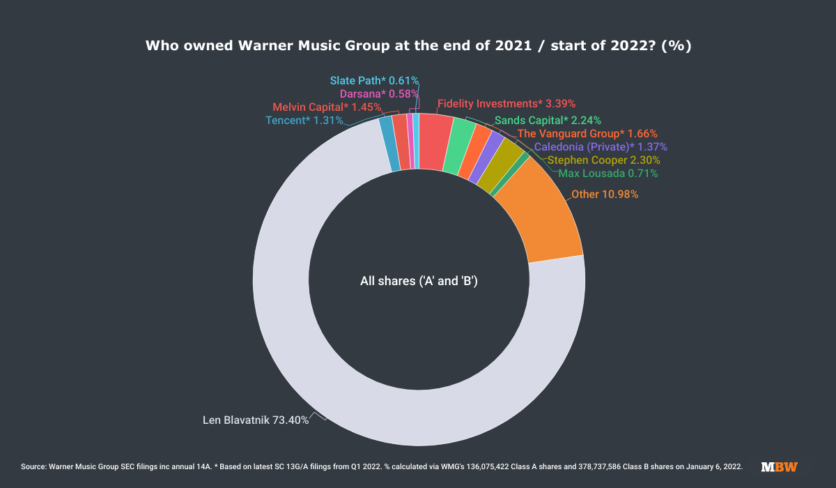 ---
Tencent has since vanished both from SEC filings related to WMG, and from WMG's latest annual 14A reports.
This suggests that, over the past year, the Chinese firm has reduced its WMG holdings to below the 5% threshold that requires filing with the SEC.
---
Another no-show in more recent SEC filings is Melvin Capital, which as recently as January 2022 reported holding 7.49 million Class A shares in Warner Music Group.
It's since sold all of those shares: Melvin confirmed via a filing in February 2023 that it owned 0% of Warner Music Group.
(Melvin Capital became something of a household name in early 2021, when it fell victim to the infamous GameStop short squeeze. Small-time investors communicating on Reddit bid up the price of GameStop stock – which Melvin Capital had shorted. The massive prank worked, and Melvin Capital reportedly lost 53% of the $13 billion in assets it was managing at the time.)
---
Others who have sold off or reduced their holdings in WMG include investment company BlackRock Inc, which reported owning 4.58 million Class A shares in Warner on February 10, 2021, but has not been seen in the music company's SEC filings since.
If the recent downtown in WMG's stock price continues, investors like these – who dropped or reduced their WMG holdings – may count themselves lucky.
But if the long-term trend of value growth seen over the past dozen years prevails, they may yet regret taking their money and running.Music Business Worldwide