Toby Andrews' office has a great view.
Located on an upper floor of Los Angeles' iconic Capitol Records Tower, overlooking the Hollywood hills, the 29-year-old Astralwerks General Manager admits it's still "pretty special", just over a year into the job.
Founded by Brian Long in 1993 as a dance imprint of Caroline Records, Astralwerks is one of the most influential names in electronic music, having released seminal records by the likes of Fatboy Slim, Swedish House Mafia, Eric Prydz, Porter Robinson, Basement Jaxx and the Chemical Brothers.
Andrews relocated from London to Los Angeles to take over the iconic Capitol Music Group-owned label just over 12 months ago.
During this short space of time he's overseen Astralwerks' move from New York to LA, initiated a complete rebranding and guided it to its position as the No.1 dance label in the US, up from the No.9 slot it was in when he took over.
"Growing to [occupying] the top spot in the US is something that we're really proud of," says Andrews.
"We're not just competing against dance labels, we're competing against any label that signs electronic music, big or small. We just put our heads down for a year, put in the hard work, and put records out that we thought were cool. Thankfully, it all paid off."
One of the records that has driven the label's ascension is Marshmello and Bastille's five-times Platinum track Happier, the biggest single of the superstar DJ/producer's career so far. At the time of writing, Happier has held the No.1 dance/electronic spot on the Billboard rankings for 50 weeks (the longest in history by over 17 weeks and counting), having spent a total of 54 weeks on the chart so far.
Also at the time of writing, 15 of the Top 50 dance/electronic songs in the US are Astralwerks releases, including Meduza's Piece Of Your Heart, which has spent 23 weeks on Billboard's Hot Dance/Electronic chart.
Astralwerks is equally present at the summit of the Hot Dance/ Electronic Album chart with Illenium's Ascend, the producer's (Nick Miller) first No.1 dance/electronic album. Released August 16, the record also debuted in the Top 15 on the Billboard 200, the highest electronic debut of the year.
Andrews, who was named on Forbes's 30 Under 30 list for Media & Marketing last year, tells Music Business Worldwide that his dedication to dance music started when he was a teenager.
"I was a DJ, or I tried to be a DJ, when I was 15, 16," he remembers. "I started promoting club nights. ere was a bunch of us that ran student nights at [London's] Fabric, and Ministry of Sound used to let us host rooms."
"We're not just competing against dance labels, we're competing against any label that signs electronic music, big or small. We just put our heads down for a year, put in the hard work, and put records out that we thought were cool. Thankfully, it all paid of."

Toby Andrews
He continued doing that until his late teens, when he jokes that he "kind of ruined [my] A-levels by promoting club nights and not studying". After deciding not to to attend university, Andrews found one of his favourite DJs on Myspace and looked at his contact section to find that "the only London-based contact on there" was a PR company on Brick Lane called Get In!.
"Everyone else was in the Netherlands," he says. "So I just emailed them and asked if I could work there. I had no real idea what a PR company did. I just thought it would be a good thing and keep me close to the music and artists I was into. They seemed to work with all the DJs that I liked, so I thought it must be a great place to start."
Andrews joined Get In! and started packing envelopes with press releases when he was just 18. He continued promoting club nights on the side during his first 12 months at the firm, but within six years had worked his way up to Chief Operating Officer. "I decided that my time was probably better spent behind the desk rather than trying to be a DJ," he says.
"[Get In!] was the best place to start working because I was always a big electronic music fan from the age of 12, 13. I was the weird kid in school that showed people Tiesto videos; my mum always played me Café Del Mar CDs and my dad gave me Hed Kandi CDs."
Andrews worked with some of the world's biggest electronic music stars and events at Get In!, from Armin van Buuren to Fedde le Grand and Martin Solveig, Avicii (including the global campaign for his hit single, Levels), Afrojack, Tomorrowland and Ultra Music Festival.
"We kind of ended up working with just about everyone at some point, and that was the best experience ever," he says. "There weren't many PR agencies that were looking after electronic music, as it was still not really that much of a thing in mainstream media. Plus, our global scope lined up perfectly with that of electronic music artists whose popularity transcended international boundaries."
After leaving Get In! Andrews joined Sony Music in London as Head of Electronic Music Marketing in 2014 and was promoted to General Manager of International Marketing for Sony Music International in 2017.
At Sony, Andrews oversaw campaigns for the likes of Martin Garrix across his singles with Beba Rexha, Dua Lipa and Troye Sivan, plus Kygo and Jean-Michel Jarre, including the latter's Grammy-nominated album, Electronica 1.
Now, as head of the reborn Astralwerks, Andrews has overhauled the historic label's creative direction and assembled a team of widely respected music executives who have helped make this dramatic reinvigoration possible. He's also clearly enjoying his move to Los Angeles, which he notes "is a completely different pace of life than London".
"You're always surrounded by people in fields that relate to what you do here, so it's strange to always be meeting people who are video directors or who are writers or publicists or any section of music and entertainment," he explains.
"I thought it would feel very far away, but nowadays, people visit here on a monthly, weekly basis, and even our artists that don't live here we see regularly enough, because of their sessions or videos. "And I can see the Hollywood sign out of my window, which is pretty special…"
---
So you started as an intern and you worked your way up to Chief Operating Officer at Get In!. Can you tell us about your time there?
The company did amazingly well, and Jonathan [Llewellyn], who owns Get In!, always had a dream of having a US office as well. So he left the UK to set up the office in New York, and I went out briefly for two months to help him get it up and running.
That's actually where I met one of my marketing team [members] now, as he started of as an intern in that New York office. And we were out there working on TomorrowWorld, which was the first American version of Tomorrowland, at the same time. And then I went back to London and helped look after the home office until I ended up leaving.
---
You went to Sony Music after that. How did that opportunity come about? And why did you decide to leave Get In!?
I was really excited about doing something more. From being a publicist, fitting into the larger marketing plans seemed like the next logical step. We worked with so many different labels, major and independent, [and] after a while I was feeling frustrated that not all the plans they were giving us were very good or very well thought-out.
By being just the hired publicist on the end of an email, you really don't have much say in what's going on, you just get told what to do. The next step along at some point was to go to the source of where the plans came from, and play more of an integral role in conceiving them.
"Originally I thought I could be an A&R person, and I spent a year or two trailing A&R people around London, trying to offer them tips and showing them that I could find loads of great music."
Originally I thought I could be an A&R person, and I spent a year or two trailing A&R people around London, trying to offer them tips and showing them that I could find loads of great music. Eventually, Patrick Moxey, who owns Ultra, and with whom I had worked on a lot of Ultra releases at Get In!, had gone into his partnership with Sony.
This was mid-2013, and they were looking to bring people into the company who had a better understanding of electronic music, and just had the sensibilities of being able to know [how] a major label [works] but also understanding what independent dance [artists] and DJs need as services.
I was hired by Adam Granite ultimately, who's actually now at Universal as well [Executive Vice President, Market Development], and he brought me into the Sony International department, which was at that time under Edgar Berger in London. I started working there as a Senior Marketing Manager of Electronic Music. I was kind of finding my feet, and the department was still growing in the marketing sense, as well.
About four or five months after I got there, Sony signed Kygo (pictured inset), and he was really the first artist we signed with a global mindset; Kygo actually signed to Sony International via the Swedish office and Ultra.
We decided that the plan would be to not just break him in Norway and then Sweden, and then export him to the rest of the world. We signed him [direct] to International, and said, 'We'll eventually make you big everywhere, because you live on the internet and your fans live on SoundCloud; they're really not in any specific country, so let's just go for everything all at once.'
Kygo went on to become the fastest artist in history to hit 1 billion streams on Spotify, with a career spawning multiple global hit singles, including It Ain't Me with Selena Gomez.
---
What was it like working with Adam Granite? What did you learn from him?
Adam is probably the most decisive, clear-thinking person that I've ever met. If you say to him, 'I think we should do this,' and he sees the logic in it, the next thing is, 'Go do it, quickly, and come back and tell me how it went. And don't worry me with the side parts of it, just get it done.' I like working for people with clear direction. He knows exactly what you're meant to do.
---
Then you moved to Los Angeles from London. What was that whole experience like?
In the last six months I was at Sony, I got on a plane to L.A. every month. And it was becoming clearer and clearer that at some stage, I would need to move here to really make my career work. All the music videos we were making were being done out here, all the studio sessions were being done out here, the meetings with partners were all happening here, and I was getting really tired of being on a 12-hour fight every three weeks, just to come to one meeting or to go to one video shoot, and then go home again.
And so the Astralwerks opportunity, the timing and everything worked out. I met Michelle [Jubelirer, COO of Capitol Music Group] probably around two years ago. We talked about the experience of working with electronic artists and working in a global business rather than in a US-centric one.
---
What's it been like working with Michelle Jubelirer and Steve Barnett at Capitol Music Group?
They were so open and supportive from the very beginning. Te label had gone through quite a drastic change. After 24-and-a-half years being based in New York to being uprooted and moved to LA was quite a start. Honestly, building an entirely brand new team, with the exception of two people, is a fairly drastic way of evolving a record label with such an illustrious history.
From the first time I met Steve and we talked about his ideas of what he and Sir Lucian wanted Astralwerks to be known for and what it meant to Universal, we were always on the same page. And then I started sending over plans of how we could achieve our vision.
"Steve [Barnett] and I were always on the same page with ideas for Astralwerks."
Steve, Michelle and [CMG CFO] Geoff Harris were incredibly supportive and always encouraging. Even to the level of job positions; they told me I could keep things as they were, or make the changes I thought would put us on a better path. We brought in a Creative Director, which [made us], probably one of the only labels in the US that actually has its own [dedicated CD]. I'm not sure they were expecting that.
And then we wanted to run our international marketing differently. I wanted a slightly different skill-set on the digital side. We had very specific people in mind for the A&R roles. They encouraged me to come up with a plan which was a bit different to how other labels are structured within the building. So it was a challenge, but it was also a lot of fun to be given such freedom in creating a label.
---
When you say people didn't expect the first person that you hired would be a Creative Director, what do you think a more common hire have been?
I'm not sure, actually. Maybe they thought we were going to hire someone to build up our A&R team, or make sure we had new marketing managers – more traditional choices. No label here had someone in-house [as a Creative Director] that was dedicated only to that label.
But establishing a visual identity was number one on my priority list, and something I knew would pay of in a multitude of ways. Having artists come in to only talk about music just felt like a huge disservice to them.
Because anyone that comes in here, of course they have their music, but then they also have the other 50% of the conversation which is the photographers, visual artists and video directors that they love, the typefaces that they like, and that whole side of the conversation. I feel like if you can't come into a label and have that broad a conversation with someone, it's probably not going to be as fulfilling an experience as it could be.
---
You had the whole brand identity and artistic direction of Astralwerks overhauled last year, right?
Yeah, we just started with ourselves. [There was] the mild personal element of wanting to be [at a label where] a whole team can feel like it's their own. We launched a brand new look and feel of everything at Capitol Congress last year. Now it's been an official full year of utilising our new design methods and, most importantly, it was showing artists and managers that we take it seriously, and that we stick to it. Joe Mortimer, our Creative Director, is a genius. We simplified the logo to send the message that we were simply a much more understanding group of people.
---
Who are some of the other key Astralwerks personnel?
Jeremy Vuernick (Capitol Music Group's Executive Vice President of A&R) has been at Astralwerks for almost seven years, and he came from Ultra.
He signed Porter Robinson here, he signed Halsey here, and he's been with the label a long time. He's been my main guiding point of how things used to work and how things work now. He's always had the taste for electronic music, the same as I have. And we've been friends for a long time before I worked here.
Working with him, especially in the transition period and then in the rebuild of that, has been invaluable. In addition to Jeremy, Luke Armitage (Astralwerks' Senior Marketing Director) runs our marketing department.
He came from doing International at Universal UK and was part of the PM:AM dance structure there, so he's had years of experience of exporting electronic and dance music around the Universal system, and working with Tiesto, Axwell & Ingrosso, Jonas Blue (pictured inset) and a bunch of other people, so he knows the countries inside and out. He knows the people in every territory that we can rely on. People are used to hearing from him. I think he was such a perfect ft to help us grow our global presence within Universal.
---
We saw Marshmello and his manager, Moe Shalizi, collect their five-times Platinum plaque for Happier at Capitol Congress this summer. Can you tell us about the campaign behind that single and what it's like working with them?
The whole experience was amazing. It was my first time working with Moe [Shalizi] and Krista [Carnegie] and, obviously, Marshmello, but they have such a great brand and such strong ideas about what their fans like. And hopefully they feel like we were able to [provide] value where they needed it the most. Joe made the balloon artwork.
I don't know where he got the idea for it to be a balloon like that, but in the end it turned into a great idea and obviously quite iconic for what we did in the campaign.
Marshmello's brand is so happy and friendly and easy to work with, that making engaging content with him ends up being a very easy job for you. Because there are so many ideas, and you can make them do so many things, that's probably part of the magic of why people love Marshmello so much.
Plus Moe and Krista are incredibly level-headed, hard-working people, so working with them is a straightforward and really enjoyable experience. They know what they're looking for, and we were able to show them what we thought was the right idea. It turned into a great partnership and obviously a hugely successful song around the world.
---
What are the challenges of marketing an album versus a single in the electronic music space, in the US?
A lot of people struggle with the idea of consuming an electronic album. The good thing about [Illenium album] Ascend and a lot of other albums, is the reason why I know that this one will be popular, and why previous Illenium albums have been popular, is that a story is being told.
There's great songs, highs and lows to the album, dynamics within the storytelling, and there are interludes etc. Sometimes it's hard, purely as a listening experience, to absorb a full electronic album of 15 songs or so.
It's not a fully digestible experience, which is why some of those things work better as mixes or mix tapes that make the music an easier experience to get into. Obviously, you can go through such highs working with a single.
And what you can do to continue to promote the single and such are probably easier than what you can do to continue to push an album's worth of songs to people. It's much easier to just focus on one, with the opportunities abound from radio or playlisting and such. To get people's attention focused on one thing is easier than getting them focused on many things.
---
You're just over a year in as General Manager. What are your hopes for the label over the next five years?
We want to just keep working with artists that we admire who are making great music, and make sure we support them with great creative, great marketing and great data. We want to be able to spread to other areas of the world and expand the Astralwerks brand, make ourselves a bit more of a destination label globally for electronic music. The US part of our mission feels good right now, so we're expanding our focus to become more of a global brand and will be announcing our first overseas expansion in the coming weeks.
---
Do you think that the Astralwerks legacy helps make the label an attractive proposition for emerging electronic/dance artists to want to sign with?
Now more than ever, it's easy to point at the fact that Astralwerks has been the main voice of electronic music, for [the US] certainly, and I'm proud that we're continuing to re-establish and enhance the label's reputation. Our roster and history speaks to the fact that we are open to a myriad of genres and styles. People have now learned that we're not here only to sign main stage DJs; we're here for everybody that fits into electronic music as a format, or a style, or a production method.
---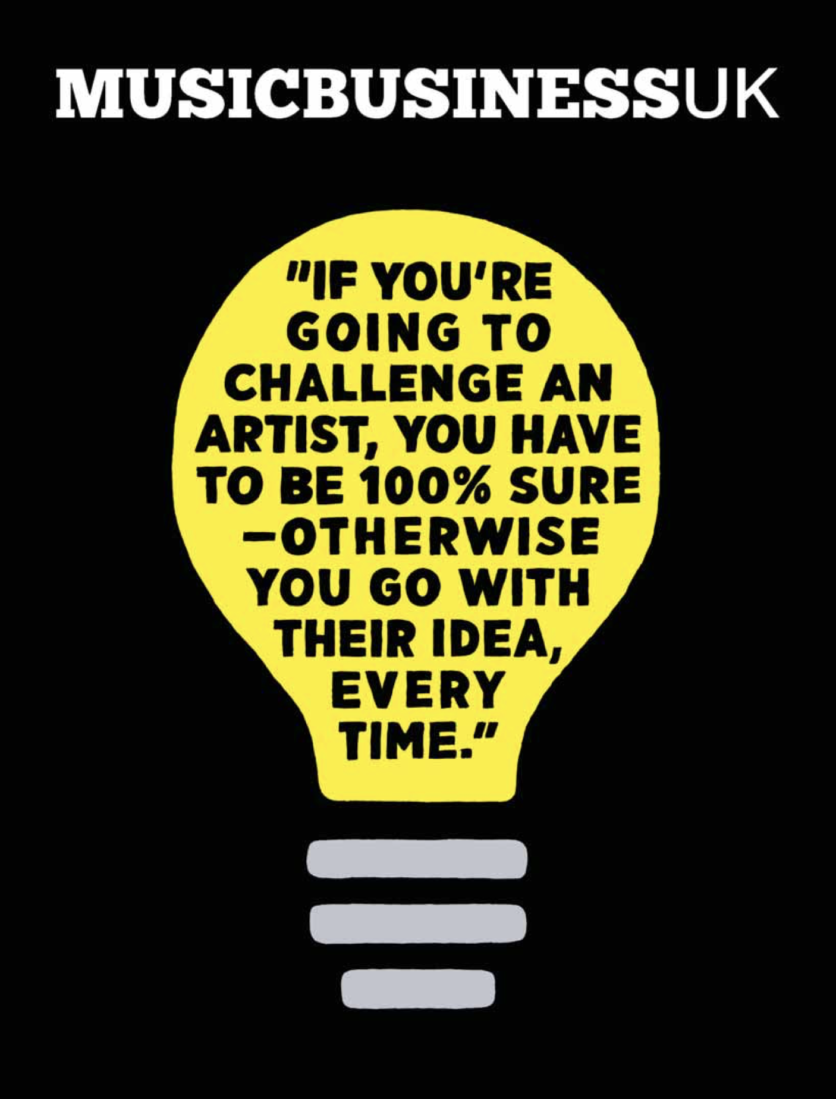 This article originally appeared in the latest (Q3 2019) issue of MBW's premium quarterly publication, Music Business UK (pictured), which is out now.

MBUK is available via an annual subscription through here.
All physical subscribers will receive a complimentary digital edition with each issue.Music Business Worldwide