MBW's World's Greatest Producers series sees us interview – and celebrate – some of the greatest talents working in studios today. World's Greatest Producers is supported by Hipgnosis Songs Fund.
---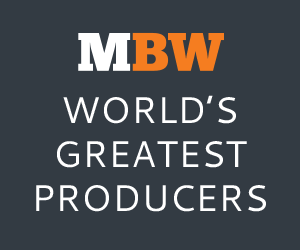 The history of the music industry isn't light on big-time execs taking at least some credit for artists, writers and producers that they have 'developed'.
So when A&R legend Clive Davis learns that up-and-coming writing/production duo Take A Daytrip (David Biral and Denzel Baptiste) actually met and formed at NYU's Clive Davis Institute of Recording Music… well, a namecheck in a future Grammy acceptance speech wouldn't be too much to ask, right?
Although, eventually, a mere Grammy might not be all Take A Daytrip have to thank fate, further education and Mr Davis for.
---
Biral and Baptiste have set their sights on nothing less than admission to the production pantheon. It might be more distant dream than short-term goal right now, and they know that huge hits with Sheck Wes (Mo Bamba), Lil Nas X (Panini) plus Travis Scott and Kid Cudi (The Scotts, No. 1 in the US earlier this year, as well as a number of tracks on Cudi's Man On The Moon III) are just the start. But, at the same time, in a very real way, It Is Written.
Baptiste explains: "We made Daytrip almost as a class project, and, as part of that, we had to map out our careers. This was about six years ago, and we have a book of everything that we wrote out that we wanted to accomplish. Certain things that are happening right now are literally written in this book."
Asked what's on the last page, he continues: "Well, this gets super nerdy, but it was based on the Hero's Journey of 12 steps; it's a literary tool that a lot of writers use to tell a story. You start a character in one place and they embark on this huge quest of ups and downs, adversity and triumph, and then coming back to the same place that they started."
"But," continues Biral, "they return with all the things that they've accomplished on their shoulders. We really base our lives and how we think about Daytrip around a Hero's Journey, and when we've come full circle we want to be considered one of the greatest production teams ever."
---
The duo initially bonded over a love of electronic music as much as hip-hop, especially the French duo, Justice and the Ed Banger label. Other influences included church music, classical and jazz.
Baptiste says: "We were just kids in college looking for things we had in common that were not common to other people, which is what we've always been trying to explore. So, you know, in New York at that time, which was 2011, it was a specific point in music. It was a little after [Kanye's] Dark Twisted Fantasy, and Travis Scott was just starting out, so Mike Dean was a huge influence too, because he was right there at that intersection.
Biral picks up: "Another one that we really connected on was Nirvana, and just kind of grunge in general. With Nirvana, some of their chord structures, and how Kurt would be singing in a different key to what's happening in the base of the music, a lot of those things really inspired us to think outside the box [Panini borrows a melody from Nirvana's In Bloom]. Listening to those types of artists really inspired us to have a more free-flowing approach to creation."
Their connection was more of a friendship than a creative partnership at first. A couple of nervous new kids recognising a kindred spirit, certainly not a professional arrangement.
Things changed, and a brand was born, recalls Baptiste, when they took a trip to Miami, on spring break, during Ultra Music Festival.
"We were just young kids who wanted to be around music, there was no plan," he says. "But seeing these producer/DJs performing for the first time, experiencing that together for the first time, that was the trip that really inspired everything; we bonded down there."
---
Their ambition to make the world smaller through music is currently at odds with the fact that the music they make is making their world a whole lot bigger, with doors opening on collaborations with different artists all over the world.
Daytrip's actual world shrank to just a few rooms recently, one of which happened to be a studio where they worked on new material with Lil Nas X, including the recently released Holiday single.
As with pretty much all their work, Daytrip co-wrote and co-produced the track, and it's hard to separate the two disciplines with the duo's creative process, though. Ultimately, though, they describe themselves chiefly as producers, helping to build and shape tracks, bringing the best out of artists.
They clearly weren't slouches in composition class either though. Check out this tweeted reply from the Daytrip account after EDM DJ Zedd questioned the musical validity and sophistication of Mo Bamba: "The 1st two chords are Emaj & Fmaj acting as the 5th & 6th chord in A harm min, the 3rd chord Bmaj is not present in A harm min so it is borrowed from E harm min. This interval of F-B is a tritone, which is common in classical music to build tension. Love, Mo Bamba producers."
It's a few steps up from Nigel Tufnell when it comes to breaking down song structure (and slapping down haters). And gives an insight into why their 'class project' is now getting top marks in the real world…
---
What was the first big break for you guys?
Baptiste: There was this kid Raury, from Atlanta, who our manager [John Tanners] had a meeting with. Our manager [Jon Tanners] wrote for this blog called Pigeons and Planes, and he was also working at Epic Records, scouting new artists.
Raury and his team had come to New York and they're going to have a meeting at Epic. But then that day, by chance, Jon got let go at Epic, because Epic was kind of imploding at the time.
So, instead, he suggested we all meet in our apartment in Alphabet City, where David and I were living together at the time. They came to the apartment and that was kind of like Day Zero for us.
Raury came with his manager, Justice [Baiden] and maybe Sean [Famoso McNichol] was there, Junia [Abaidoo] was there. It's The Love Renaissance team, basically. Raury's wearing a sun hat, playing folk music. We were like 'We like what you do.' And he's like 'Well I like what you guys do.' So we went to Atlanta..
"I remember playing pretty much just a bunch of disorganized electronic and experimental songs at the time."
Biral: We already had this song called Armor, which we'd worked on as a project at college. They said it was ideal for Raury and we said, You know what, let's just go down to Atlanta, spend the little money we have, sleep on couches and get in the studio for three days. And in those three days we made a song which changed our lives completely.
Baptiste: That turned the corner for us, away from going completely down the artist/producer/DJ/electronic scene. It also led to us signing our first publishing deal, with UMPG.
Biral: Jessica Rivera [now Head of Artist Relations at YouTube] was there. She was the one that gave us our first shot. Every other company was saying that we weren't ready. I remember playing pretty much just a bunch of disorganized electronic and experimental songs at the time. She just listened and said, 'You know what, there's something in here', and she took a shot.
---
How have you found working with UMPG since then?
Biral: It's one of the happiest relationships that we've experienced in music. When James Supreme came on board a couple years ago, that really transformed our careers completely. Lil Nas-X, Juice WRLD, Big Sean, working with then has all been a product of James Supreme. And then when [UMPG's] David Gray came on board too, like really pushing us in the pop world, which is how the Dua Lipa thing came about, it's been great.
Baptiste: I feel like we went to them with our vision, saying that it's more than just making whatever is the biggest song at the moment, or trying to aim for the Billboard Top 10. It was more that we wanted to actually see the world through music.
And I feel like they could have said, 'How about we keep pitching pop songs?' But they really understood our vision and said, 'Okay, let's plan a trip to Medellin, Columbia', and so we went down there, we got to really understand the culture and meet a lot of the musicians down there.
That's the approach they've taken with us and it's lead to some really interesting things. That's what they've been like with us.
---
What have been the key tracks for you in terms of opening doors and advancing your careers?
Baptiste: I would say our first Top 10 Billboard hit, Mo Bamba, by Sheck Wes. That song catapulted us into doing what we do daily now.
I feel like for the most part everything we were trying to experience as much as possible, so it was a lot easier to get in with new artists rather than just try and work with big artists, and maybe they just take the beat and we never meet them, we never experience anything.
Then Sheck connected with us and it was a testament to everyone seeing that we could go in with whoever, a brand new rapper, a folk artist, or whoever and there was no limit. That was one that we did on our own, at our own studio, mixed it, mastered it. The other producer, 16yrold, dropped it on his SoundCloud and literally that was what was played on radio for some time.
"It was special not just as the start of our relationship and friendship with Juice, but also to help him really talk about his friend and a lot of the lost people in music that he looked up to."
Biral: Yeah, that happened in June 2017, and the song didn't really pop off until summer 2018 and then crossing into 2019.
Baptiste: Actually, just before Mo Bamba really took off, on the day that XXX passed (June 18, 2018), that was the same day that we met Juice Wrld for the first time and we wrote and produced Legends, which was a tribute to X and also to Lil' Peep who passed earlier that year.
That was the first song which had a lot of attention for us. And it was special not just as the start of our relationship and friendship with Juice, but also to help him really talk about his friend and a lot of the lost people in music that he looked up to.
Now, since Juice passed, it's become a song that is really attached to him, just in terms of what he's saying about not living past 21 and all these things. It's just a crazy record to be a part of. Right up until he passed, that was really someone we were really starting to hang out with and work with, and to be a part of his legacy is really an honor and a blessing. It's probably one of the most important records we will work on in our entire careers.
---
Can you talk a little bit about how The Scotts came about and how you shaped that?
Baptiste: Yeah, that one was crazy for us, because Travis Scott was the coolest artist while we were in college and it was crazy seeing where he went to after that, because we were there and saw the initial steps in New York.
Obviously Cudi is also a huge influence on us. And Plain Pat, who was another producer on the song, was a huge influence to us, through all the stuff he has done with Kanye and with Cudi, the stuff he has done is huge. Him being a co-producer and then one of our collaborators and great friends, that's been surreal. And on that record in particular, it was unbelievable how some of our biggest influences all came together on one song.
"Travis Scott was the coolest artist while we were in college and it was crazy seeing where he went to after that."
Biral: Mike Dean was on that one as well, on the outro. I remember we were in the studio with Dot [Da Genius] and Plain Pat, and that record was like we were just jamming, for so, so long. And then me and Denzel sat down with everything and chopped it up. We went back to Pat and Dot and got their approval and just sort of filed it.
Then, around the Superbowl, right before everything shut down, we were hanging out with Travis a little bit more and he came around one day and played the finished record. Me and Denzel and Dot were just like, 'Oh my God!' And that was it after that.
---
You mentioned working with artists and producers who you've previously idolised, how easy or hard is that to do, and to make sure you maintain the right sort of atmosphere in those situations?
Biral: I remember our first session with Kid Cudi. Dot brought us by the studio and Mo Bamba was doing really well at the time. I remember Cudi said, 'Give me something that is like Mo Bamba, but in my world'; he gave us a challenge.
And in that moment, me and Denzel were like, this is a legend in front of us, this is an artist that we look up to, and Dot, a producer we look up, and they're asking us on the spot to make something from scratch. I remember when we finished that beat he told us, 'Yeah, this is exactly it. There was the challenge that I put in front of you, and you rose to that challenge.' I think that made us realize that we are now operating with these artists, they want what we do, and when we come into the room, it's just about being ourselves.
"When we come into a room with whoever it may be, it's just a question of mutual respect for both our crafts."
At this point, we all have a mutual respect for the music that we make and if someone has albums and albums of songs that we listened to, grew up with, were inspired by, for them to come to us having heard a song that we have produced, and say give me some of that in my world… that helped us realize that people listen to our music, and respect us for the things we do. So when we come into a room with whoever it may be, it's just a question of mutual respect for both our crafts.
Baptiste: I remember Mike Dean telling a story about how he was in a similar position one of the first times when he worked with Kanye. It was like, you have these tests and you have to have the confidence in yourself to really show up and do what you know you can do. Hearing that from him, we knew we were on the right path.
---
Do you categorize yourselves chiefly as writers or producers, or are the two inextricably linked because of the way you work?
Baptiste: We were talking about this the other day, that the barrier of entry to become a musician or a producer is a lot lower than it's ever been because of technology.
Like, at one time, if you were going to become a producer, you needed to play all these different instruments, you had to engineer, do all these different things, technical things like cutting tape or knowing how these actual pieces of machinery work.
Now it's so much easier to be in it from all sides that it puts more pressure on your actual ideas. Everyone is on the same playing field, everyone has the same access and opportunity and anyone could put something out and have the same potential for it to be the biggest song ever made.
"We learned early on if you just make a beat and sit in the back of the room, you're not doing your job as a writer or a producer."
So now you really have to be able to fit into all these different spaces as far as writing songs, putting them together, making beats, producing, really bringing whatever you need to make this song as good as possible, take it to the standard that you know you can bring it to.
We learned early on if you just make a beat and sit in the back of the room, you're not doing your job as a writer or a producer, because if something is missing, or something's not working, it's your job to fill in that gap or to push the artist to make the best record possible.
Biral: Yeah, I definitely think there are skillsets that every producer, every writer, needs to develop to achieve longevity.
Going back to that Cudi session, it was him saying, Are these guys one hit wonders or are they actually producers to stay?
Whenever we come into a room and we're working with an artist and have a good chunk of time, we are able to make things from scratch, we melody run with artists, we help pick out parts with artists, we are comping vocals, we're engineering the artist, just trying to be as involved as possible to create the best song as possible.
---
MBW's World's Greatest Producers series is supported by Hipgnosis Songs Fund. Traded on the London Stock Exchange, Hipgnosis was established to maximise the value of music… while also proving that value to institutional investors. Music Business Worldwide