Exactly a week ago, we told you that Warner's recorded music revenues in the 12 months to end of September had topped $3bn for the first time in over a decade.
Today, that news was officially confirmed by WMG.
The company's finalized financial results show total recorded music sales in its last fiscal year hit $3.02bn, up 10.4% year-on-year or 11.7% in constant currency.
Within this number, revenue from streaming services bounced 48% – up by $434m year-on-year – to $1.34bn.
Digital download sales dropped by $106m year-on-year to $328m – a 24% decline.
Physical revenue decreased by $59m compared with FY2016.
---
Publishing company Warner/Chappell, meanwhile, saw its revenues grow 9.2% (or 10.6% in constant currency) in the year – up to $572m.
The pubco's annual digital revenue rose 32.6% (or 35.5% in constant currency).
Growth in digital, performance and synchronization revenue was partially offset by declines in mechanical revenue.
Digital revenue represented 32.7% of total Music Publishing revenue versus 26.9% in the prior year.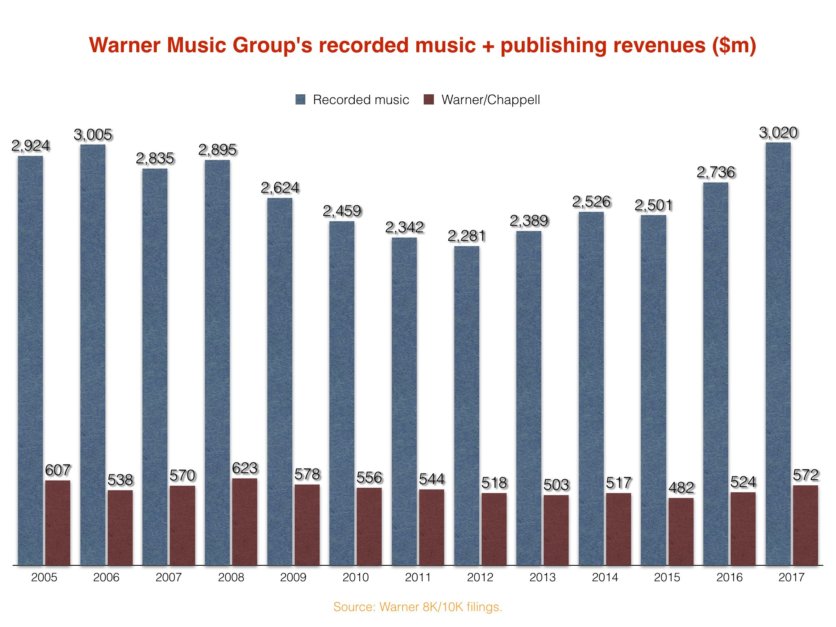 ---
In terms of Warner Music Group – across recorded music, publishing and other activities – Warner Music Group's revenues hit $3.58bn in the 12 months.
That was up 10.2% (or 11.5% in constant currency) on the prior year.
Warner's key profitability metric, OIBDA, stood at $473m in the FY, down 6.7% from $507 million in the prior year.
Warner blamed this dip on 'higher variable compensation expense of $102m and increased investment in A&R'.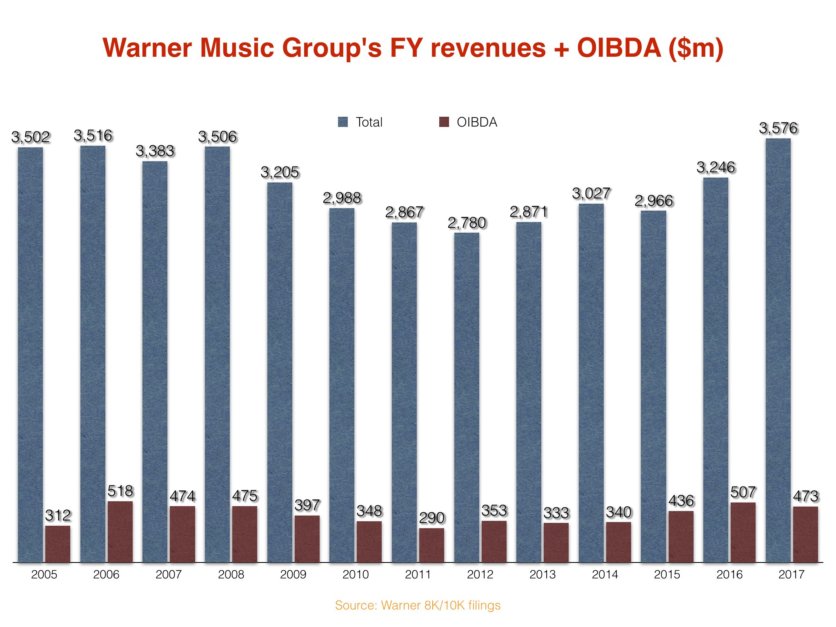 Yearly net income was $149m compared to $30m in the prior year.
Adjusted net income was $162m compared to $24m in the prior year, reflecting a $125m tax benefit.
Net debt (total long-term debt, net of deferred financing costs, minus cash) at the end of the fiscal year was $2.164 billion versus $2.419bn at the end of the prior fiscal year, resulting from retirement of debt and a higher cash balance.
Cash provided by operating activities was $535m compared to $342m in the prior year.  Free Cash Flow was $409m, compared to $334m in the prior year.Music Business Worldwide