Like its major music company rivals, Warner Music Group didn't have an easy time of things during the COVID-hit calendar Q2 period.
WMG's highlight in the three months to end of June? Its recorded music streaming revenues, which grew by 11% year-on-year on a constant currency basis, up to $589m.
That number was confirmed by WMG's Executive Vice President and CFO, Eric Levin, speaking on a call with investors earlier today. (For those keen on such comparisons: Universal Music Group's recorded music streaming revenues grew by 8.5% YoY on a constant/organic basis in the same quarter; Sony Music's were up by 5.9%. Obviously both Universal and Sony's rises come off a bigger base number.)
There weren't many other numbers in WMG's calendar Q2 (fiscal Q3) results, revealed today, that weren't obviously hampered by the effects of the pandemic lockdown during the period.
WMG's physical music sales took a hammering, down from $95m in calendar Q2 last year to $51m in the same three months of 2020. That fall brought WMG's quarterly physical sales close to the same tally as its download sales ($41m).
Elsewhere, WMG's quarterly recorded music licensing revenues fell by $20m YoY to $56m, while the firm's 'Artist Services & Expanded Rights' sales – covering merchandise and live music income – dropped by $34m YoY to $124m.
Warner said these declines were "primarily due to COVID-related business disruption and the unfavorable impact from foreign currency exchange rates, partially offset by the continued growth in streaming".
Warner's overall recorded music sales in Q2 hit $861m, down 5.7% in real terms, and down 4.2% on a constant currency basis.
Major sellers in the quarter included Dua Lipa (pictured), Roddy Ricch, Lil Uzi Vert, Tones And I and Ed Sheeran
---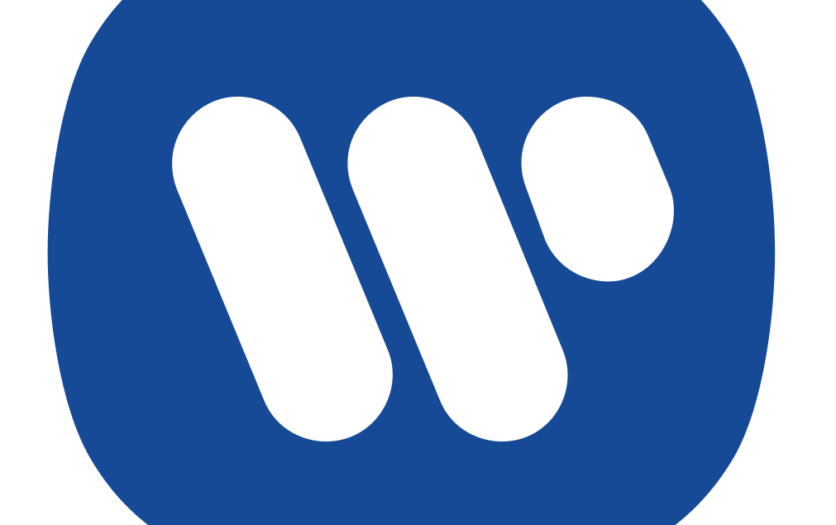 In terms of WMG's recorded music performance across the first half of calendar 2020, the company posted streaming revenues of $1.175bn in the Jan-June period.
That was up 9.1% on WMG's streaming haul from H1 2019 ($1.077bn), though that percentage rise would have been greater on a constant currency basis.
WMG's total recorded music revenues (including physical, digital and other income) in H1 2020 fell, however – weighing in at $1.768bn.
That represented a 4.2% YoY decline on the $1.846bn posted in H1 2019 (although this decline would be softer at constant currency).
---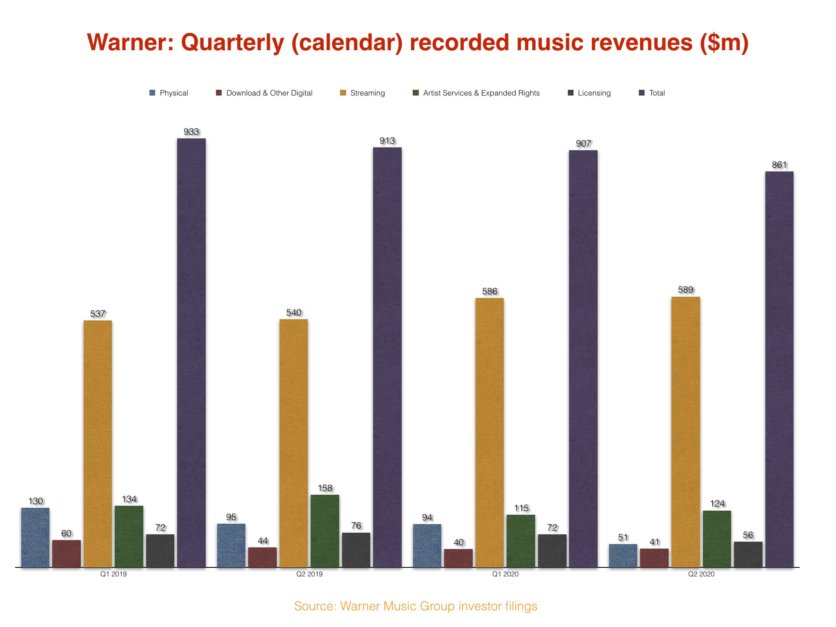 ---
WMG's music publishing operation – Warner Chappell Music – managed to grow its revenues in calendar Q2 (fiscal Q3), despite substantial impact from COVID-19.
Overall publishing revenue at the company in the three months to end of June stood at $149m, up 2.8% YoY on a constant currency basis.
Performance revenues at Warner Chappell fell 25% YoY in the quarter (-20.6% at constant currency) to $27m, while mechanical revenues dropped 38.5% to just $8m.
Syncronization revenues also declined at Warner Chappell in calendar Q2, down 24.1% YoY to $22m.
However, the publisher's digital revenues saved the day, up 40.6% on a constant currency basis to $90m.
---

---
With Warner's recorded music and publishing operations combined, the company's overall revenues reached $1.01bn in calendar Q2, down 4.5% or 3.1% at constant currency.
"We're very pleased with our performance this quarter, especially in light of the global pandemic.  Our results highlight the underlying strength and resilience of our business.  Streaming revenue grew double digits and our digital transformation continues," said Steve Cooper, CEO, Warner Music Group.
"Our commitment to new artist development is illustrated by the fact that four out of our top five best-sellers this quarter were from artists releasing debut or sophomore albums.  Our artists and songwriters continue to create music that moves the world including, in the U.S., the most-streamed song of 2020, as well as the No.1 and No. 2 biggest Pop songs during the first half of the calendar year."
"These results are slightly better than our expectations, given the sustained effect that COVID has had on certain aspects of our business," added Eric Levin, Executive Vice President and CFO, Warner Music Group. "That's a testament to the incredible ability of our teams, our artists and our songwriters to pivot and adapt, and to keep the hits coming.
"We have a robust cash position and all the music and resources needed to come out the other side of this with our long-term prospects as strong as ever."
Music Business Worldwide