Warner Music Group has now been a public company on the Nasdaq for the equivalent of a full working week.
The company floated on the Nasdaq last Wednesday (June 3), after setting a pre-market IPO price of $25.00 per share, which gave it an initial market cap value of $12.75bn.
At the end of trading today (June 9), its fifth trading day on the Nasdaq, the company's share price has risen to $32.00.
According to MBW's calculations, that $32.00 share price gave WMG a day-end market cap value of $16.32bn.
That was some $3.57bn larger than the market cap valuation WMG achieved via the initial pre-IPO price ($25.00) it set last Wednesday.
It's also nearly $1bn bigger than the market cap WMG achieved at the close of its debut day of trading ($15.36bn), when its share price rose 20.5%.
---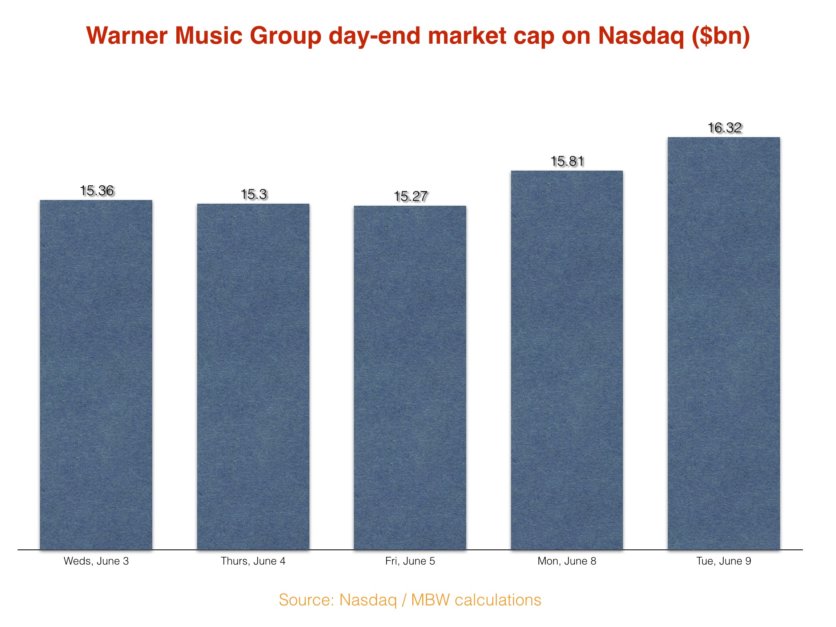 ---
WMG owner Access Industries made 77m shares of Class A Common stock available for trading on the US stock exchange last Wednesday (June 3).
According to SEC filings, later that day, Warner applied to make a further 8.05m shares of Class A Common stock available for public trading.
Prior to floating on June 3, Warner announced that, together with its majority owner Len Blavatnik, it was pledging a $100m fund to "support charitable causes related to the music industry, social justice and campaigns against violence and racism".
Warner Music Group announced its most recent quarterly results in May, for the three months to end of March 2020.
WMG's recorded music revenues in the first calendar quarter of 2020 were down 2.8% year-on-year, or down 1.5% at constant currency, to $907m.
Streaming revenues grew 11% YoY to $586m, up by $49m on the equivalent figure from calendar Q1 2019 ($537m).
Warner Music Group's overall revenues – including recorded music, publishing and other activities – stood at $1.07bn in calendar Q1 2020, down 1.7% YoY, but flat at constant currency.Music Business Worldwide