Pandora has signed US-only direct licensing agreements for recorded music with Universal Music Group, Sony Music, Merlin and The Orchard, in addition to 'over 30 other independent labels and distributors'.
You may have noticed a big omission there: no Warner.
MBW understands the major is close to striking a direct deal with Pandora, with the main sticking point being a matter of revenue share.
We revealed last month that Spotify is currently paying labels around 55% of revenue, which the Swedish company is attempting to negotiate down.
---
The new Pandora deals leave the way open for the company to announce its new on-demand Spotify rival, expected to be unveiled this week.
Pandora calls the agreements 'win-win', but a question mark remains over how its royalties will be paid through to labels in future, and what that will mean for artists.
"Working collaboratively, we have created a partnership that enables innovation and has the potential to delight music fans."

Lucian Grainge, UMG
The US-based service currently pays recorded music royalties to SoundExchange based on the market's statutory rate.
The PRO then splits this US-sourced money between labels and artists.
Crucially, any SoundExchange money which is paid to artists is not recoupable on the cash they may owe their label following an advance.
---
MBW understands that Pandora is set to announce three tiers to its new service.
One, at $9.99 per month, will directly rival Spotify and Apple Music with an unlimited on-demand service.
Another, at $5 per month, will offer a restricted on-demand service – with a limited cache 'wallet' which only allows users to soft-download a small number of tracks (if any).
However, Pandora's free tier may also get an upgrade, with added 'skips'.
If this is true, then all parties may be able to make the case that Pandora is no longer a 'non-interactive service'.
It would therefore be subject only to the private direct deals signed with the majors, as opposed to the statutory rate – and the traditional SoundExchange payout system.
(SoundExchange, which paid out $803m to rightsholders last year, look favorite to carry out administration of any direct Pandora deal for the major labels regardless.)
---
"This was a truly collaborative attempt to find a solution that would support artists while profitably growing our respective businesses," said Tim Westergren, founder and CEO of Pandora.
"And that is exactly what we achieved. Working together, we can reshape the digital music market and grow a great business that provides tremendous value to the music industry for decades to come."
The newly signed music companies join ASCAP, BMI and more than 2,700 publishers who also recently partnered with Pandora to license their full catalogs for use on the company's upcoming products.
Sir Lucian Grainge, Chairman and CEO of Universal Music Group, said: "We are pleased to work with Pandora to enable compelling new products and services for one of the largest music streaming audiences in the world.
"Working collaboratively, we have created a thoughtful partnership that enables innovation and has the potential to delight music fans and benefit the entire music ecosystem of recording artists, songwriters, labels and publishers."
"This partnership should be very encouraging for the entire industry. Pandora is a company founded and run by a musician."

Doug Morris, Sony Music
Doug Morris, CEO of Sony Music, said:  "This partnership should be a very encouraging sign for the entire industry. Pandora is a company founded and run by a musician. We are naturally aligned and look forward to growing the music business together and collaborating to support our artists in the digital era."
Charles Caldas, CEO of Merlin Network, said: "We are very pleased to broaden our relationship with Pandora, and to see additional revenue opportunities being created for our members. Independent music has always been at the heart of Pandora's experience, and we are confident that Pandora's users will appreciate and enjoy the music from Merlin's market-leading member labels and artists as a vital element of the newly enhanced experience."
---
Pandora's active monthly listener count fell in the three months to end of June, down 1.3m to 78.1m, compared to 79.4m in the same period of 2015.
It was the second quarter over the past nine months in which Pandora's active listener base declined year-on-year, and was three million people behind its monthly peak of 81.5m in Q4 2014.
Compare that to Spotify, which revealed an active user base in excess of 100m in Q2 (June) – a figure which grew by 25m people over the previous 12 months.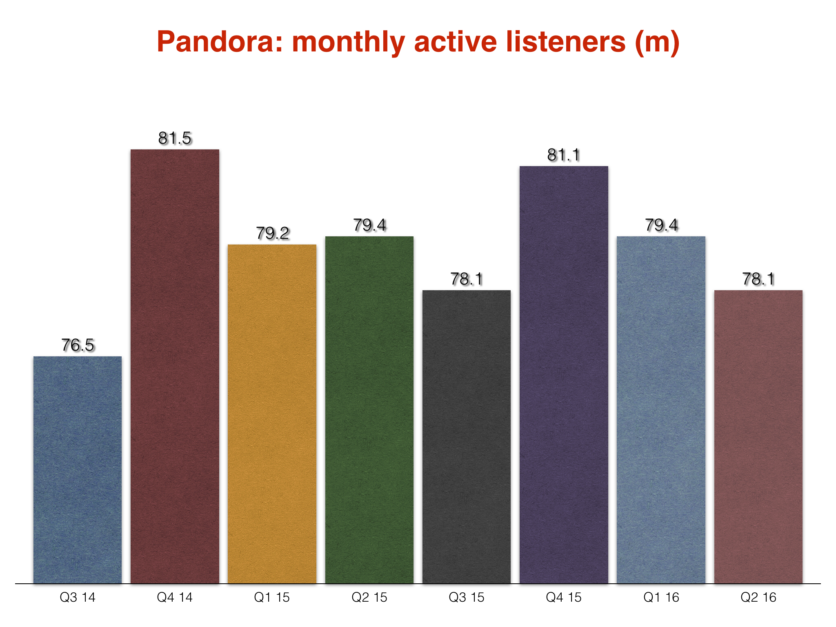 Music Business Worldwide