The IFPI has confirmed the Top 10 best-selling albums and singles of 2015 worldwide, across both physical and digital formats.
The No.1 album of the year will be no surprise: Adele's 25, released by XL/Beggars in most territories but via Sony/Columbia in the US and South America.
The release is currently believed to be bubbling around the 20m sales mark worldwide – a figure it will comfortably surpass off the back of Adele's ongoing world tour.
Elsewhere in the IFPI's rankings, Wiz Khalifa and Charlie Puth's See You Again, a tribute to late Fast & Furious actor Paul Walker, was the biggest digital track of last year.
(We already knew that See You Again, issued via WMG/Atlantic, was the biggest music video on YouTube worldwide in 2015.)
What's particular interesting about the Top 10 lists, which you can read below, is the division in terms of corporate group market share.
On the singles list in particular, there's a bit of an upset: Warner claims (on a distribution basis) more of the spoils than both Sony and Universal.
Universal takes five of the Top 10 albums list: Taylor Swift's 1989 (Big Machine/CMG/Virgin EMI), Justin Bieber's Purpose (Def Jam / Virgin EMI), Sam Smith's In The Lonely Hour (Capitol), The Fifty Shades Of Grey OST (Republic) and The Weeknd's Beauty Behind The Madness (Republic). However, on the singles list, UMG claims just three of the Top 10 slots: Maroon 5's Sugar (Interscope),  Ellie Goulding's Love Me Like You Do (Republic/Polydor) and Taylor Swift's Blank Space (Big Machine/CMG/Virgin EMI) – none of which appear in the Top 3.
Sony takes three of the Top 10 albums (if you count Adele), including One Direction's Made In The A.M (Syco/Columbia) and Meghan Trainor's Title (Epic). On the Singles Top 10, Sony claims – like UMG – three releases: Mark Ronson's Uptown Funk (Columbia), Adele's Hello (again, in the US) and OMI's Cheerleader (Ultra/Columbia).
Warner takes two of the Top 10 albums list: Ed Sheeran's X (Atlantic) and Coldplay's A Head Full Of Dreams (Atlantic/Parlophone). But it's a different story on the Singles Top 10, where WMG claims no less than four entries: Wiz Khalifa's See You Again, Ed Sheeran's Thinking Out Loud (Atlantic), Major Lazer's Lean On (signed by Because Music but distributed by WMG) and Jason Derulo's Want To Want Me (Warner Bros).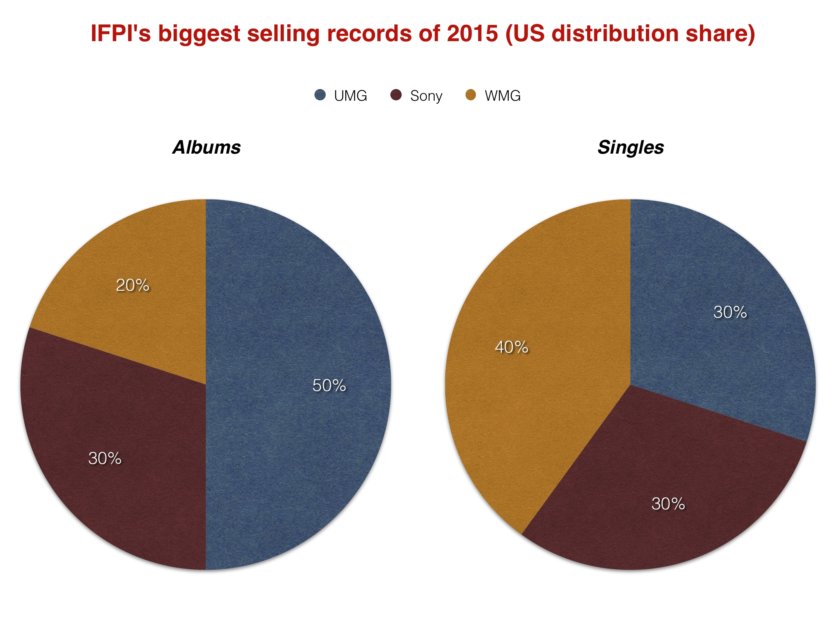 WMG and Atlantic Records are pleased as punch with their showing on the IFPI list – and can take part-credit for the fact that Atlantic-signed Bruno Mars appeared on the second biggest selling track of the year, Mark Ronson's Uptown Funk (released on Sony's Columbia).
"This is a great moment in Atlantic history," said Atlantic Chairman & CEO Craig Kallman and Chairman & COO Julie Greenwald.
"To have four of our artists top the annual chart is both a testament to the strength of our roster and to the power of great songs to transcend boundaries of country and culture.
"Wiz, Charlie, Bruno, and Ed are all incredible songwriters and performers with original voices, and they delivered music that moved hearts, minds, and feet across the globe in 2015."
Added WMG CEO Steve Cooper: "This is gratifying proof of what can be achieved when great artists delivers brilliant songs, backed by the best global team in the business," said WMG CEO Steve Cooper.
"I want to congratulate the entire WMG family for showing what real artist development is all about.
"Throughout the company, we are signing extraordinary artists and making records that resonate with fans around the world.
"The impact of global streaming is dramatically evident in our success last year, and we are looking forward to continuing to make great strides in 2016."
Mike Caren, Creative Officer of WMG and recently named CEO of Artist Partners Group, signed both Charlie Puth and Wiz Khalifa.
He added: "Wiz and Charlie are amazingly inventive artists, and it was fantastic to see how their different styles came together so seamlessly to create a timeless song with such incredible emotional power that it took over the world. I am so happy to see Wiz, Charlie, Bruno, Ed and so many other WMG artists grow from hugely talented unknowns to globally loved hit-makers."
---
Global top 10 singles
Wiz Khalifa – See You Again (feat. Charlie Puth)
Mark Ronson feat. Bruno Mars – Uptown Funk
Ed Sheeran – Thinking Out Loud
Maroon 5 – Sugar
Major Lazer – Lean On (feat. MØ & DJ Snake)
Ellie Goulding – Love Me Like You Do
Adele – Hello
Taylor Swift – Blank Space
OMI – Cheerleader
Jason Derulo – Want To Want Me
Global Top 10 albums
Adele – 25
Ed Sheeran – x
Taylor Swift – 1989
Justin Bieber – Purpose
Sam Smith – In The Lonely Hour
One Direction – Made In The A.M.
Various Artists – Fifty Shades Of Grey
Coldplay – A Head Full Of Dreams
Meghan Trainor – Title
The Weeknd – Beauty Behind The Madness
Music Business Worldwide