Will Vivendi successfully sell a chunk of Universal Music Group – or, indeed, all of Universal Music Group – by the end of 2019?
Some significant figures in the investment community have recently suggested the Paris-based company might struggle: you may remember those Wall Street insiders who informed Bloomberg last month that "some private equity investors balk at the high price and slow pace of the [UMG] deal".
That comment, and others like it, arrived shortly after Vivendi said that the first real stage of the UMG sale procedure – that of officially partnering with banks to find a suitor – would be completed "shortly" and "without haste".
To recap: Vivendi is officially looking to sell up to 50% of its subsidiary, Universal Music Group, which is currently being valued at anywhere between $30bn and $50bn by investment banks.
When it first announced this intention last year, Vivendi suggested it could possibly get a UMG part-sale wrapped up by the end of January 2020.
The likes of Alibaba, Apple, Amazon, Tencent, Liberty Media and KKR have since been mooted as possible buyers of UMG – but then those whispers started emerging a few weeks ago that things may be taking longer than Vivendi expected.
Today, Vivendi has stated its renewed confidence in the sale process, without (deliberately?) setting too many hard deadlines.
"We are not in a hurry. Vivendi is doing very well, UMG is doing very well. The question is how to find the right partner, up to 50%. But everything's fine – trust me!"

Yannick Bolloré, Vivendi (pictured)
In a new interview with Bloomberg TV, Vivendi Chairman Yannick Bolloré said his company was "very confident" that it will "open a [UMG sale] process" by the end of 2019, and that its roadmap to offload up to 50% of Universal is "on the right track".
---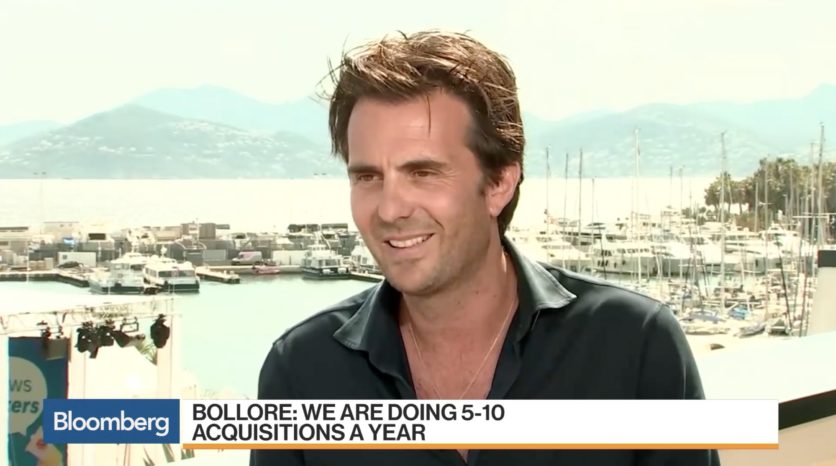 Pressed by Bloomberg journalist Caroline Hyde on what that really meant, Bollore reiterated that Vivendi expects the UMG sale process to begin by the close of this year – rather than necessarily expecting that a suitable partner will be found in this timeframe.
Speaking in Cannes, France (interview pictured), Bollore said of the UMG sale: "We are not in a hurry. Vivendi is doing very well, UMG is doing very well. The question is how to find the right partner, up to 50%. But everything's fine – trust me!"
He clarified that Vivendi was looking to find a "strategic or financial partner, [for] up to 50%, to accelerate the growth of UMG".
He added: "As you may know, the music industry is going through a huge period of growth – the business is thriving – and we want to make sure we can accelerate this growth in the coming years."
We learned last month that Vivendi had already held talks with Tencent Holdings Ltd about a minority investment in Universal Music Group. Such a move would widen an existing relationship between the parties.
UMG inked a new, expansive deal with Tencent in 2017 for the latter company to exclusively sub-license UMG's catalog in China. Universal also agreed to work in partnership with the Shenzhen-based company to design, build and develop Abbey Road Studios China, a 'state-of-the-art recording and mastering facility'.
The highest valuation linked with UMG so far has come from JPMorgan, which in February suggested the music company could be worth as much as $50bn.Music Business Worldwide