The income of the US recorded music market fell 0.5% at retail in the first half of 2015, according to new figures released by the RIAA today.
Total revenues in the six months to end of June across physical, digital and sync amounted to $3.166bn, down from the $3.182bn generated in the same period of 2014.
Revenues did grow 0.8% year-on-year on a wholesale basis in H1 2015, up to $2.3bn – suggesting that labels are getting a better return on their goods from retailers than they did a year ago, as streaming takes a bigger share of the market.
The standout stat from the RIAA's figures is that streaming services generated over $1bn in the six months for the first time in history. (Read in-depth analysis of streaming in the US in H1 – and why it might have caused more concern than celebration – through here.)

Elsewhere, the total value of digitally distributed music formats (downloads and streaming) was $2.3 billion – up 6% compared to the 1H of 2014.
However, revenue from permanent digital downloads (including albums, single tracks, videos, and kiosk sales) declined 4% to $1.3bn.
Digital track sales declined by value 9% to $688 million, with sales volume down 12% to 570 million units.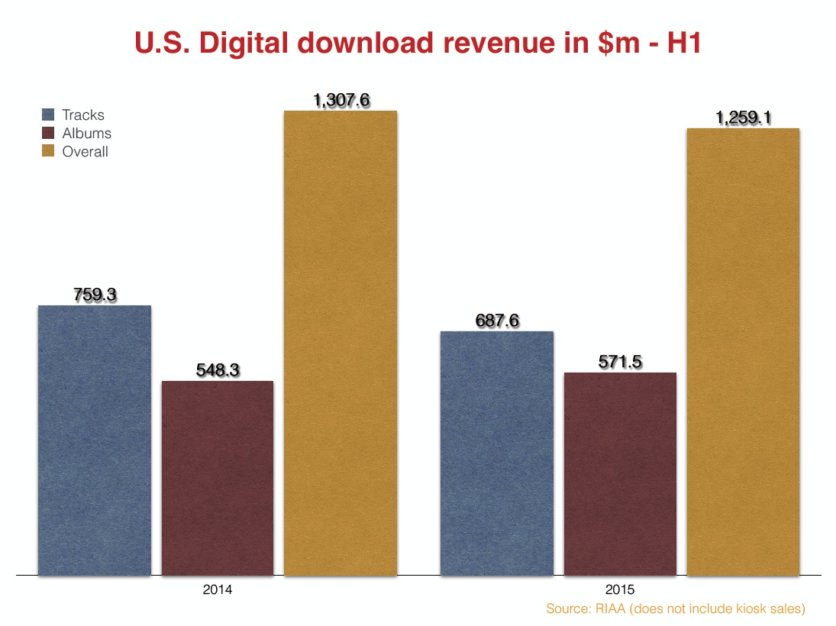 Income from digital albums grew 4% to $572 million, while digital album unit sales were up 5% to 57.5 million.
Digital accounted for 76% of the overall market by value, compared with 71% for 1H 2014 (sync excluded).

Total value of shipments in physical formats was $748 million, down 17% versus 1H 2014.
CDs made up 66% of total physical shipments by value.
Vinyl was up 52% by value for the first half of the year, and accounted for 30% of physical shipments by value.
Synchronization royalties stood at $95 million for the first half of the year, up 4% versus 1H 2014.

Music Business Worldwide