The USA's recorded music market generated $9.8bn in total retail revenues last year, of which $6.6bn made its way back to artists and labels in wholesale payments.
The remainder of that $9.8bn, of course, was retained by retailers and digital music services like Spotify.
These new figures, from the RIAA, tell us that 67.35% of last year's $9.8bn retail haul was paid out to labels and artists. In 2017, it was a similar story: 67.05% of that year's US retail revenues ($8.8bn) made its way to music rights-holders on a wholesale basis ($5.9bn).
Yet in 2016, according to the RIAA, the wholesale revenues paid out to labels and artists was slightly higher than it was in the following two years: 68.42%, to be exact ($5.2bn wholesale versus $7.6bn retail).
Why? Perhaps because Spotify struck new deals with major and independent labels in the first half of 2017, which saw those same rights-holders agree to lower the share of pro-rated net revenue they received from the service, down from approximately 55% to 52%.
---

---
Back to last year. According to new RIAA data, the US recorded music market – which was up 12% overall – saw specific revenues from streaming music platforms grow 30% in 2018 to reach $7.4bn.
That made up some 75% of the industry's $9.8bn total revenue tally, thanks to a variety of formats including premium paid subscription services, ad-supported on-demand services (i.e. YouTube, Vevo, and ad-supported Spotify), and streaming radio services, such as those that distribute revenues through SoundExchange (including Pandora, SiriusXM, and other internet radio services).
Total 2018 subscription streaming revenues (ie. those paid for by consumers) increased 32% to $5.4bn, says RIAA, making up more than half of the entire market's revenue across all formats. (Included in this figure is $747m in revenues from 'Limited Tier' subscriptions on services like Amazon Prime or Pandora Plus, as well as fully-stacked premium, on-demand streaming subscriptions from the likes of Spotify, Apple Music, Amazon Music, Pandora etc.)
The average number of paid subscriptions (excluding limited tier options) grew 42% in 2018, says the RIAA, exceeding 50m for the first time ever. On average, more than one million new subscriptions were added each month.
---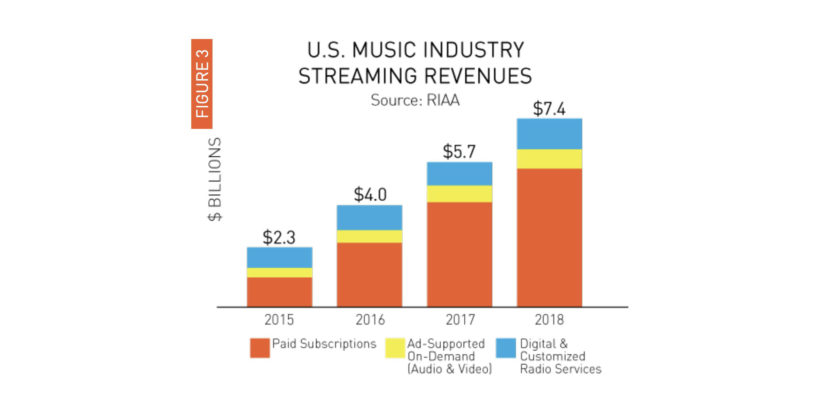 ---
Revenues from on-demand, ad-supported streaming services (including YouTube, Vevo, and the free version of Spotify) grew 15% in 2018, significantly slower than paid-for subscriptions. The total haul from ad-supported services was $760m, less than seven times the amount of money pulled in from streaming subscriptions.
Revenues from digital and customized radio services (including Pandora, SiriusXM satellite radio, iHeart Radio, and internet radio services) grew 32% year-over-year to $1.2 billion – the first time the category exceeded one billion dollars annually.
Revenues from downloaded tracks and albums declined for the sixth consecutive year to $1.04 billion. Album downloads fell 25% to $500m in 2018, while individual track sales were down 28% to $490m.
Revenues from shipments of physical products decreased to $1.15bn, down 23% from 2017. At estimated retail value, CDs fell by just over a third – 34% – to $698m. It was the first time that annual revenues from CDs amounted to less than one billion dollars since 1986.
Revenues from vinyl albums in 2018 hit $419m, an increase of 8% year-on-year, and the highest level since 1988.
---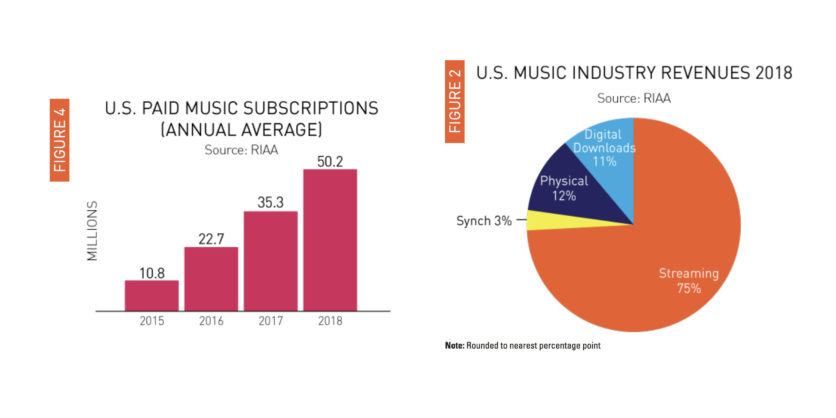 ---
You can see a detailed breakdown of US recorded music revenues in 2018 and 2017 below, and you can download the RIAA's complete 2018 year-end report through here.
In a blog post today (February 28), RIAA Chairman & CEO Mitch Glazier wrote: "Rejuvenation in the industry means more opportunities to find and break new artists for fans to enjoy. In response to a growing market, labels are doubling down on what they do best: investing in great music makers and innovative businesses to realize creative visions and bolster the strong connection between artists and their fans.
"According to an illuminating recent report ("Same Heart. New Beat") by NYU Steinhardt Music Business Program Director Larry Miller, more than 650 new artists were signed to major labels in 2017, a significant increase over prior years. At the same time, labels' evolution continues, with teams working 24/7 to support their artist partners with coordinated global campaigns that turn local breakouts into international superstars."
He added: "Make no mistake, many challenges continue to confront our community. As noteworthy as it is for the business to approach $10 billion in revenues again, that only returns U.S. music to its 2007 levels. Stream-ripping, and a lack of accountability for many Big Tech companies that drive down the value of music, remain serious threats as the industry strives for additional growth.
"But there is reason for buoyed optimism among those who help create music. Recognizing that there is more work to do, labels remain focused on building an ecosystem where every responsible player does its part to ensure that innovation continues to thrive, fans continue to be connected and engaged, and everyone is paid fairly for their work."
According to BuzzAngle data issued earlier this year, the USA's five biggest streaming artists in 2018 were Drake, Post Malone (pictured), XXXTentacion, Eminem and Migos.
---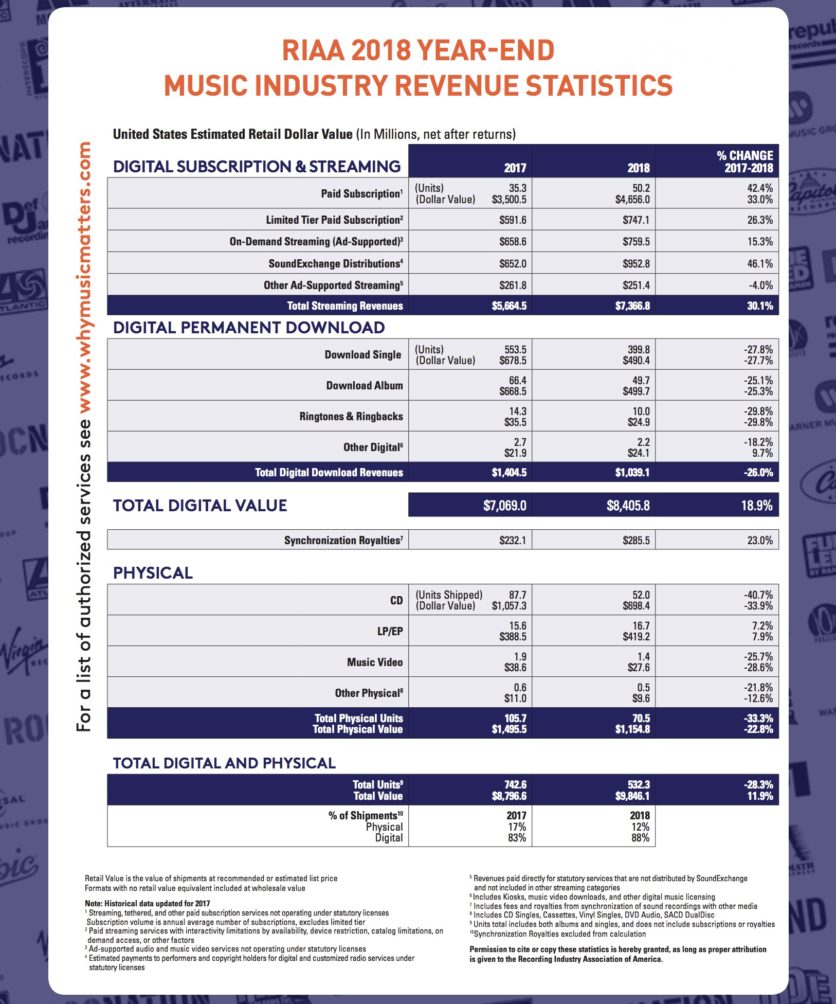 Music Business Worldwide