Those streaming milestones just keep on getting destroyed, don't they?
Universal Music Group's recorded music streaming revenues are dead cert to blast through the $2bn barrier in the calendar year of 2017.
According to the latest set of results from parent Vivendi, UMG's labels turned over €1.44bn ($1.6bn) from streaming in the first nine months of this year – up 40.8% on the same period in 2016.
In Q3 alone, that means Universal generated €481m ($535m) from streaming – the equivalent of around $45m a week.
Presuming that Universal will post another $500m – $600m from streaming in Q4 (and why wouldn't it; those numbers keep going up and up), the major should finish 2017 with somewhere in the region of $2.2bn from the likes of Spotify and Apple Music.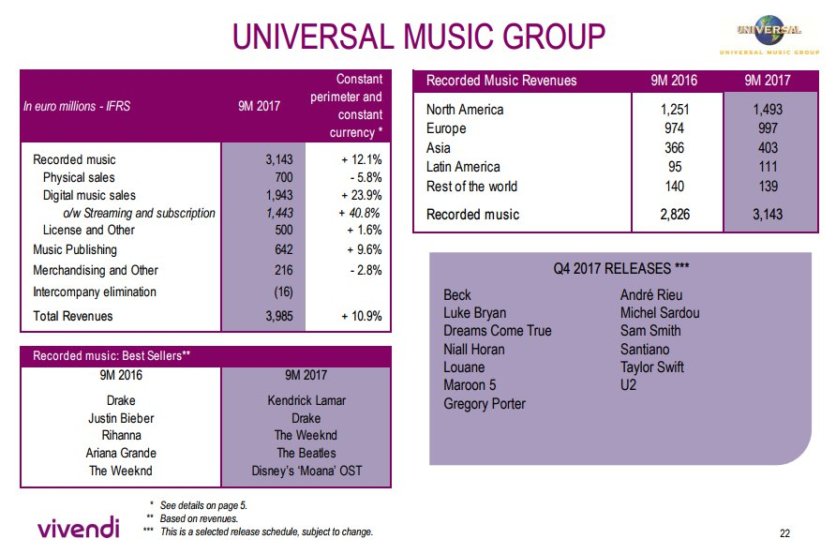 ---
Universal's total recorded music revenues in Jan-Sept hit €3.14bn ($3.5bn) , up 12.1% year-on-year.
Within that nine-month total, physical sales dipped 5.8% to €700m ($779m) while digital download revenues fell to €500m ($588m) – less than a third of streaming's total in the same timeframe.
Universal's biggest-selling artists based on global revenues in Jan-Sept were (in order) Kendrick Lamar (pictured), Drake, The Weeknd and The Beatles.
Revenues at Universal Music Publishing Group jumped 9.6% to €642m ($715m) in the nine-month period.
Total UMG revenues in the first nine months of 2017 – including publishing, recorded music and other activities – reached €3.99bn ($4.4bn), up 10.9% year-on-year.
That puts Universal Music Group on course to turn over a company record €5.2bn+ in the full calendar year – the equivalent of nearly $6bn.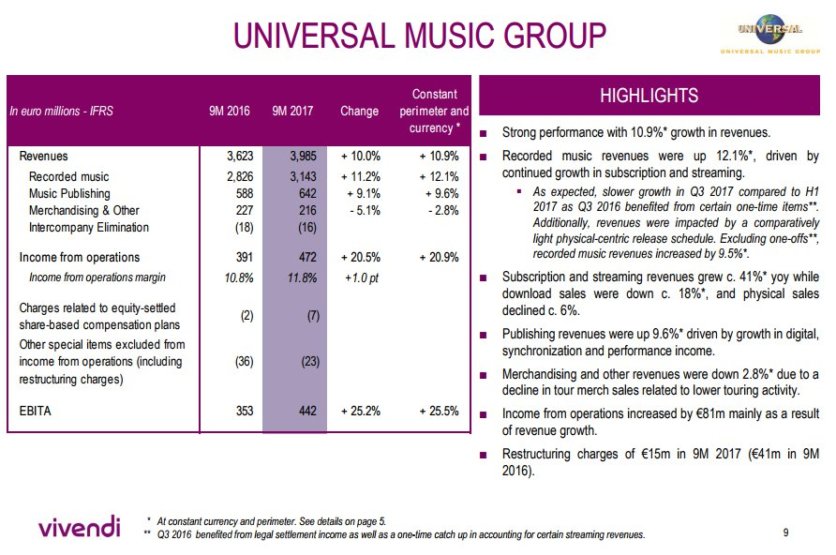 ---
These streaming figures are having a marked effect on UMG's EBITA profit margin across its entire group.
EBITA for the first nine months of 2017 stood at €442m ($492m), up 25.5% year-on-year.
That figure was surpassed a bit of an unfavourable comparison in Q3 (-7.7%) due to legal settlement income and one-time streaming windfall in the same period of 2016.
In the first two quarters of 2017, UMG's overall EBITA was up more than 50% year-on-year.
All percentage figures here at constant perimeter and currency.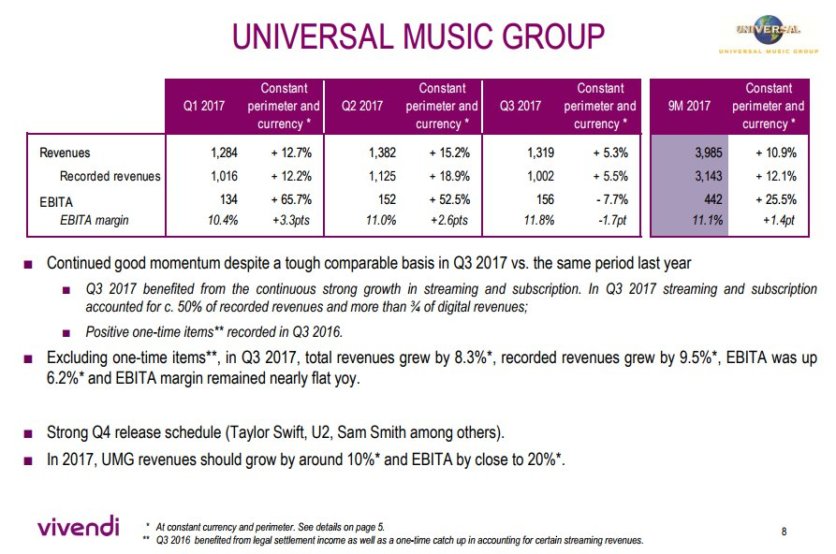 Music Business Worldwide