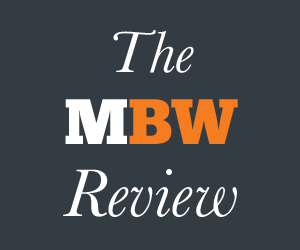 The MBW Review offers our take on some of the music biz's biggest recent goings-on. This time, we look at Universal's performance so far this year – and wonder what it might mean for its potential part-sale in the months ahead. The MBW Review is supported by Instrumental.
---
If you were to ask Sir Lucian Grainge what his favorite genre of music is right now, you'd have to guess he'd say hip-hop.
According to Vivendi, Universal Music Group's five biggest revenue-generating artists in the first nine months of this year were: (i) Drake; (ii) Post Malone; (iii) Kendrick Lamar; (iv) XXXTentacion; and (v) Migos.
These acts drove UMG's recorded music sales in the first nine months of 2018 to an all-time high of €3.28bn ($3.93bn), up 10.2% YoY at constant currency.
Universal Music Publishing Group is keeping pace, up 10.6% in the same period to €675m ($809m). The Jody Gerson-led publishing company remains firmly on course for a billion-dollar year.
In total, Universal Music Group, across records, publishing and more, posted €4.12bn ($4.94bn) in the first nine months of 2018, up 9.1% on the same period of 2017.
---

---
UMG's current performance suggests that, with a strong Q4, it will turn over somewhere close to $7bn in the full year of 2018.
Interesting to note that this will keep the major's annual sales comfortably ahead of its biggest distribution partner, Spotify, which turned over €3.76bn ($4.51bn) in the first nine months of this year, and expects to end 2018 with FY revenues of around €5.2bn ($6.2bn).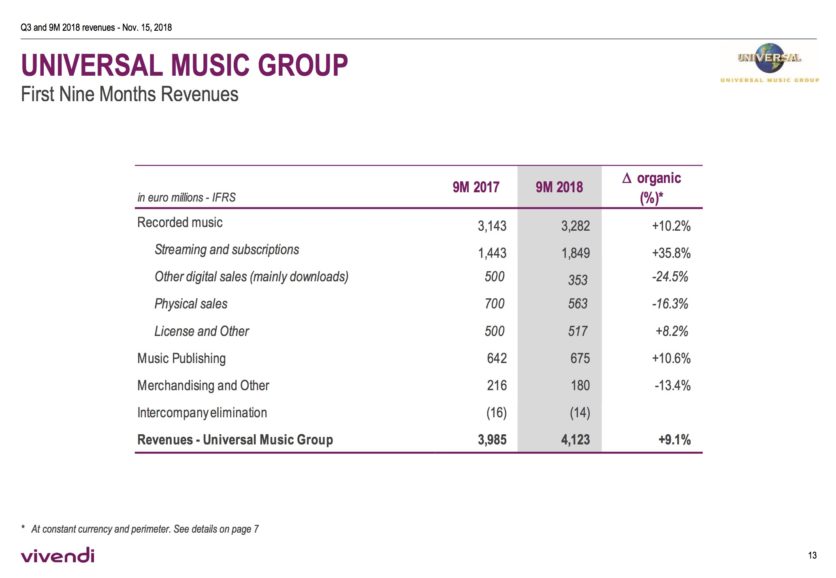 ---
Vivendi's top brass told investors on Thursday (November 15) that UMG's recorded music performance had resulted in a market share gain on streaming services – and they weren't fibbing.
Check out this stat: a Universal-affiliated artist claimed the No.1 spot on Spotify's Global Chart for 37 out of the first 39 weeks of 2018.
Indeed, boosted by Drake's record-breaking Scorpion, released in late June, UMG's global streaming revenue grew 35.8% at constant currency in the nine months to end of September this year, to €1.85bn ($2.22bn).
The only other major record company to have publicly announced its figures for the same period, Sony Music Entertainment, saw its nine-month streaming revenues (at the USD level) rise 26% to $1.46bn. (It should be noted that a 2018 accounting change has dampened SME's official growth.)
Overall, in the nine months to end of September, Sony's USD-level recorded music revenues grew by $158m year-on-year; Universal's grew by $449m.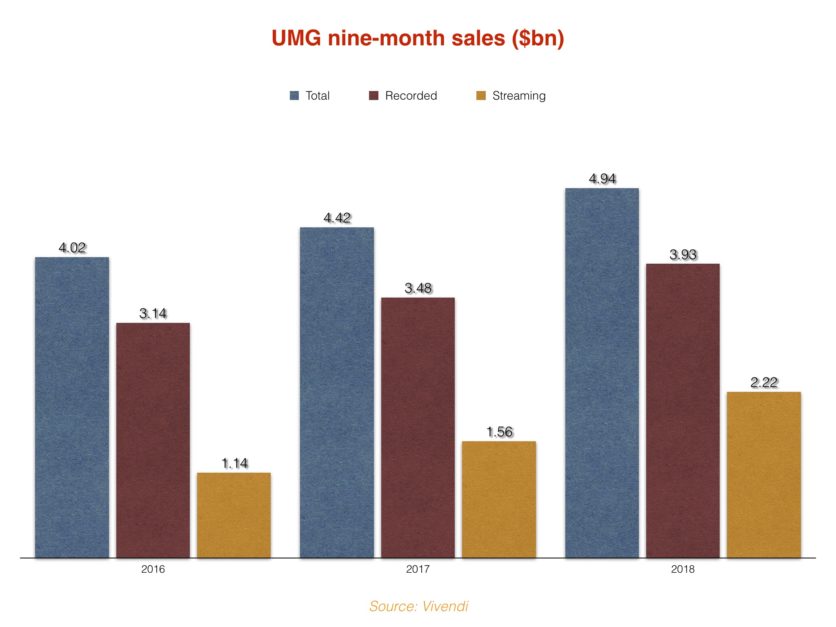 ---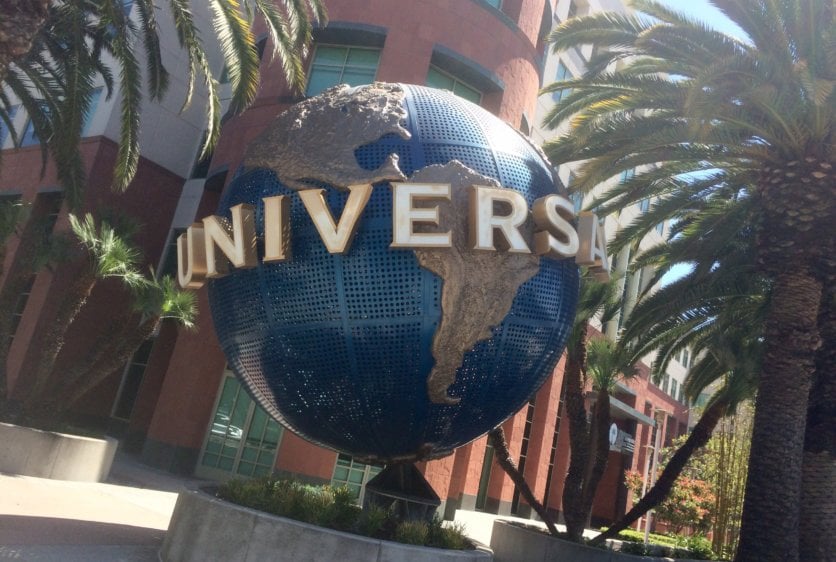 Delving further into Universal's year-to-date performance helps to demonstrate exactly how fast streaming income has grown at the company.
In the 12 calendar months of last year, UMG's labels turned over €1.97bn in streaming revenues, equivalent to $2.22bn at the then-annual average exchange rate (via OFX).
In just the first nine months of this year, UMG's labels generated €1.85bn in streaming revenues, equivalent to… $2.22bn at the average exchange rate for the period (via Vivendi).
Universal, then, has already caught up on the streaming revenues it generated last year, with a full three months to go in 2018.
Considering that the company's Q3 streaming revenues stood at €662m ($767m), it's a fair shout that UMG will add $800m to its FY streaming revenues in 2018 vs. 2017 when the year is up.
---
Just for fun: in Q3, Universal turned over an average of $8.3m a day, or $58m a week, from streaming recorded music revenue alone.
Just for extra fun: that's about $5,800 every minute.
Streaming now generates over four times the amount of money for UMG than physical music, the company's second biggest recorded music category. (Vivendi didn't publish an EBITDA figure for Q3 this year, so what this means in terms of profit is hard to say.)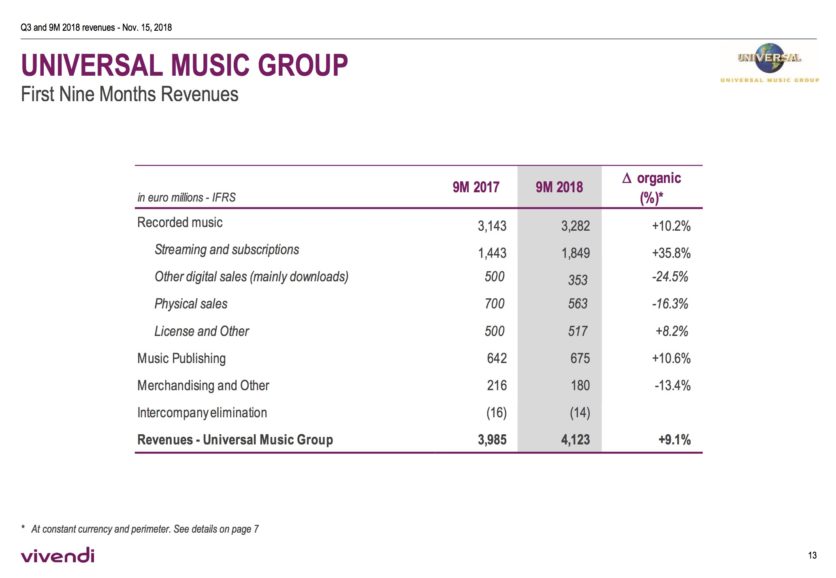 ---
These results, of course, must be seen in the context of Vivendi's keenness to sell up to half of its equity in UMG before the end of 2019.
Liberty Media was last week outed as a potentially interested buyer, while everyone from AT&T, Spotify and Tencent have also been cited as possible suitors.
One thing's for sure: UMG remains the apple of Vivendi's eye right now, and you can understand why.
Since 2011 – the year that Sir Lucian Grainge took over as global CEO of Universal – UMG's nine-month total revenues have grown 45% (from €2.8bn to €4.1bn).
Grainge continues to lead a golden goose which, for his sale-hungry French bosses in particular, just keeps on delivering.
---

The MBW Review is supported by Instrumental, which powers online scouting for A&R and talent teams within the music industry. Their leading scouting platform applies AI processes to Spotify and social data to unearth the fastest growing artists and tracks each day. Get in touch with the Instrumental team to find out how they can help power your scouting efforts.Music Business Worldwide