Spotify's market cap valuation continues to bounce around the $50bn mark, following a remarkable rally in its share price over the past few months.
As of Friday evening, that market cap stood at $47.80bn, having dipped slightly from its day-end peak of $54.55bn on July 20. The number fell as low as $21.68bn as recently as March 16.
This more-than-doubling of Spotify's public valuation is good news for Universal Music Group. As previously reported by MBW, a financial filing by Spotify in Europe dating back to 2008 shows that Universal acquired a 5% stake in the streaming company's launch phase, with EMI – later itself acquired by UMG – taking 2%.
Universal's subsequent 7% share is believed to have been cut in half over the years due to dilution caused by SPOT's fund-raising, giving UMG an approximate 3.5% stake in Spotify today.
That 3.5% stake was worth $759m on March 16. Today, it's worth over $1.6bn.
A good time for Universal to sell up? You might think so, but UMG's parent Vivendi evidently has reason to think otherwise.
---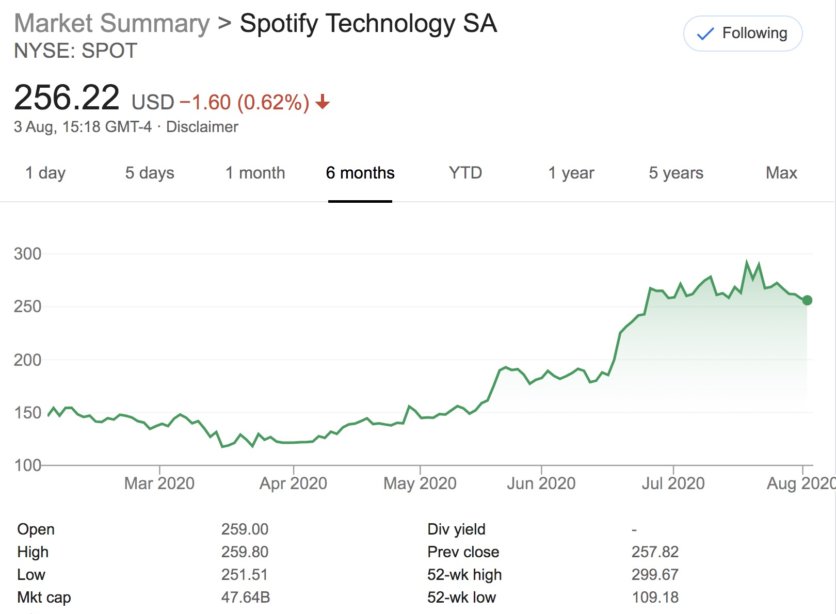 ---
Speaking to analysts last Thursday (July 30) following the publication of Universal (and Vivendi's) latest quarterly results, Vivendi CEO, Arnaud de Puyfontaine, and the company's CFO, Hervé Philippe, were questioned by analysts a couple of times on the topic.
Said Philippe: "[We] have a very good relationship with Spotify. We have renewed [our] contract with them, and we are very happy with the share price of Spotify, which has increased a lot in the recent weeks."
He added: "We have no intention to sell our stake in Spotify, which is a very good partner for us. We are a happy shareholder of Spotify."
After later reiterating that Vivendi/Universal has "no intention to sell our stake in Spotify" Philippe further commented: "We [believe] that a long-term relationship with Spotify is in the best interest of both our shareholders and our artists… to develop the market through such relationship with Spotify is very good for the future of Universal Music and its main stakeholders."
Universal's strategy on this subject sits in contrast to that of its main rivals.
Warner Music Group sold its entire stake in Spotify for $504m in 2018, crediting artists with a quarter of the money – but not ignoring those artists' unrecouped balances. Merlin also sold its stake, believed to be worth over $100m, soon after Spotify floated on the New York Stock Exchange in April 2018.
"We have no intention to sell our stake in Spotify, which is a very good partner for us. We are a happy shareholder of Spotify."

Hervé Philippe, Vivendi
Sony Music Group sold 50% of its Spotify stake that same year – cashing in $768m but, unlike Warner, it decided to ignore artists' unrecouped balances, paying out what's believed to be hundreds of millions of dollars into artist bank accounts.
Universal, though, is yet to sell. In November 2018, as part of a new deal with Taylor Swift, UMG announced that, like Sony, it too would ignore artists' unrecouped balances when paying out the proceeds from the sale of its Spotify shares (a sale that is yet to come, and doesn't seem to be on the cards for anytime soon).
Another interesting aspect of Universal and Spotify's relationship: according to a 6K filed last week by the latter company, SPOT says that, subsequent to the end of its last fiscal quarter (ending June), it "signed license agreements with certain music labels and publishers and podcast agreements with creators. Included in these agreements are minimum guarantee and spend commitments of approximately €3.6 billion over the next three years."
What's the biggest deal Spotify struck following its last fiscal quarter? Yup: its latest global licensing pact with Universal Music Group.
That €3.6bn currently equates to $4.2bn – the majority of which you'd expect will land with UMG in the years ahead.
---
On Vivendi's earnings call, de Puyfontaine and Philippe were also asked about their company's plans to sell further minority stakes in Universal Music Group, following the purchase of a 10% chunk of UMG by a Tencent-led consortium earlier this year.
Goldman Sachs' Lisa Yang asked Puyfontaine and Philippe whether – in the wake of Warner Music Group's successful IPO and Spotify's recent valuation uptick – Vivendi was confident it could command a €30bn-plus valuation for Universal when selling these additional stakes.
Vivendi's de Puyfontaine wouldn't be drawn on that figure, but commented: "[We] are pursuing discussion with potential new partners within Universal Music Group. We have been approached by many different interests. And the process is currently happening."
"We welcome the good results of the Warner Music Group IPO… Our intention was to plan for a [Universal Music Group] IPO no later than early 2023. But we could consider an earlier IPO, if it is possible."

Arnaud de Puyfontaine, Vivendi
Vivendi also reiterated its intention to spin out Universal Music Group and float at least a portion of the company on public markets by 2023.
With that in mind, de Puyfontaine said that Vivendi "welcome the good results of the Warner Music Group IPO", and noted that Vivendi could consider an IPO earlier than 2023 "if it is possible".
Vivendi's CEO also took the time to note that he is "very impressed by the quality of all our people at UMG", in particular the "fantastic know-how and talent of Sir Lucian [Grainge]".
Universal Music Group's H1 2020 recorded music revenues were up 3.7% in organic terms (to €2.77bn / $3.03bn), largely thanks to a 12.4% rise in streaming revenues (to €1.81bn / $1.98bn).
In the first six months of 2020, says Vivendi, Universal's operating profit grew by €96m year-on-year (+17.7%) to €597m ($652m). Its EBITA rose by €86m (+16.6%), to €567m ($619m).Music Business Worldwide