The long-term possibility of Universal Music Group's IPO on the stock exchange has been bubbling away in the background of the music industry for some time.
Last we heard from UMG parent Vivendi, its plan to spin out Universal onto the stock market was scheduled to take place "before 2023".
Now, we have a more definite date: Vivendi has today (October 20) confirmed that it intends to take UMG public in the calendar year of 2022.
The news comes seven months after a consortium led by Chinese giant Tencent acquired a 10% stake in Universal Music Group for $3.3bn earlier this year.
That same consortium now has the option to acquire a further 10% in Universal before mid-January 2021.
Speaking to investors today, Vivendi CEO Arnaud de Puyfontaine  reiterated that, in addition to the Tencent consortium deal/s, Vivendi is "pursuing the process of selling additional minority [stakes] in UMG to other partners".
According to new fiscal documents released by Vivendi, Universal Music Group saw overall YoY organic revenue growth of 6.1% in Q3 (the three months to end of September), despite the negative economic affects of the pandemic.
Recorded music streaming revenue at UMG shot up 22.6% YoY in Q3 on an organic basis, while overall quarterly recorded music revenues were up by 11.0% YoY.
---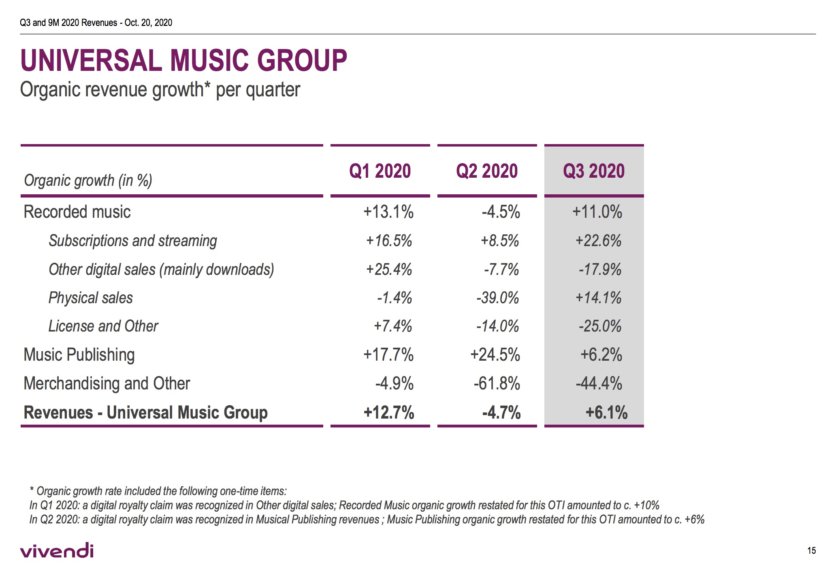 ---
More analysis of Universal's latest financial results will be published on MBW shortly.
Universal rival Warner Music Group successfully floated on the Nasdaq in June this year.Music Business Worldwide