It's not often that Music Business Worldwide is itself cited in a significant lawsuit in the music business, but that's the case today.
Before we get into the weeds on how that happened, here's the skinny on the suit: Hip-hop duo Black Sheep, best known the 1991 album A Wolf in Sheep's Clothing, are suing Universal Music Group in a class action lawsuit, filed yesterday (January 4) in New York.
NYC-based Andres Titus and William McLean, via their attorneys, make three main claims:
(i) That Black Sheep and other artists signed to Universal should have been paid 50% of royalties from Spotify since 2011 due to a clause in their contracts pertaining to "net receipts";
(ii) That UMG agreed to accept lower royalty rates from Spotify in exchange for receiving equity in the streaming service back in 2008; and
(iii) That Black Sheep and other artists should also have received 50% of UMG's Spotify equity (or the value of it) because, according to the duo's suit, this would be "proportional" to their royalty contract.
Black Sheep argue that Universal owes it and other artists approximately $750 million in unpaid royalties as a result of these three claims.
Universal has called Titus and McLean's claim that it accepted lower royalty rates in exchange for Spotify equity "patently false and absurd". UMG added in a statement that it has "a well-established track record of fighting for artist compensation".
To better understand Black Sheep's lawsuit, it's probably best if we deal with the two key aspects of its claims in order: (a) Universal's Spotify stock ownership, and then (b) the argument that UMG-signed artists are due 50% of royalty payments from streaming platforms.
A) Universal's Spotify stock ownership
Titus and McLean's complaint, which you can read in full through here, suggests that, as part of an initial licensing agreement in 2008, Universal Music Group acquired equity in Spotify amounting to just over 5% of the streaming company. Their cited source for that information: MBW.
In 2018, shortly after Spotify floated on the New York Stock Exchange, we unearthed a 2008 Spotify financial filing that revealed the precise number of shares in its company that were distributed to the then-four major record companies: Universal Music, Warner Music, Sony Music, and EMI. (EMI – later acquired by UMG – took ownership of a further 2% in Spotify in 2008. So in effect, UMG acquired 7% of Spotify equity.)
MBW stands by that report, in which we also deduced that, due to share dilutions caused by further investments in SPOT in the years that followed, UMG's shareholding in Spotify was likely to have fallen down around the 3.5% mark.
Last year, this was backed up in UMG's annual report for investors, which confirmed that the major owned a 3.37% stake in Spotify as of the close of 2021.
"Universal struck an undisclosed, sweetheart deal with Spotify [in 2008] whereby Universal agreed to accept substantially lower royalty payments on artists' behalf in exchange for equity stake in Spotify—then a fledgling streaming service."

Black Sheep lawsuit
Interestingly, Black Sheep's lawsuit doesn't cite any source for its claim that "Universal struck an undisclosed, sweetheart deal with Spotify [in 2008] whereby Universal agreed to accept substantially lower royalty payments on artists' behalf in exchange for equity stake in Spotify".  (To be clear, that's not something MBW has ever reported.)
The suit then repeats this source-less assertion: "Universal licensed its catalog, including the Black Sheep recordings on the albums A Wolf In Sheep's Clothing and Non-Fiction to Spotify. Part of the consideration for this license was UMG's Spotify equity, which exchange resulted in lower royalty payments to UMG than Spotify would have otherwise paid, and thus lower royalty payments to Plaintiffs."
In addition, the lawsuit attacks Universal for having "failed to account for its Spotify stock in the royalty statements that it provided to [Black Sheep] and [other artists]."
"UMG has a well-established track record of fighting for artist compensation and the claim that it would take equity at the expense of artist compensation is patently false and absurd."

Universal statement
On this point, the complaint adds: "Universal concealed from artists that it acquired Spotify stock and that royalty payments were depressed as a result. Over time, the value of the Spotify stock that Universal improperly withheld from artists has ballooned to hundreds of millions of dollars."
In truth, Universal's Spotify stockholding has far from ballooned over the past two years: The company's 3.37% holding in Spotify was worth around $2.3 billion in February 2021, when Spotify's share price was at its peak. Spotify's overall market cap at this time was worth around $69.4 billion.
Since then, Spotify's market cap has fallen to around a fifth of this size. At the close of 2022, Spotify's market cap was at $15.25 billion – meaning that the value of Universal's 3.35% holding in the firm had tumbled to approximately $511 million (see below), down by around $1.8 billion in less than a year.
---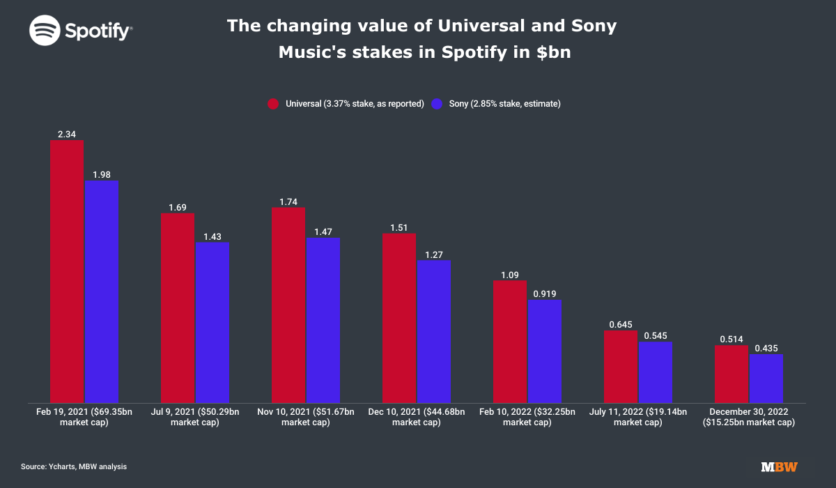 ---
Universal is unique amongst the major music companies for holding on to 100% of the stock it owned when Spotify floated in 2018.
Sony Music sold half of its 5.7% holding in Spotify for approximately $768 million in Q2 2018 (leaving it with approximately 2.85%). Warner Music sold its entire 2% stake in Spotify for $504 million, also in Q2 2018.
Meanwhile, indie label collective Merlin sold its entire Spotify stockholding on the first day that SPOT floated on the New York Stock Exchange (April 3, 2018), when the streaming company had a $26.5 billion market cap.
At the time, then-Merlin CEO, Charles Caldas, explained why his org had decided not to hold on to its Spotify stock post-public-listing. He said: "It is outside of Merlin's remit to hold a long-term equity position in a publicly-listed company where there is a liquid and transparent market for that equity. We therefore worked quickly to liquidate our interest in Spotify and have passed the proceeds to our eligible members."
Like Sony Music, Universal has publicly pledged to share proceeds from its Spotify equity, should it ever sell it, with its signed artists.
B) The argument that UMG-signed artists are due 50% of royalty payments from streaming platforms
Black Sheep's lawsuit claims: "Universal's standardized contract with [Black Sheep] and the [other artists] grants Defendant the right to monetize artists' works in exchange for, among other things, royalties to artists set at 50% of Universal's 'net receipts' with respect to 'any use or exploitation(s)' of the 'Master Recordings' created by artists."
This is the cornerstone of the duo's suit: That Universal should have split both recorded music royalties from Spotify and the value of its equity in Spotify 50/50 with its signed artists due to this "net receipts" clause in their contracts.
---
Black Sheep isn't the first artist signed in the analog era to make this kind of claim about streaming royalties.
The past decade has seen a number of class action suits filed against major record companies that claim digital royalties should have been equally split with artists, rather than paid through against recoupment at these artists' agreed 'sale' royalty rate.
That's because historical record company contracts with artists often agreed to pay out a 50% royalty rate for "licensed" use of music (for example, a sync license), with smaller royalty rate (often sub-20%) paid out for music transactions defined as a "sale" to the public.
In the cases where these contracts were drawn up in a pre-download and pre-streaming era – and where it's likely 'streaming' wasn't even explicitly referenced – things get complicated.
As CD sales gave way to downloads and then to streaming, artist lawyers and record company lawyers have potraryed very different ideas about whether a stream should be defined as a "sale" or a "licensed use" of an act's music.
---
Perhaps the most infamous of such lawsuits was launched by Eminem producers FBT against Aftermath Records / Universal in 2009 over iTunes royalties. Like Black Sheep, FBT argued that it should be paid a 50% share of digital royalties from Universal on iTunes. The case was settled out of court in 2012.
Universal was hit by another lawsuit along the same lines by Enrique Iglesias in January 2018. Igleasis' legal team argued that Universal should have been paying its client 50% of net receipts from streaming services such as Spotify, Apple Music, YouTube and Pandora.
By summer that year, Iglesias and Universal had reached their own out-of-court settlement, and the case was dismissed.
Responding to the Black Sheep lawsuit yesterday (January 4), a Universal statement reads: "Universal Music Group's innovative leadership has led to the renewed growth of the music ecosystem to the benefit of recording artists, songwriters and creators around the world.
"UMG has a well-established track record of fighting for artist compensation and the claim that it would take equity at the expense of artist compensation is patently false and absurd. Given that this is pending litigation, we cannot comment on all aspects of the complaint."Music Business Worldwide