It's the question that keeps music rights investors up at night: When will the annual growth in global recorded music subscription streaming revenues finally fall below double-digits (i.e. under 10% YoY)?
Today (March 2), the biggest music rights company in the world gave us a surprising answer, via its latest financial results: You're gonna have to wait a little bit longer, pal.
Universal Music Group is, as things stand, the only major music company to split out its recorded music streaming revenues into two distinct sub-categories within its published fiscal results: (i) Subscription, i.e. paid-for, streaming; and (ii) Other streaming, i.e. ad-supported platforms.
The most important news of the day? UMG's recorded music subscription streaming revenues grew by 10.0% YoY (at constant currency) in 2022, reaching EUR €3.901 billion. Double digits… just!
(In a normal year, that 10.0% YoY percentage gain would actually have been higher: UMG has clarified that in 2021 it benefitted from a one-time 'DSP catch-up payment', which consequently then reduced its YoY % increase in subscription revenues in 2022. Excluding this 'DSP catch-up payment' from 2021, says Universal, would have meant that its recorded music subscription revenue would have grown 11.3% YoY at constant currency in 2022.)
Amsterdam-listed UMG's Euro-denominated annual subscription revenue figure of €3.901 billion (see below) works out, at annual exchange rates, to approximately USD $4.10 billion.
Or to put it another way, as we did in our headline above: UMG generated more than $1 billion per quarter, on average, from recorded music subscription streaming in 2022.
---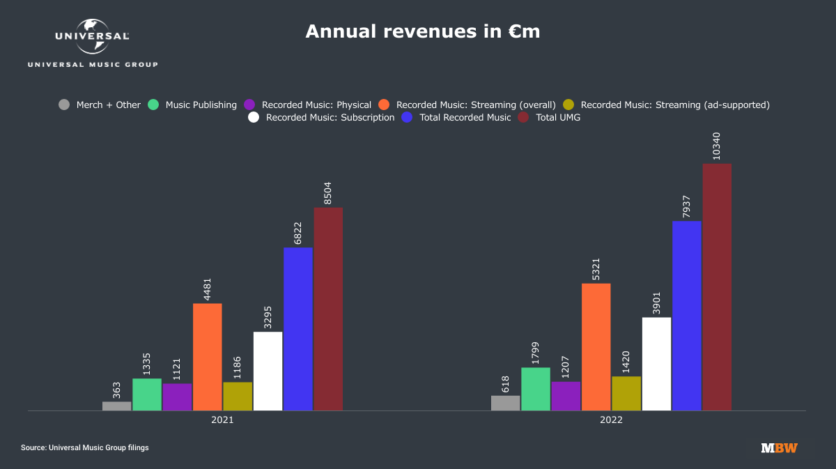 ---
While we're in the 'popping Champagne corks' end of Universal's annual results (slightly less fizzy news to follow), UMG's recorded music subscription streaming revenues in just Q4 of last year (the three months to end of December), grew by 11.4% YoY, up to EUR €1.044 billion (USD $1.07bn).
That was the first-ever quarter in which UMG's recorded music subscription revenues topped EUR €1 billion.
More importantly: in the last quarter of 2022, as subscription streaming's growth continued to slow in mature markets – and Spotify stubbornly refused to put up its flagship prices – music's biggest rightsholder still managed to post an 11.4% YoY increase in its most crucial revenue stream.
---
ad-supported revenues
Okay, we warned you there'd be "less fizzy" news, and it concerns that other 'bucket' of streaming revenue: ad-supported platforms.
According to UMG's results, on an annual basis, recorded music ad-supported streaming generated €1.420 billion ($1.49bn) at the company across the course of 2022 – up 9.3% YoY.
Those figures are obviously nothing to get too mopey about.
But there was one number that unquestionably wafted an acrid scent amongst UMG's sweeter figures today: In terms of the last quarter of 2022 (Q4), UMG's recorded music ad-supported streaming revenues grew by just 1.8% YoY, to €400 million.
Now. That 1.8% growth isn't a decline, so it should be read – for now – as something of a bump in the road, driven by wider macroeconomic trends.
After all, both YouTube and Meta saw YoY declines in their advertising revenues in Q4 2022.
Yet with Goldman Sachs predicting that global music ad-supported streaming revenues will more than triple in the nine years between 2021 and 2030, it's a figure that music investors will want to see bounce upwards in the future – significantly so.
Universal Music Group will be very aware of this, of course, which may partly explain why it (like other major music companies) appears to be becoming increasingly less comfortable with the size of TikTok's recent ad-related payouts to music business rightsholders.
Because of the drag-effect of ad-supported streaming in UMG's results, the firm's overall recorded music streaming revenues (i.e. ad-supported plus subscription) grew by 9.8% YoY in the FY of 2022 (up to €5.321 billion), and by 8.6% YoY in the final quarter of the year.
---
Widening the lens…
Zooming out and looking at UMG's holistic business – across recorded music, music publishing, merch, and related activity – Universal posted full-year revenues of €10.34 billion ($10.87bn) for 2022, up by an impressive 13.6% YoY at constant currency.
In Q4 2022, these overall revenues grew by 8.8% YoY, to €2.942 billion.
---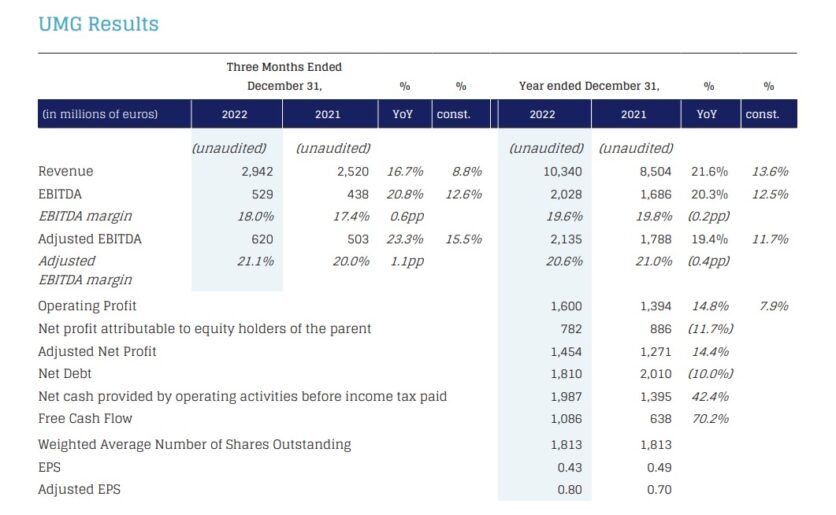 ---
In terms of recorded music specifically – encompassing streaming, but also physical, download, and licensing/sync income – UMG generated €7.937 billion ($8.35bn) in annual revenues in 2022, up by 8.8% YoY.
UMG said that its top recorded music sellers across 2022 (i.e. the artists/projects who generated the most global revenue in the year) included Taylor Swift, BTS, Encanto OST, Olivia Rodrigo, Morgan Wallen and The Beatles.
Annual recorded music physical sales grew by 4.1% YoY at constant currency to €1.207 billion ($1.27bn), while annual recorded music licensing revenue surged by 13.4% YoY to €1.072 billion ($1.13bn).
---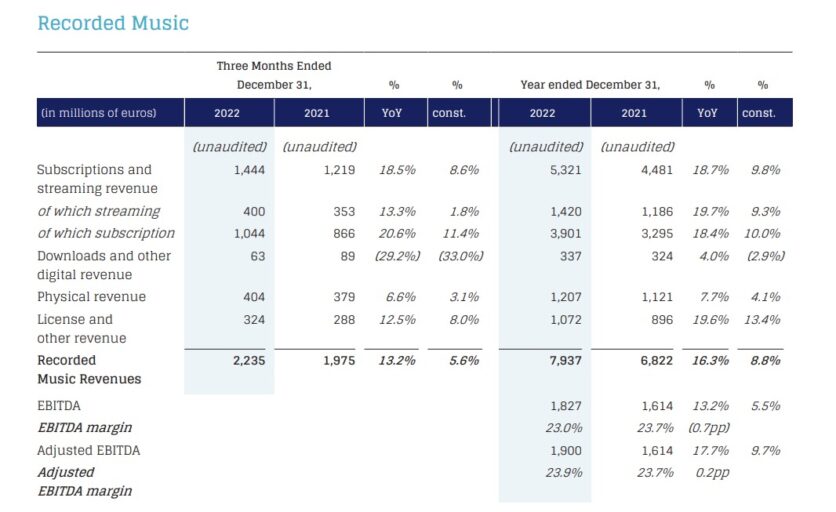 ---
Meanwhile, Universal's music publishing company – UMPG, run by CEO and Chair, Jody Gerson – generated €1.799 billion ($1.89bn) in 2022, up by 26.3% YoY at constant currency.
Elsewhere, UMG's 'merchandise and other' category of revenue grew to €618 million in 2022, up 54.1% YoY in constant currency, as touring-related merchandising revenue benefitted from the return of live touring post-COVID.
---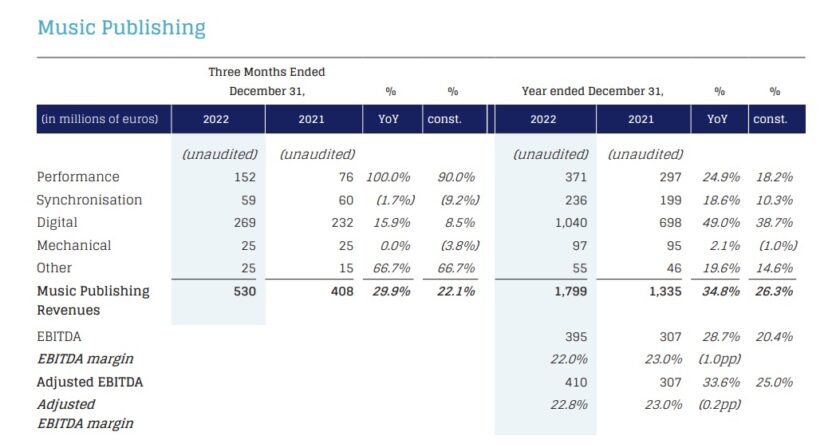 ---
Adjusted EBITDA
Another interesting stat to tumble out of UMG's results today: Its adjusted EBITDA profit (across the whole company) stood at €2.135 billion ($2.25bn), up 11.7% YoY.
That represented an adjusted EBITDA profit margin of 20.6% for the full year of 2022.
In Q4 alone, that adjusted EBITDA profit margin weighed in at 21.1%.
As MBW has previously reported, Universal Music Group is ultimately targeting an EBITDA profit margin in the 'mid-twenties'.
Also important: UMG's free cash flow rose 70.2% YoY to €1.086 billion ($1.14bn) in 2022 from €638 million ($671m) in 2021.
---
All YoY percentages, where referenced and otherwise, refer to constant currency comparisons. Yearly EUR-USD conversion rate taken from IRS. Quarterly EUR-USD rate taken from European Central Bank.Music Business Worldwide