Universal Music Group's Q1 results are out, courtesy of its majority-parent, Vivendi – which has today (April 22) said it expects UMG will be going public in Amsterdam in "the fall" of 2021.
For now, let's stick with the first three months of this year… another impressive period for UMG and its CEO and Chairman, Sir Lucian Grainge.
According to Vivendi's results, Universal Music Group's total revenues – including recorded music, publishing and other income streams – hit €1.81bn ($2.20bn) in Q1, up 9.4% year-on-year.
Just because we know MBW readers dig these stats: That $2.20bn quarterly turnover was equivalent to $24.5m a day, or… yep… just over $1m an hour, across the expanse of Q1.
Universal Music Group generated €1.48bn ($1.80bn) in recorded music revenues in Q1, up 10.8% on an organic basis (i.e. at constant currency and perimeter).
The star performer in UMG's Q1 results should, by now, be no surprise: streaming.
The format generated €1.01bn ($1.23bn) for Universal's recorded music business in the three months, up 19.6% year-on-year.
That was equivalent to approximately $13.6m per day, or $568,000 every hour, in the Q1 period.
There was also good news for UMG in terms of physical music sales, which grew 14.8% YoY in Q1 to generate €213m ($259m). Vivendi suggested this rise was down to "better new release and catalog sales".
Streaming accounted for some 68% of UMG's recorded music revenue in the quarter – which include physical and digital sales plus licensing income, but not merch, which UMG counts separately.
Music publishing revenues at UMPG were up 6.9% on an organic basis, but merch sales were down 10% YoY.
(All percentage increases / decreases published here are on an organic basis).
---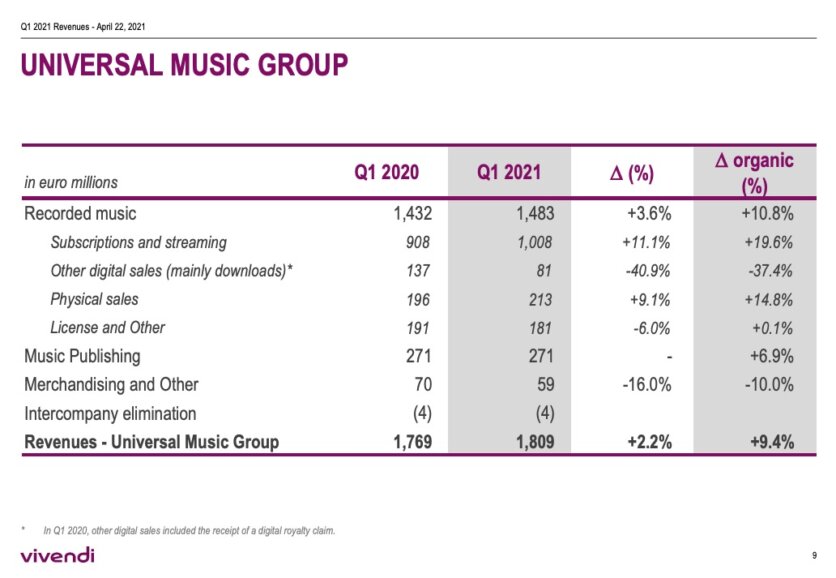 ---
Vivendi doesn't offer any visibility on UMG's profitability outside of half-year and full-year results, so this information was absent in the French company's figures for Q1.
However, the company did confirm to investors today: "Vivendi will ask its shareholders at the Annual Shareholders' Meeting to be held on June 22, 2021, to adopt a position on the plan to make an exceptional distribution in kind in the form of UMG shares to its shareholders, with completion expected in fall 2021."
It also confirmed that UMG's recorded music best sellers for the first quarter of 2021 included new releases from Japanese act King & Prince and US star Justin Bieber, as well as continued sales from The Weeknd, Ariana Grande and Pop Smoke.
Universal Music Group generated $8.4 billion in the calendar year of 2020, up 4.7% year-on-year on an organic basis.
---
* All EUR to USD currency conversions in this story have been made at the rate provided by Vivendi.Music Business Worldwide