It's a hoary old debate in media circles: Which is the king of the entertainment industries – content or distribution?
In the music business, the markets appear to have given a resounding response to that question in 2022, with Spotify – the world's largest music streaming subscription platform – seeing its value fall significantly below that of major music rightsholders.
At the close of trading on the New York Stock Exchange on Friday (December 30), the final trading day of the year, Spotify's share price stood at USD $78.95, equivalent to a market cap of $15.26 billion.
That was significantly lower than the market cap of Warner Music Group (WMG), which has traded on the NASDAQ since summer 2020.
WMG's share price at the end of trading on Friday stood at $35.02, equivalent to a public market cap of $18.03 billion. That's nearly $3 billion bigger than Spotify's equivalent public market value.
Perhaps the most painful comparison for Spotify, however, comes via music's largest global rightsholder – Universal Music Group.
UMG ended its 2022 trading on Friday on the Amsterdam Euronext with a €22.51 share price, equivalent to a market cap of EUR €40.82 billion.
At current exchange rates, that EUR market cap for Universal is worth USD $43.70 billion.
In other words, UMG's public valuation was worth nearly three times that of Spotify's.
---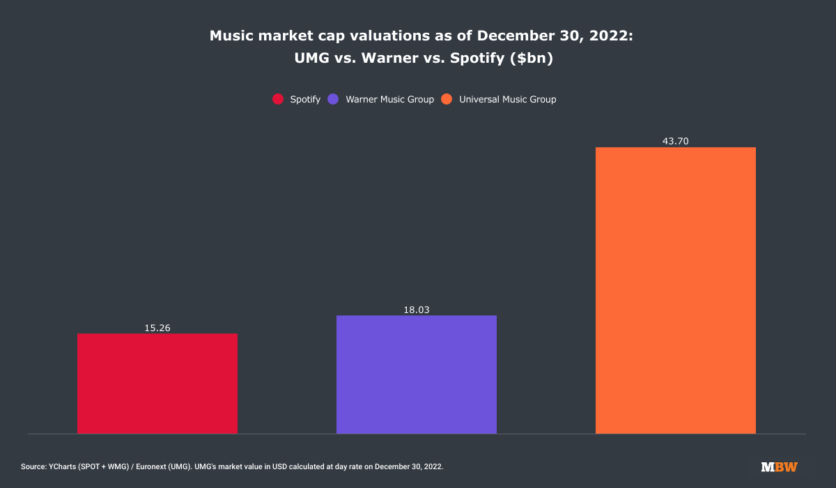 ---
Spotify vs. Universal and Warner: the big difference in 2022
This is all a far cry from a year ago, when MBW was asking: 'Universal vs. Spotify: Which of music's two giants will be worth more at the end of 2021?' 
On December 6, 2021, Spotify and UMG's valuations were remarkably close, with UMG worth EUR €45.20 billion on the Amsterdam Euronext, and Spotify worth USD $44.44 billion on the NYSE.
On the same date (December 6, 2021), Warner Music Group's market cap on the NASDAQ weighed in at USD $21.46 billion… less than half that of Spotify's.
Things look very different today – and that's largely to do with the performance of Universal and Warner's stock in the second half of 2022.
---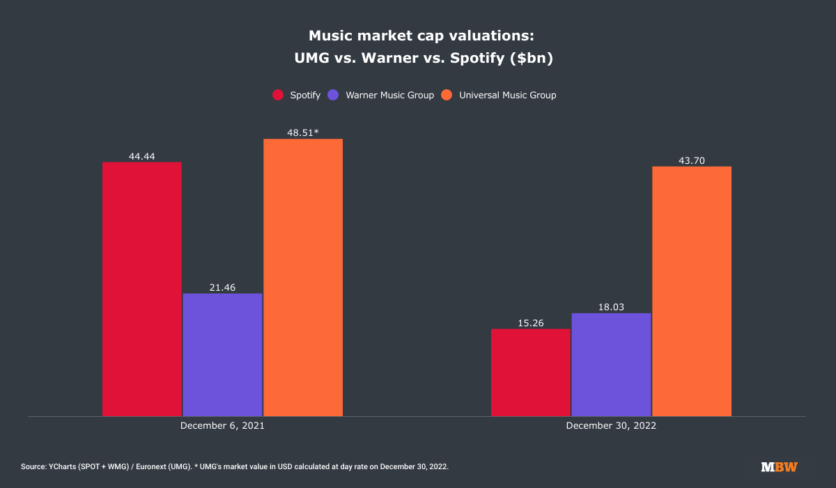 ---
Amid macroeconomic turbulence, Universal Music Group's share price on the Euronext fell by 8.0% in the 2022 calendar year, from €24.47 at Euronext's close on January 4 to €22.51 on Friday (December 30).
That single-digit percentage drop looked, at one point in 2022, like it might be far steeper: As recently as October 11, UMG was trading at a share price of €17.25, down by nearly a third on the company's opening share price in January 2022.
Over the past few months, however, UMG's share price has rallied, bouncing up by a whopping 30.5% vs. that October 11 low-point to its value at the close of 2022.
This story of rapid share price recovery has been mirrored at Warner.
Warner Music Group's share price started life on the NASDAQ in 2022 by closing at USD $42.95 on January 3. That figure had crashed by to $22.35 at the close of October 10 – down 48% vs. the start of the year.
Since that October 10 trough, however, WMG's share price, like that of Universal's, surged back with a bang: By finishing 2022 at $35.02, it rebounded by 57% vs. that October 10 low-point.
As a result, WMG's calendar year share price decline in 2022 – like Universal's – was far less severe than some may have predicted, down 18.5%.
---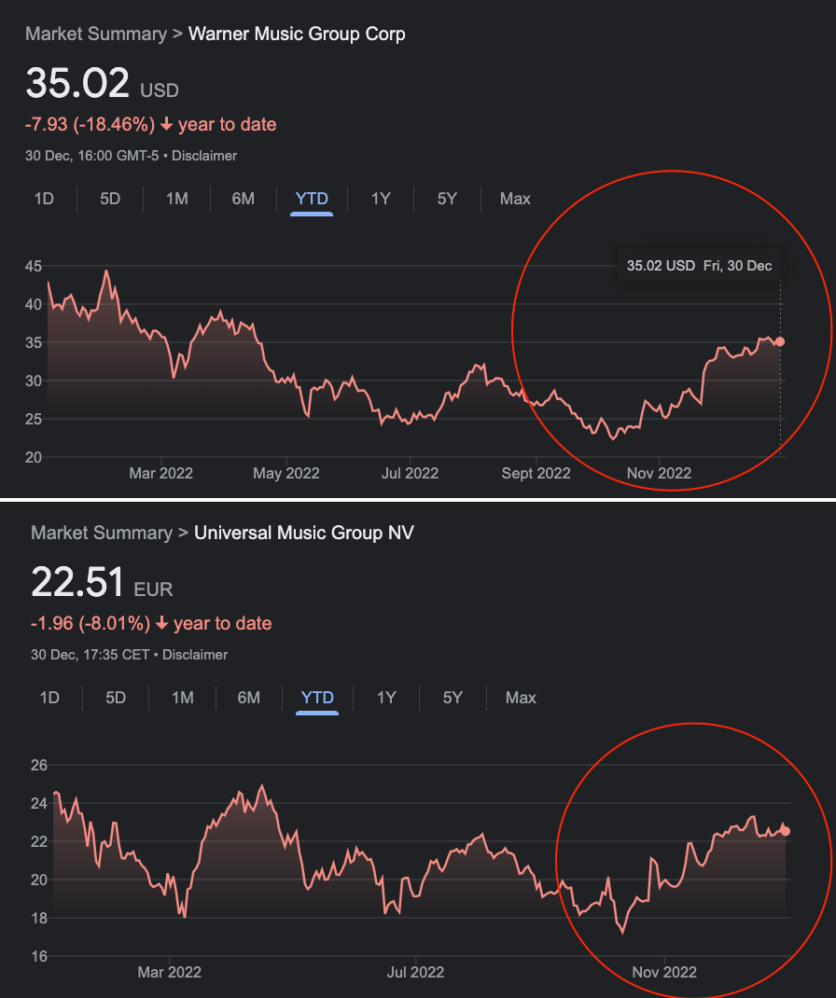 ---
The Spotify difference
It's been a very different story at Spotify.
SPOT began 2022 with a share price of $244.16 on the NYSE. At the close of Friday (December 30), that share price was down by 67.7% YTD.
Unlike Universal and Warner, there was no bump for Spotify investors in the second half of 2022: SPOT's share price hit an all-time low of $72.36 on December 15, and hasn't managed to recover much since.
Indeed, after a precipitous fall in value in the first half of 2022, Spotify's share price (and market cap value) has continued to slump into something of a flatline (see below).
To put it bluntly: Spotify's share price at the close of 2022 ($78.95) is worth close to a fifth of its equivalent worth ($364.59) when Spotify's value was at its peak in February 2021.
---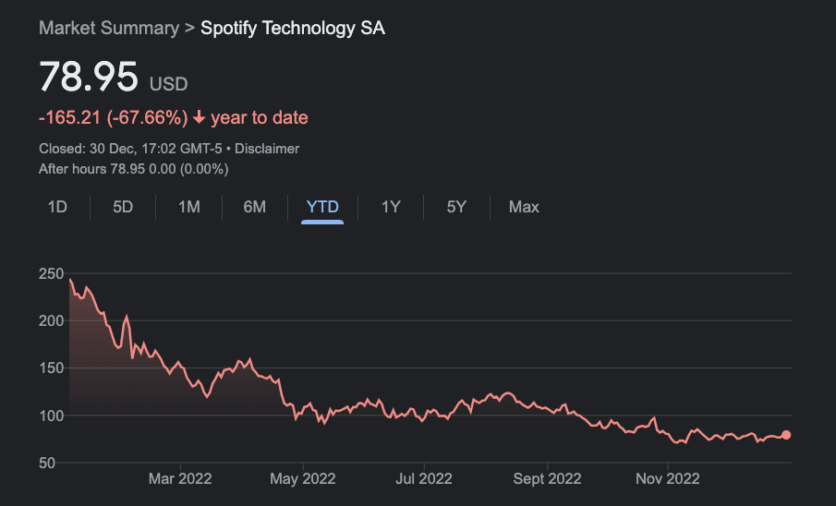 ---
growing tension?
What might be perplexing to some in the music industry when it comes to SPOT's share price decline is that, according to many of its Key Performance Indicators (KPIs), Spotify has had an impressive year in 2022.
That's especially true considering the macroeconomic climate that many feared would damage growth in music streaming subscriptions globally.
At the close of Q3 2022, Spotify counted net global subscriber additions this calendar year of 15 million. At the same period of 2021, Spotify's net calendar year subscriber additions stood at 17 million.
(Like-for-like, those numbers would be roughly the same: In April 2022, Spotify said that it has disconnected 1.5 million subscribers in Russia in Q1 following the country's invasion of Ukraine; it expected a further loss of 600,000 subscribers in the territory in Q2.)
What's more, thanks to some timely price rises, Spotify's subscription revenue in 2022 has actually grown faster than it has in previous years, despite the obvious macroeconomic headwinds.
In the first nine months of 2022 (to end of September), according to Spotify's fiscal figures, the firm generated EUR €7.53 billion from premium subscriptions – up by €1.37 billion year-on-year (vs. the same nine months of 2021).
In the first nine months of 2021, Spotify generated €6.17 billion from premium subs – up by €917 million year-on-year (see below).
---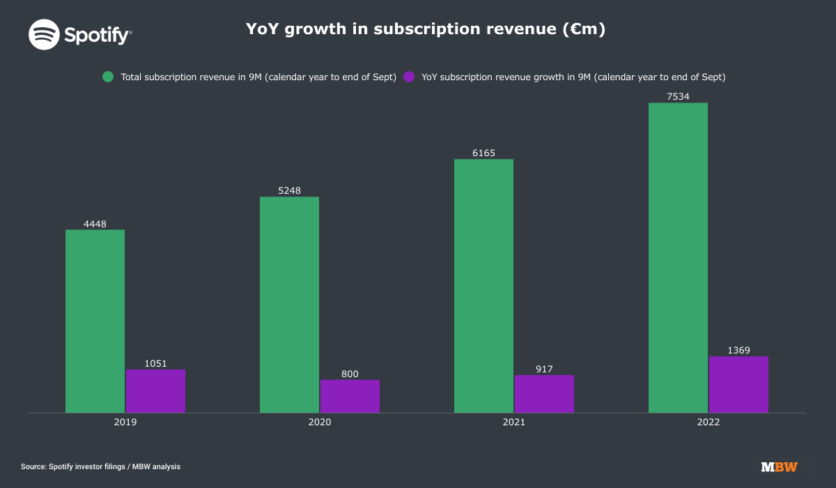 ---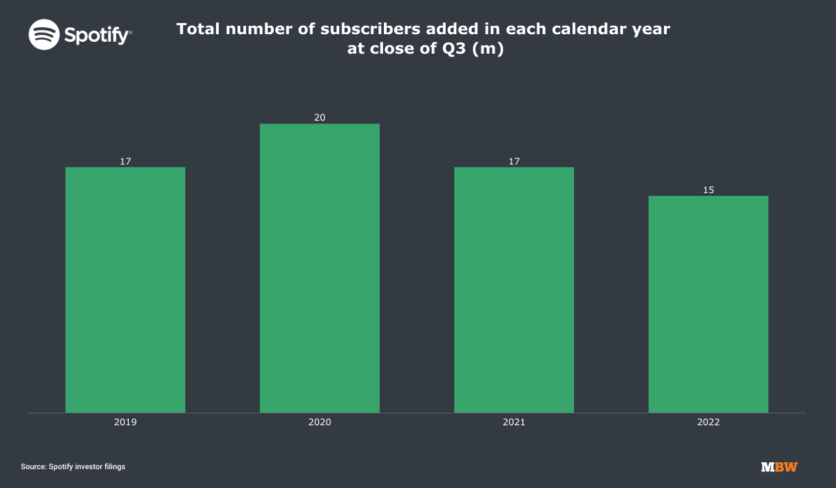 ---
So why are the markets punishing Spotify's share price so heavily despite this performance? In a word: Margin.
Spotify's gross margin in Q3 2022 stood at 24.7%, missing the firm's own guidance of 25.2%. SPOT's quarterly operating loss in Q3 stood at €228 million; its YTD operating loss (across the nine months to end of September) stood at €428 million.
There is, then, a commercial see-saw going on as we head into the New Year: Spotify's music industry performance in 2022 was an impressive one, adding more premium subscribers than many expected – and generating more subscription revenue growth than it's managed in recent memory.
This was great news for the likes of Universal Music Group and Warner Music Group, whose own valuations have greatly benefitted from the continued bounce of the music subscription market in a recession-hit 2022.
However, Spotify's investors want to see improved margin from the streamer… and they're well aware that, on top of some huge bets on podcasting in recent years, its biggest consistent expense remains the royalty checks it doles out to music industry rightsholders.
The stage is set for an interesting next 12 months.Music Business Worldwide