Universal Music Group's revenues rose 4.5% on a constant currency basis in the first three months of 2018 to €1.22bn ($1.5bn) – and parent Vivendi thinks the firm is worth more than Spotify.
It's been an eventful day for UMG, after Vivendi announced that its supervisory board has approved a proposal to "examine and carry out the necessary preliminary legal operations required for a potential change in Universal Music Group's shareholding structure".
The options on the table for UMG, says Vivendi, include an IPO, a partial IPO, and the sale of a stake to a third party (or, indeed, keeping things as they are).
What's more, Universal has not yet sold its holding in Spotify, according to Vivendi. MBW estimates that UMG's stake makes up between 3% and 4% of Spotify's total equity – currently worth somewhere around $1bn.
Vivendi CEO Arnaud de Puyfontaine (pictured) told shareholders earlier today (May 17): "As a strategic partner [of Spotify], it is very important to walk the talk. We have no intention at this stage other than to remain a Spotify shareholder."
"The valuation of Spotify is interesting… and we believe the valuation of UMG is above that."
During a Q&A with analysts on the same earnings call – much of which was focused on speculation over UMG's future – De Puyfontaine said: "The valuation of Spotify is interesting… and we believe the valuation of UMG is above that."
Spotify's current market cap stands at approximately $28bn. For comparison, Vivendi's current market cap is €30.5bn ($36bn).
---
UMG's recorded music revenues rose 5.9% year-on-year at constant currency in the Q1 2018 period to €980m ($1.2bn)
This meant that, in Q1, the three major labels turned over more than $3bn between them.
Within that, MBW calculates, UMG had an approximate 40% Q1 global recorded music market share amongst the majors, with Sony on 34% and Warner on 26%.
(Warner labels turned over $791m in calendar Q1, while Sony labels generated the equivalent of $1.01bn, according to our calculations.)
---
Within UMG's Q1 2018 label revenues, streaming sales were up 31.5% to €557m ($684m).
Physical sales, however, fell dramatically – down 26.2% on Q1 2017 to €155m ($190m).
That was almost exactly a quarter of UMG's streaming label revenues in the period.
MBW understands this was largely because of an unusually strong performance in Japan with physical music in Q1 last year.
Quarterly download sales in Q1 2018 fell by a weighty 21.7% to €121m ($149m).
Universal Music Publishing revenues grew 3.9% to €208m ($256m).
(All percentage rises/declines above are in constant currency. Conversion into Euros was unfavourable for UMG in the period, which is why some numbers in the below table decline.)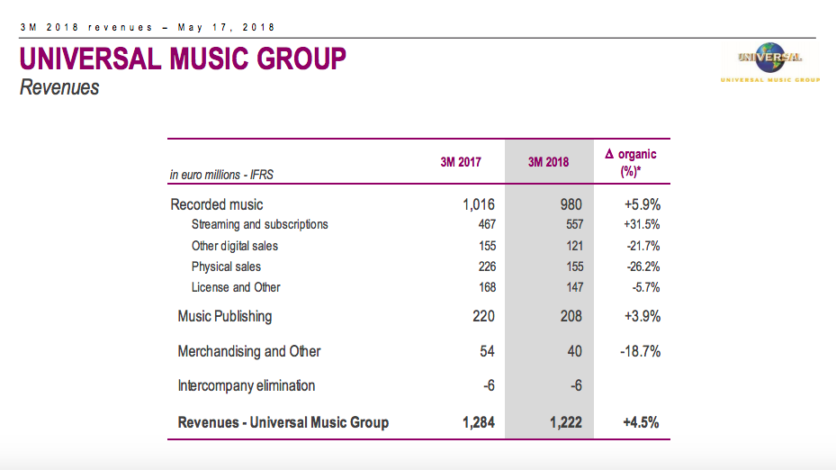 Music Business Worldwide