Universal Music Group's recorded music operation turned over €1.208bn ($1.37bn) in the first three months of 2019 – up 19.2% year-on-year at constant currency.
Some €737m ($837m) of this money was generated by streaming, according to the latest financial results from UMG parent Vivendi, revealed today (April 15). That means that Universal's labels are now amassing approximately $9.3m per day from the likes of Spotify, Apple Music, Amazon Music and YouTube.
As such, streaming made up 61% of UMG's overall recorded music revenues in the quarter.
In a big story for retailers, UMG's physical sales grew by 20.8% year-on-year in Q1, up to €193m ($219m).
Following the acquisition of Epic Rights at the top of the year, UMG's 'Merchandise and Other' line generated  €72m ($82m) in the quarter, up over 80% year-on-year.
Universal's biggest revenue-generating artists/projects in Q1 were (in order): Ariana Grande, the A Star Is Born soundtrack, Japanese power rock band Back Number, Queen and Billie Eilish (pictured).
Universal Music Publishing Group turned over €225m ($256m) in the quarter, up 4.7% year-on-year.
Universal Music Group's overall Q1 revenues – including recorded music, publishing etc. – rose 18.8% year-on-year to €1.502bn ($1.7bn), comfortably putting the company on track for another $7bn-plus year in 2019.
This meant that UMG made up 43.4% of Vivendi's total sales in the quarter, which reached €3.459bn.
---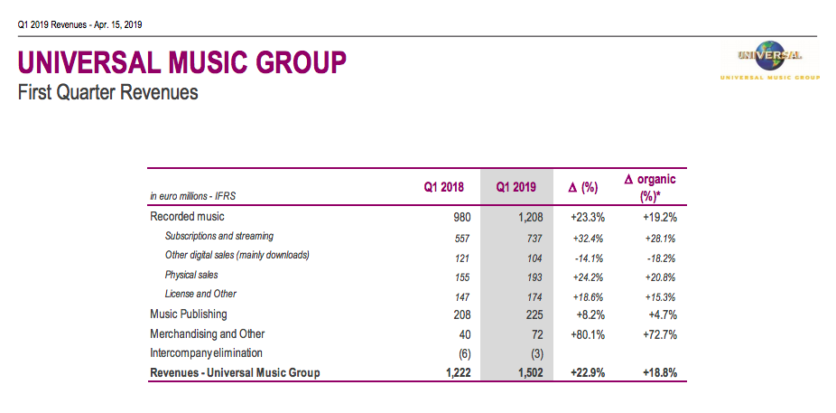 ---

---
Universal parent Vivendi is currently looking for a buyer of up to 50% of UMG. Possible mooted buyers have included Alibaba, Tencent, Disney, Verizon, Apple, Google and Amazon.
In February, JP Morgan slapped a $50bn valuation on Universal.
JPMorgan Cazenove, media analyst Daniel Kerven described UMG as "a unique asset" which owns and controls "undermonetized, must-have, global content that is strategic to the tech giants and can't be replicated".
(All % figures used here at constant currency.)Music Business Worldwide