MBW Explains is a new series of analytical features in which we explore the context behind major music industry talking points – and suggest what might happen next…
---
WHAT'S HAPPENED?
On March 2, Universal Music Group – the world's largest music rights company – announced its full-year and Q4 financial results for 2022.
Within those results, as MBW covered here, there were an array of important numbers for the music business to chew on, not least the fact that UMG's FY recorded music subscription streaming revenues grew, at constant currency, by 10.0% YoY.
But looking deeper into UMG's results, published for investors in this presentation, one other number really sticks out.
In the calendar year of 2022, according to UMG's management, the firm spent a total of EUR €507 million on 'Content Investment'.
That figure was made up of EUR €148 million in net royalty advances (i.e. the gross amount of money advanced to artists in 2022 less total recoupments), plus €359 million on what continues to be one of the music industry's hottest talking points: Catalog acquisitions.
What was most remarkable about this set of numbers from Universal, as illustrated in the chart below: how much UMG's expenditure on catalog deals has fallen over the past three years.
In 2020, for example, the year before Universal floated on the Amsterdam Euronext, UMG – then majority-owned by Vivendi – spent a whopping EUR €1.517 billion on 'Content Investment'… with over a billion US dollars (EUR €929 million) spent on catalog acquisitions.
In fact, from 2020 to 2022, Universal Music Group's annual expenditure on catalog rights shrunk by around two-thirds (-61%).
---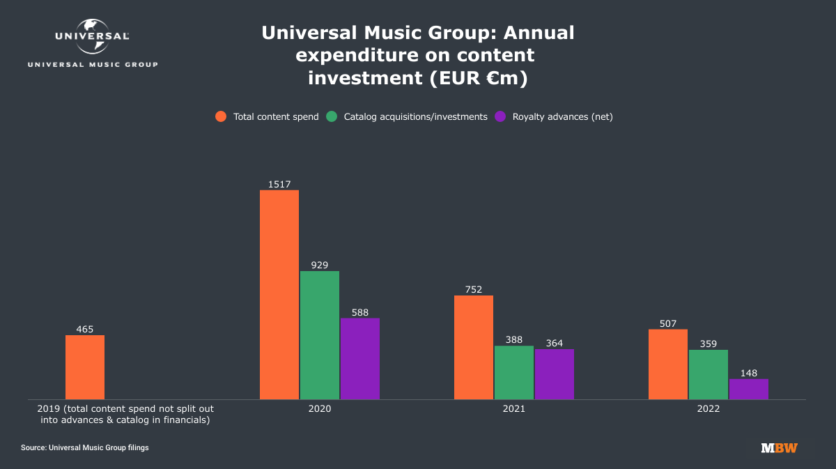 ---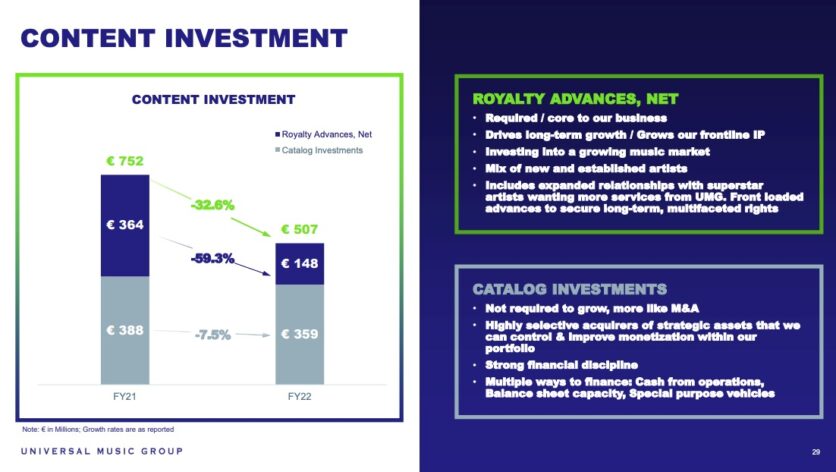 ---
WHAT'S THE BACKGROUND?
One anomalous factor you have to remember here: In 2020, Universal made the biggest acquisition in its history, spending somewhere between USD $300 million and USD $400 million on the Bob Dylan publishing catalog.
Still, even without that deal, UMG spent comfortably over half a billion dollars on catalog rights in 2020, far more than it spent last year (EUR €359m).
It's also interesting to see that in 2021 – widely seen as the frothiest year on record for music M&A, with over USD $5 billion changing hands across the industry – UMG went in a different direction than the wider market.
Universal's spending on catalog in 2021 significantly slowed, down to less than half what it spent in the prior year (€388m vs €929m).
Does this deceleration in catalog spending (and the further deceleration we've seen since) have a partial connection to UMG's flotation in Amsterdam, which took place in September 2021, and was announced in February 2021?
Perhaps.
Spending large sums of cash on catalog acquisitions obviously negatively affects Universal's Free Cash Flow (FCF), which is a source for annual dividends the company pays its shareholders.
Since floating in Amsterdam, UMG has announced a policy of paying its shareholders at least 50% of its net income each year in dividends.
In line with that policy, in 2022, Universal was proud to pay its shareholders the whopping sum of EUR €926 million in dividends, which worked out to more than half of the company's adjusted net profit (€1.454bn) in the year.
That €926 million dividend outlay was almost three times the size of the amount of cash UMG spent on catalog acquisitions in the same 12 months (€359m).
There is, then, a potential bit of push-and-pull between UMG's aim to return piles of cash to its shareholders, and its requirement to remain competitive in the catalog M&A space. Effectively, spending big money on music rights will improve UMG's cash flow in the longer-term, but inevitably reduce it in the near-term.
You can see this fiscal yin-and-yang in the following two slides from UMG's 2022 investor presentation below.
The first slide highlights the negative impact that its catalog acquisitions had on UMG's cash flow in 2022 (while noting the €926m dividend paid out to investors that same year).
The second shows the importance of UMG's cash pile (plus its debt pile) in its aim to "return capital to shareholders… via dividends".
---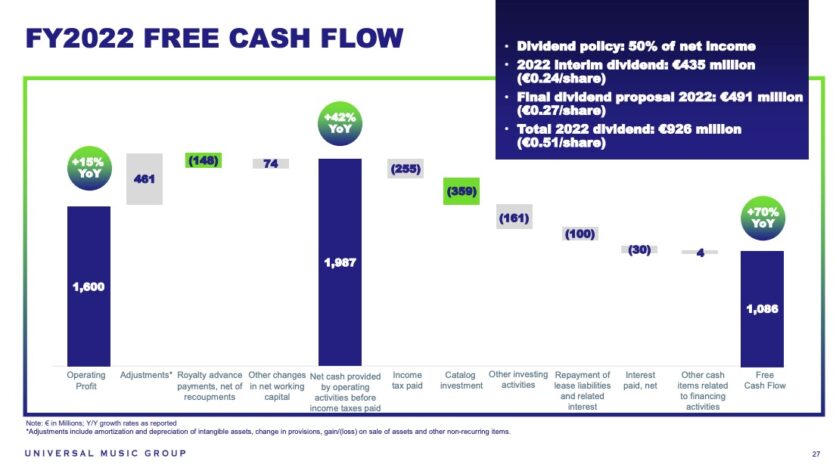 ---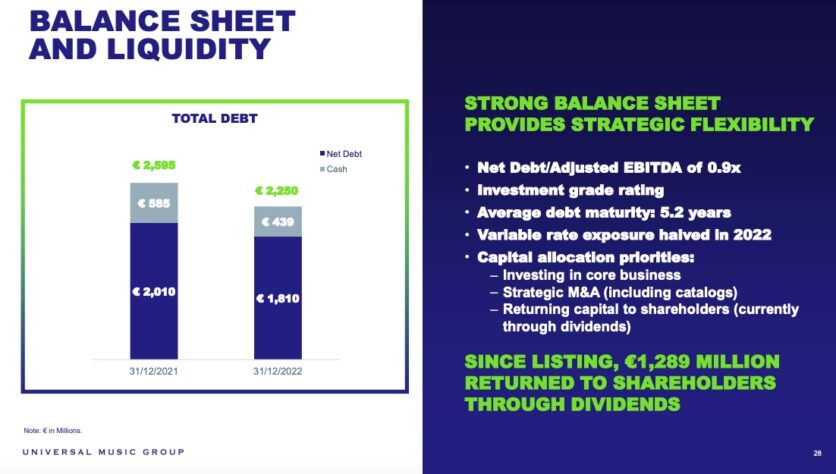 ---
WHAT HAPPENS NOW?
According to Universal's management, financial considerations aren't the primary reason for UMG's evident prudency over catalog rights spending. It's more strategic than that.
Speaking to investors on UMG's Q4 earnings call last week, Universal's Chairman and CEO, Sir Lucian Grainge, characterized his company's reticence to spend billions on catalog rights each year as a major positive for investors.
Grainge argued that many active buyers in today's music's M&A rights marketplace are merely "passive participants" in the income streams from music – i.e. they don't have control of the licensing usage of a given piece of music.
"UMG, on the other hand, is not in the passive rights business," said Grainge. "We are extremely selective in rights acquisitions. Given our position in the industry, we see, I suppose, almost everything. We pass on most of it."
UMG clearly likes this notion: although it could buy most of the music catalog portfolios on sale in the market right now, it chooses not to.
"We are extremely selective in rights acquisitions… Given our position in the industry, we see, I suppose, almost everything. We pass on most of it."

Sir Lucian Grainge, Universal Music Group
Added Grainge: "We have a brilliant core business with an abundance of high-return internal investment opportunities. A potential acquisition must therefore meet a very high threshold in order for us to decide to invest."
He continued: "As we have an increasing breadth of opportunities to consider, we continue to use our cash widely focusing only on the greatest opportunities available to profitably accelerate our growth."
Universal's CFO, Boyd Muir, echoed Grainge's sentiments over UMG's heedfulness RE: the downsides of a rampant catalog acquisition strategy.
Muir made the point that UMG's "music rights acquisitions [account] for only about 10% of our EBITDA growth over the last three years".
On the subject of Free Cash Flow, Muir noted that Universal's FCF grew 17% YoY in 2022 "largely as a result of the growth in adjusted EBITDA as well as lower spend on net advances and catalog acquisitions".
That being said, Muir also made clear that Universal's catalog spending in the past few years shouldn't be characterized as minor.
"In total, we have spent €1.6 billion to acquire rights since 2019," he said. "This has represented anywhere between 18% and 82% of our annual net cash from operations."
Muir also highlighted – as covered in the below slide – that in the catalog deals Universal Music Group has completed in the past three years (2019-2022), it has paid an average multiple of 16.2X each catalog's prior-year EBITDA.
However, he added: "When we account for some of the immediate value we bring to catalog, along with some unlocked-up side, we see the average multiple [becomes] less than 13x our purchase price."
---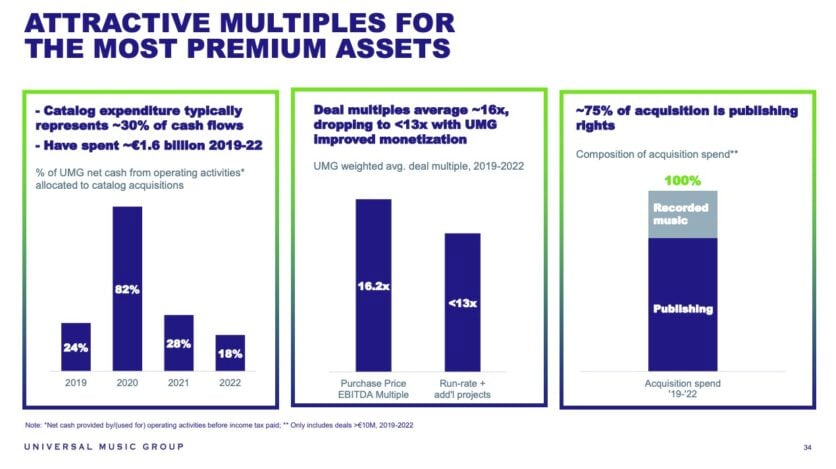 ---

A FINAL THOUGHT…
It's only been a couple of weeks since MBW was pointing out that, after a sleepy H2 2022 period, nine-figure catalog acquisitions had started sweeping back into the music industry in Q1 2023.
One of those acquisitions was the $200 million buyout of Justin Bieber's music publishing rights (and the artist's recorded music income stream) by Blackstone-backed Hipgnosis Songs Capital (via Hipgnosis Song Management).
The Bieber song catalog has long been administered by UMPG, so we can be 100% sure that Sir Lucian Grainge's claim that his company "sees almost everything" in music applied here.
Ergo: UMG likely declined to match Hipgnosis' spending level on the deal. (Worth noting: UMG owns Justin Bieber's recorded music catalog.)
Another recent example of UMG bowing out of high-profile catalog acquisition opportunities: Scooter Braun, as CEO of HYBE America, just spent ≈$300 million on hip-hop specialists Quality Control, as announced last month – a deal which included rights to the QC's label catalog.
QC's music was previously released via a joint venture with UMG, meaning that Grainge and his team, once again, would have definitely had full sight of the Quality Control deal opportunity. But just like with the Bieber/Hipgnosis deal,  Universal again declined to match the bid of a rival (this time, Scooter Braun).
Since MBW wrote that piece about big money washing back into music M&A in February, some more major news has arrived: Larry Jackson's gamma has acquired a catalog from Snoop Dogg that spans a range of the rap legend's own hits, plus a wealth of other recordings on the Death Row label.
Jackson has funded that acquisition (price unknown) using money from Eldridge – a company founded by billionaire Todd Boehly – which has previously acquired or co-acquired catalogs from the likes of The Killers (a Universal-distributed recording act) and Bruce Springsteen (alongside Sony Music Group).
These are all examples of – as Lucian Grainge puts it – UMG's "highly selective and opportunistic" catalog buyout strategy.
But they're also all examples of other companies picking up valuable rights, as Universal says: "No thanks."
---
Not that you should leave this article thinking that UMG doesn't spend big on catalog when it feels it needs to.
Don't forget that earlier this year, news emerged that Universal had acquired a run of assets related to Dr. Dre's hits.
This acquisition came with a reported $200 million+ price-tag – but that $200 million+ in spending was shared between UMG and Shamrock, which would have lessened Universal's financial exposure in the deal.
We also shouldn't forget that UMG has made some very hefty outright acquisitions of its own in the past 12-24 months.
These include legendary catalogs from the likes of Neil Diamond and Sting, plus – according to UMG's latest investor presentation – the full acquisition of the Cash Money recorded music portfolio, which has racked up over 12 billion streams to date and includes multiple Drake albums.
In its presentation to Q4 presentation to investors, UMG neatly explained that its catalog acquisition strategy in 2023 has four key pillars. Each of them (see below) is telling about the company's hesitancy to overspend on buying too many rights.
---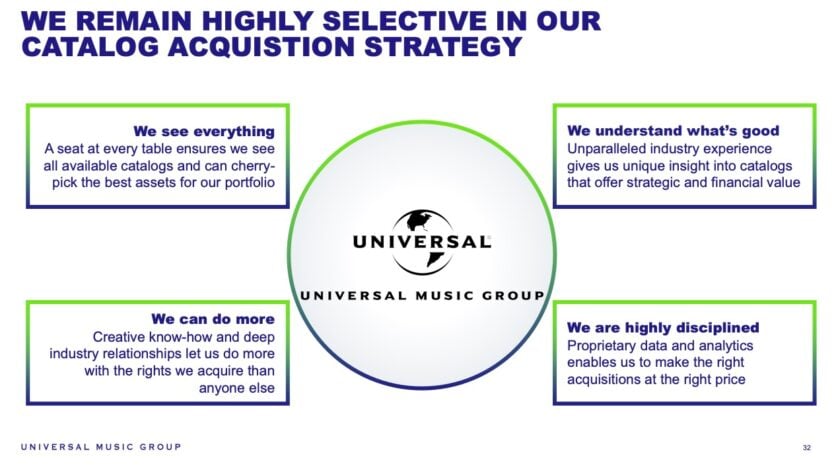 ---
Speaking to investors this month, UMG's Boyd Muir explained: "[We] run advanced analytics to understand the likely distribution of outcomes for [available] assets. And from that, only the best assets are selected for acquisitions."
Playing down the ultimate financial significance of catalog acquisitions in UMG's numbers, Sir Lucian Grainge added: "If you look at the totality of the incremental EBITDA coming in [to Universal] from acquiring catalogs, it's really not that significant in context of the totality of [our] business."Music Business Worldwide