The face of music distribution is changing.
MBW has conducted an in-depth market share analysis of the US recorded music business last year (by distribution company) across audio streaming, video streaming, total album 'projects' and more besides – using stats from the annual report of trusted market monitor BuzzAngle.
Unsurprisingly, we've found that Universal Music Group dominates the market in most categories.
However, when Sony's ownership of The Orchard and RED are taken into account, it runs its rival extremely close in the world of online video streams.
Elsewhere, Tunecore (owned by Believe Digital) had a particularly impressive year, claiming just under 5% of the total audio streaming market by volume…
---
Audio streaming
Universal Music Group finished 2016 having distributed 84.03bn audio streams of music in the US (data which will include UMG signings in addition to partner labels such as Disney and Glassnote).
This figure, which doesn't include UMG's indie distribution company Caroline's share, was enough to secure approximately 33.5% of the total market (250.73bn audio streams).
Sony Music (not including RED or The Orchard) claimed 51.193bn streams (20.4%), with Warner Music (not including ADA) on 39.964bn (15.9%).
Tunecore – owned by Believe Digital following a 2015 acquisition – claimed 11.375bn audio streams (4.5%).
That was ahead of rivals such as ADA (10.242bn, 4.1%), RED (9.02bn, 3.6%), The Orchard (8.136bn, 3.2%), INgrooves (5.54bn, 2.2%) and Caroline (3.315bn, 1.3%).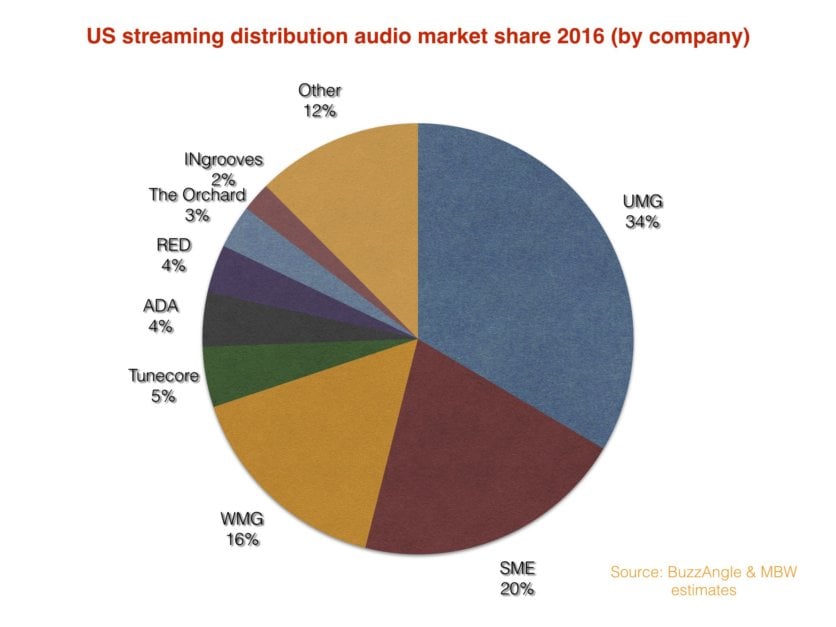 ---
Things get clearer in the audio streaming market when it's measured by corporate group – inclusive of subsidiaries.
Sony Music Entertainment, incorporating The Orchard and RED, closes the gap on Universal with 68.35bn total audio streams – a market share of around 27.3%.
UMG, incorporating Caroline, ends up with 87.35bn – a 34.8% market share – while Warner Music, adding in ADA, finishes up with 50.21bn (20%).
Believe Digital (incorporating Tunecore) is some way back on 13.87bn (5.5%).
INgrooves – with its 5.54bn audio streams – finishes at No.4 in the corporate group rankings. (It should be noted that UMG also owns a minority stake in INgrooves.)
Then comes CD Baby on 3.18bn (No.5) , EMPIRE Distribution on 2.9bn (No.6), Entertainment One on 2.29bn (No.7)  and Beggars Group Digital on 1.39bn (No.8).
In the world of 'traditional' independents, it's interesting to note that Beggars distributed more US audio streams in the year than RedEye, which was responsible for 934.6m plays.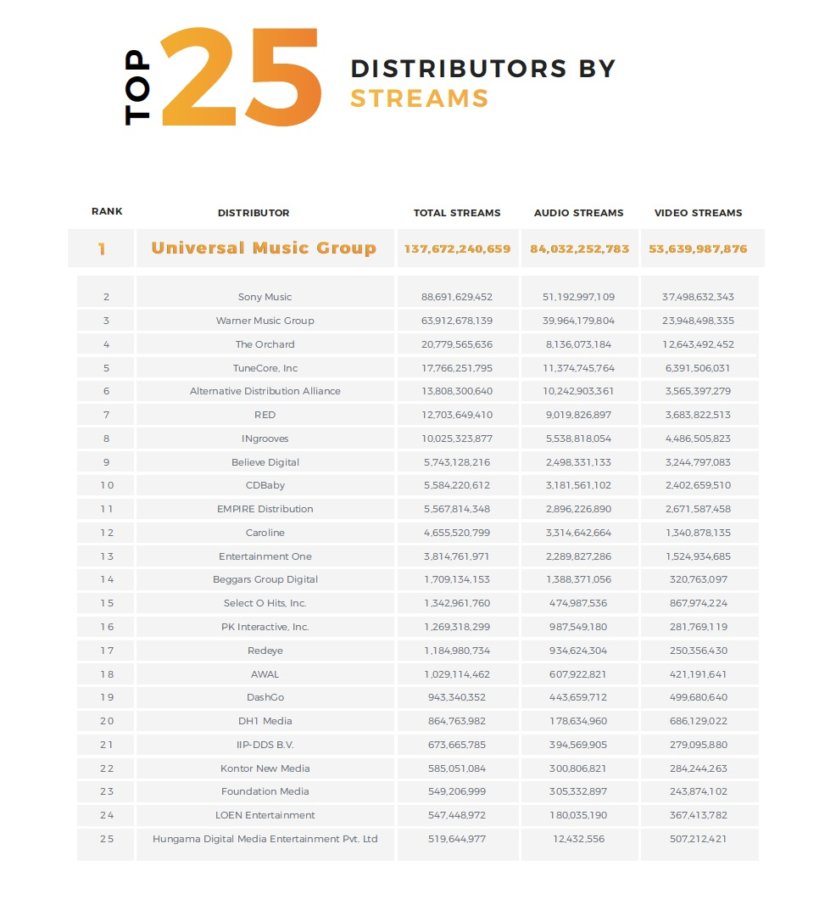 ---
Audio & Video streaming
As you can see in the slide from BuzzAngle's end of year report above, things change considerably when video streaming is added into the mix.
By this combined audio/video count, Sony-owned The Orchard leaps up to No.4, behind 'the big three'.
Add in contributions from The Orchard and RED, and you end up with Sony's combined corporate total of 122.17bn plays.
That's 20.16bn total audio/video streams behind Universal's corporate group haul of 142.33bn (including Caroline).
Overall, that equates to an estimated audio/video streaming US corporate group market share for Sony of 28.3%, and for Universal of 32.9%.
Ex-Caroline, UMG takes a 31.9% market share with 137.67bn audio/video streams.
Warner's annual audio/video corporate market share, inclusive of ADA, comes out at 18% from 77.72bn streams.
(BuzzAngle estimates that 181.31bn total video music streams were played in the US last year, inclusive of YouTube UGC. Across both audio and video, that adds up to 432.04bn plays.)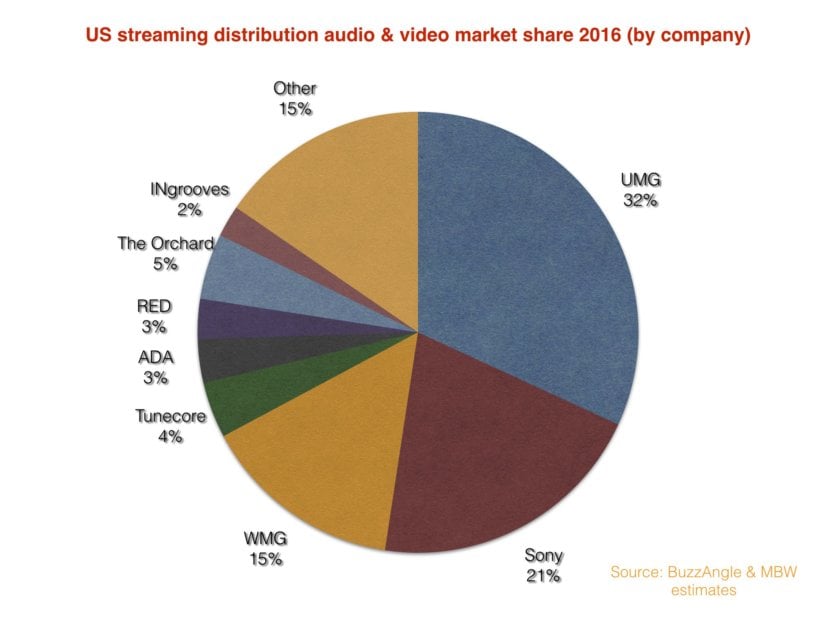 ---
Video streaming
When you just strip out and examine video streaming distribution, things get even tighter at the top – almost too close to call.
Sony's corporate group (including The Orchard and RED) laid claim to 53.83bn US video streams in total last year – a 29.7% market share.
Universal (with Caroline) claimed 54.98bn – a 30.3% market share.
Between UMG and Sony sat just 1.15bn video streams in total.
This extremely close gap gives us a strong hint why Sony was willing to pay a handsome $200m to snap up the 50% in The Orchard it didn't already own in 2015.
Warner ended 2016 (including ADA) with 27.51bn US video streams – a 15.2% corporate market share.
In combination, Believe Digital and its owned subsidiary Tunecore logged 9.64bn video streams in the year – a joint market share of 5.3%.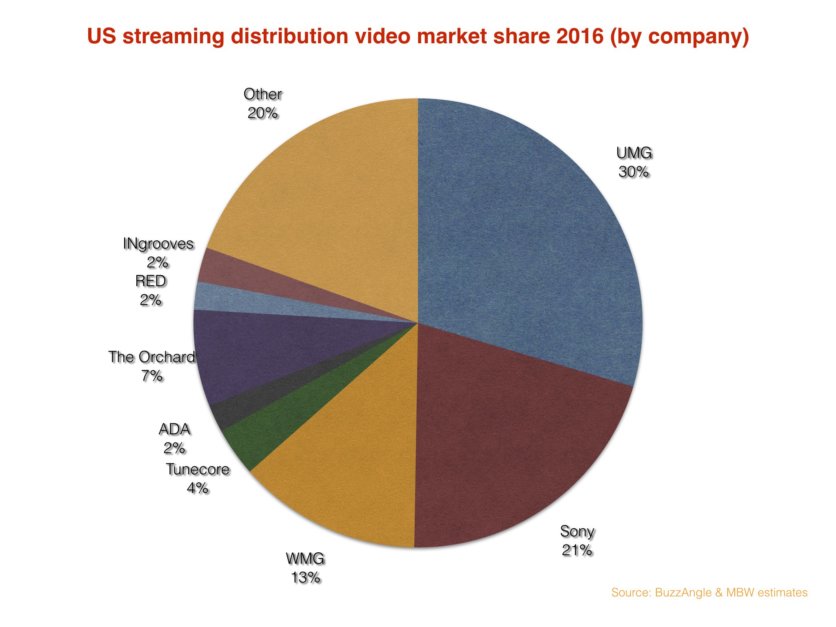 ---
Total 'project' consumption
BuzzAngle's annual report also provides us an estimate of distributors across total consumption.
This uses the typical US streaming conversation formula (150 streams = one track download; 10 track downloads = one album 'sale') to apportion a 'total project' number to each distributor.
You can read the full Top 25 below.
Universal leads the pack with 135.79m album 'projects'. According to BuzzAngle's 'total project' figures for 2016 (413.9m), that equates to a dominant market share of 32.8%.
Add in Caroline (5.2m album 'projects') and UMG's corporate group market share hits 34.1%.
Sony's total corporate market share – The Orchard and RED included – stood at 27.5% from 113.70m 'projects'.
Warner – including ADA – claimed a 20.9% corporate share from 86.37m 'projects'.
Tunecore, as you can see below, is the biggest non-major distributor across all projects, claiming a 3.3% US market share in 2016.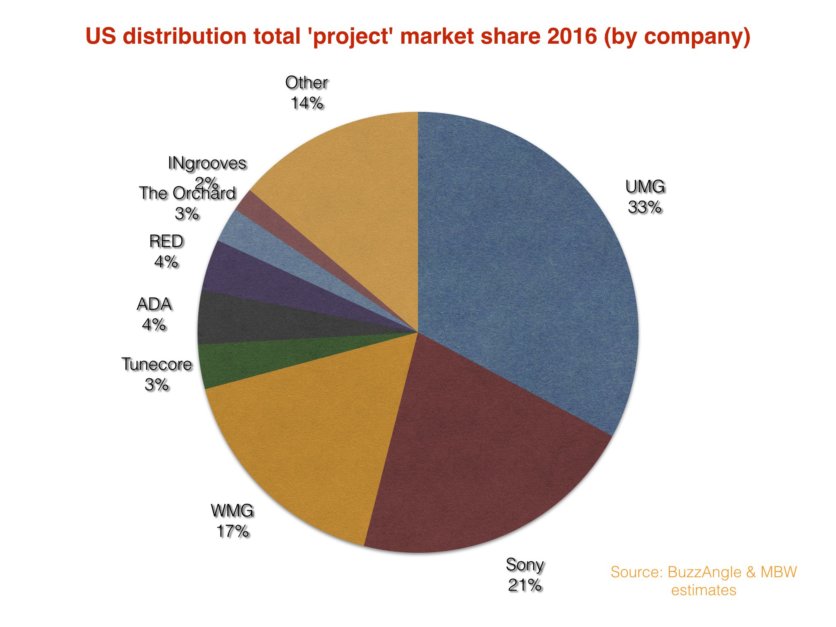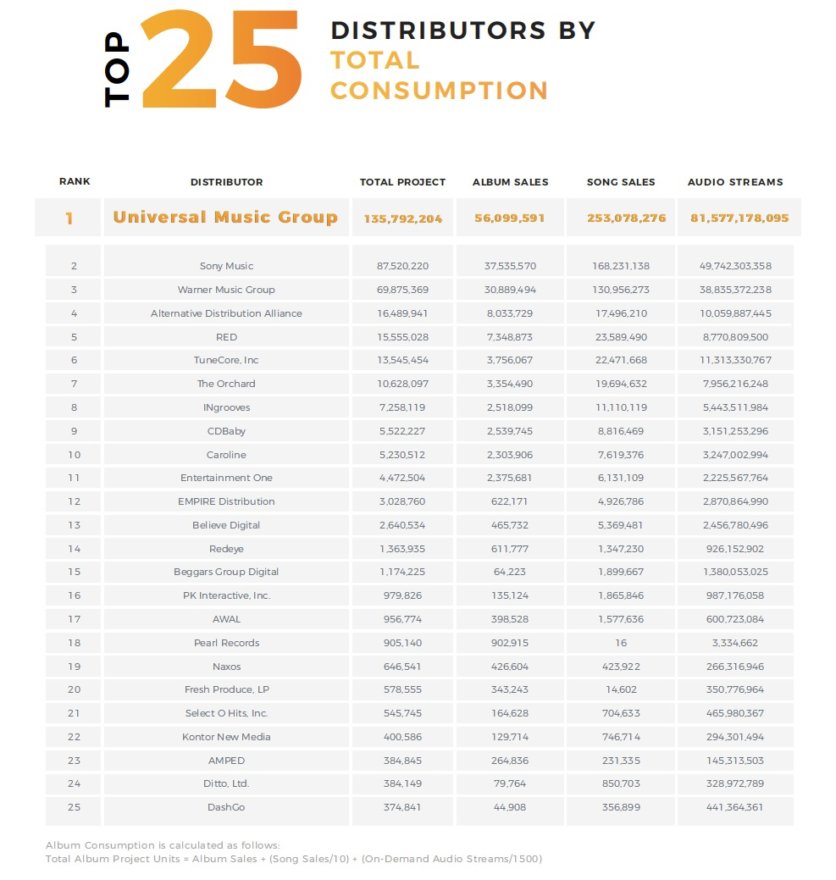 Music Business Worldwide