The music industry continues to be awash with stories of companies buying proven catalog for mega-money sums. But what about unproven catalog, i.e. music released years ago that, for whatever reason, never got the commercial due it deserved? Chris Sheehan, Founder of UK-based Karousel Music, believes there is huge potential – both economically and culturally speaking – in unearthing such forgotten masterpieces, dusting them down, and making new audiences care deeply about them. With this in mind, Karousel Music has just launched a new label venture, Buried Treasure, which aims to breathe fresh life (and revenue) into lost legends. Here, Sheehan (pictured inset below) explains his thinking.
---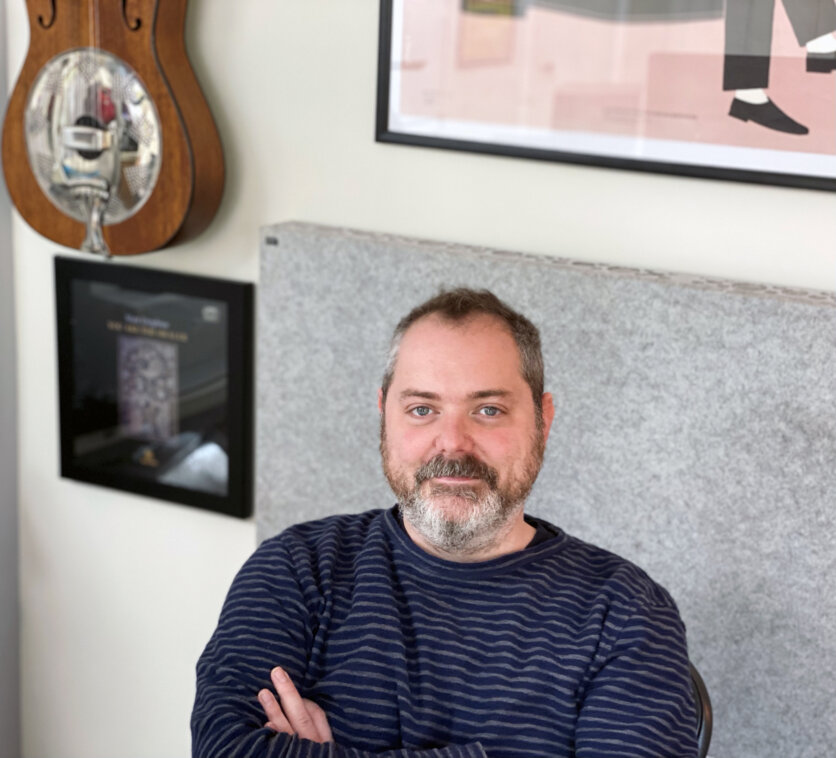 The catalog world is booming, and whilst I understand why the giants are chasing the nine-figure deals, I think investors are missing a trick by only focusing on the eternal fountain of juice squeezed from well known, well-ripened fruits.
While it's arguably a different job to re-energizing a legendary catalog, I would argue that working on 'lost' records and artists has the potential to be far more rewarding for the soul.
I also believe – for those with the right resources – this can potentially be very profitable indeed: both for the artist, and whoever is getting behind them.
---
Unlike traditional, well known, catalog campaigns, Karousel Music's Buried Treasure is are focused on those artists known to hardcore fans. These are records that stop you in your tracks, that are impeccably recorded and have the two ingredients above all that we exist for: great songs and authenticity.
I don't care how many streams, YouTube views or TikTok cat-fright-cucumber videos they've racked up. I want consistent authenticity across the records. Everything else we'll fight for, together, alongside our allies.
There's an enormous amount of negativity out there in the ether about streaming right now, but I genuinely believe this approach presents a huge opportunity to create feel-good, everyone's-a-winner streaming stories while allowing the world's most criminally overlooked artists to finally present their work to a new generation and earn the living they deserve.
Allow me to explain.
---
There are so many incredible artists that exist outside the algorithmic matrix with all these untapped, largely unheard, brilliant records, but with no team to help them reach people who'd love them.
Frontline labels and investors are falling over themselves to find and create brilliant tracks and writers but they ignore the astonishing amount of sublime music that has already been made that ticks all these boxes.
Often, that means extraordinary artists trapped outside the wheel devoted to music, but not making enough money to exist.
Some artists reach their peak after their moment in the spotlight has gone. Some make extraordinary records when the Zeitgeist had passed.
---
Most artists never stop getting better at writing, and many find their true 'sound' on their own terms, but when it's 'too late'.
Sometimes their first truly great record is the self-produced, home-made masterpiece long after the big-money-big-pressure-album-with-mega-producer flop that got them dropped.
Perhaps they wilted under the pressure of the second album; were at odds with their label; maybe they were too wounded by their initial experience to reach out again. Maybe they suffer/suffered from crippling mental health challenges and addictions, as so many artists and musicians do.
Whatever the reason, that Eden of music exists, unsaddled by trend or time.
"Some artists can make life-changing music, but just can't do the rest, and we shouldn't require them to. The rest used to be our job as an industry."
The fans who would have loved it then will still love it now – and in an increasingly song-driven economy, there is a huge opportunity to get these landmark tracks to a whole new generation.
It's both a sync and streaming treasure trove, for artist and investors.
There is also no risk over whether these artists can make great records – they already have.
Plus, they also come with a huge ready-made potential for the modern music industry's favourite word: storytelling.
Years of recordings, photos, videos, artwork. Asset-rich, with a small but incredibly passionate following.
---
Karousel Music is setup as a CIC – a Community Interest Company – in the UK, but I'm not advocating that model for everyone.
There is nothing inappropriate about a label sharing in rights/profits of these artists if they are helping catalyze them out of obscurity, and delivering success that's fairly shared with the act and the songwriters.
However, those companies trying to sit on these rights – when they haven't lifted a finger for them for decades and have clearly compounded the artist's demise – need to, as they say, use the facilities the pot has to offer, or kindly get off.
In some cases we've seen examples of labels trying to claim rights years after apparently waiving them. Now that they see some activity around an artist, they're hoping to suck out even more income from them, churn out some pink or purple vinyl and then toss it back into the dungeon.
These are human beings we're dealing with, and their art. These companies should remember that artists have a platform with social media they didn't have in the '70s, '80s or '90s. And fans care about them, deeply.
---
Speaking of which, there is a massive section of music fans who crave a bigger entity than the artist with two EPs and 20 million streams. There's only so much kudos and excitement you can get discovering Neil Young or Bob Dylan, again (as glorious as those catalogs are).
There's a whole genre of fan out there that everyone is missing: the treasure hunter.
Look how people stream TV boxsets – how many times a month do you see on your social media someone asking for a recommendation with enough seasons to lose themselves in?
"There's a whole genre of fan out there that everyone is missing: the treasure hunter. "
I've said consistently for ten years now that this obsession that both the industry and funding bodies have with 'artist entrepreneurs' – those who write, self-record, self-promote, produce, mix, master, manage and merch for themselves – is leaving many potentially great talents on the mountainside.
Some artists can make life-changing music, but just can't do the rest, and we shouldn't require them to. The 'rest' used to be our job as an industry.
---
The first release on Buried Treasure is the mercurial Matt Deighton.
We're releasing a documentary, Overshadowed, along with some of his incredible work to date.
Filmmaker Kevin Lee Brown has made an intimate portrait of an artist who has a remarkable back catalog, but whose significant battles with bipolar prevented him ever reaching the masses he was made for.
Matt's been compared to Nick Drake so many times, but I won't have it. I want him to be known by the masses in his lifetime – not after it.
The film has received critical acclaim the past week across the British media including The Sunday Times, the Guardian, The Daily Mail, The Sun, The Observer, and the Telegraph.
---
---
We're clearly not the only ones who believe Matt to be a criminally overlooked artist with a beautiful body of work. We'll fight to get him some financial stability in the second half of his life and his work the recognition it deserves.
Matt has trusted us with the five albums he owns. (He also had a stellar output in his Mother Earth days and an incredible debut solo album which were originally released by Acid Jazz.)
He's been critically acclaimed over two decades, but he doesn't have radiators in his house or floorboards upstairs.
This is a national treasure. It has to change, and it will change. I hope you'll all watch the film, fall in love and support us shining a light on our great, gentle, lost talents.
"Matt's been critically acclaimed over two decades, but he doesn't have radiators in his house or floorboards upstairs. This has to change, and it will change."
Even more than that I hope this industry we call home will support lost talents like these in whatever way we can.
Support them with editorial and algorithmic placements, buy their catalog, work their catalog in a diligent and respectful way or let them have their rights back.
Mainly, give them the recognition, success and dignity they deserve.
We all need to believe someone can discover us.
---
Matt Deighton is releasing on Karousel Buried Treasure via AWAL and Townsend. Press and marketing support from Deviate Digital, radio Viaduct. Management: Chris Sheehan via Karousel, and Business Affairs: John Cullen at Amongst Others.
Overshadowed Premieres in the UK on freeview on Sky Arts (and NowTV) tonight – May 14th – at 9pm.Music Business Worldwide