It's a good news day (with a few stipulations).
UK consumers spent more across singles, albums and subscription music services in 2015 than they did in any year since 2011 – despite industry income from downloads suffering a hefty drop.
Recorded music pulled in a total of £1.06bn in the UK market in 2015, up 3.5% on 2014's haul of £1.02bn.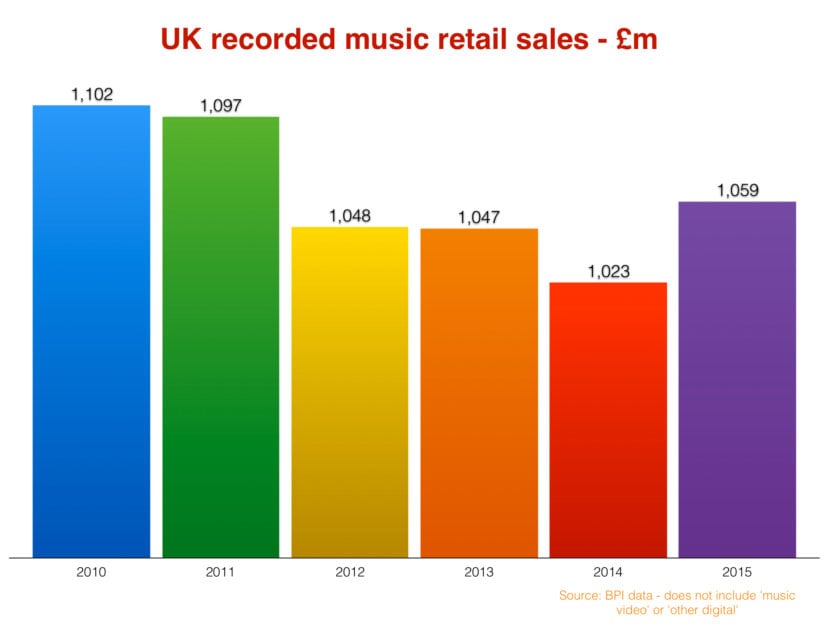 MBW analysis of the new BPI/Official Charts Company data shows that subscription streaming services contributed 23.7% of this figure.
However, the BPI has decided not to reveal financial figures from ad-funded services within these stats – a category which typically contributes less than £10m each year – and has also omitted income from music video sales, which generated £18m in 2014.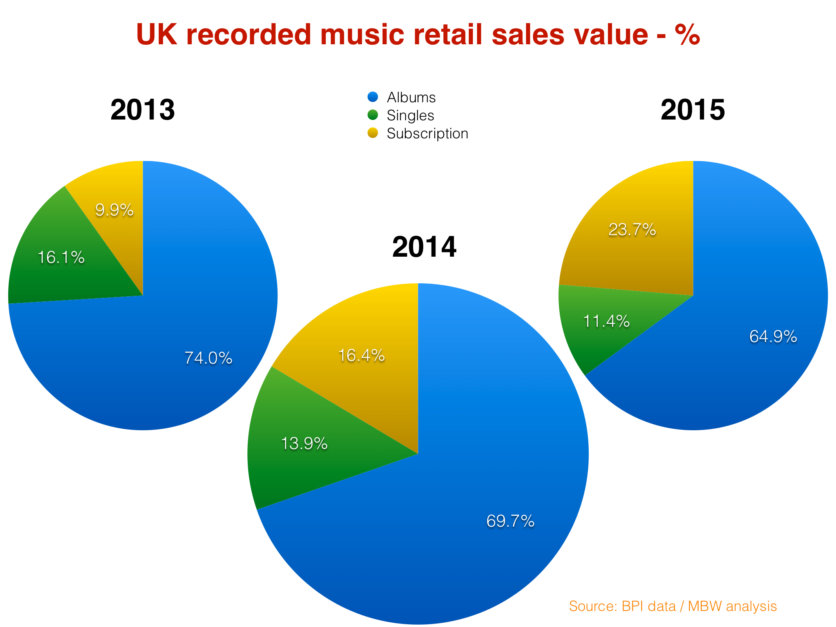 Album sales (real album sales, not equivalents) generated £687m in the UK in 2015 – or 64.9% of the year's total monetary tally.
In value terms, this was down just 3.7% on 2014's album income total of £713m.
Single sales however, fell 15% in value to £121m.
That's less than half the money brought in by payments to subscription streaming services and just 11.4% of the recorded music market's total UK cash haul in 2015.
As reported elsewhere, physical formats claimed 49% of the year's total cash haul, declining in revenue by just 0.5%.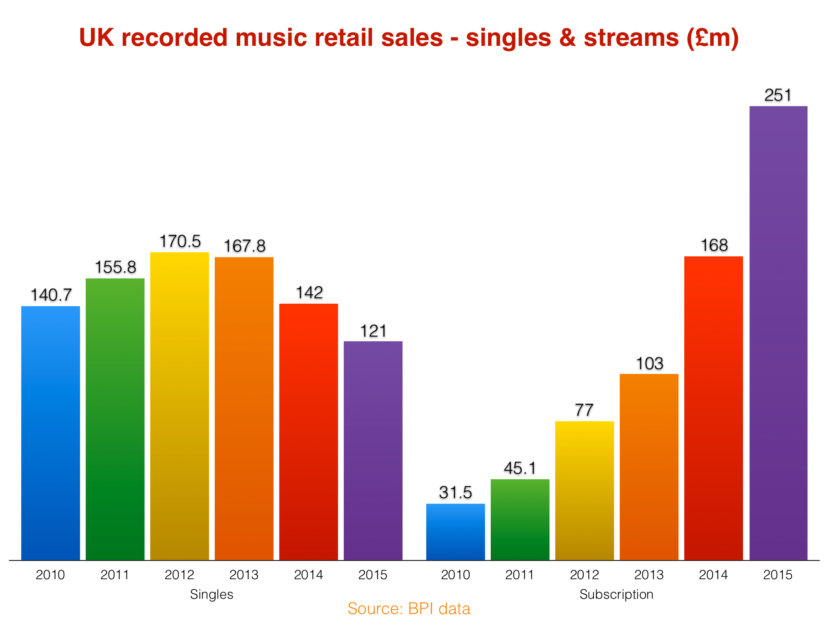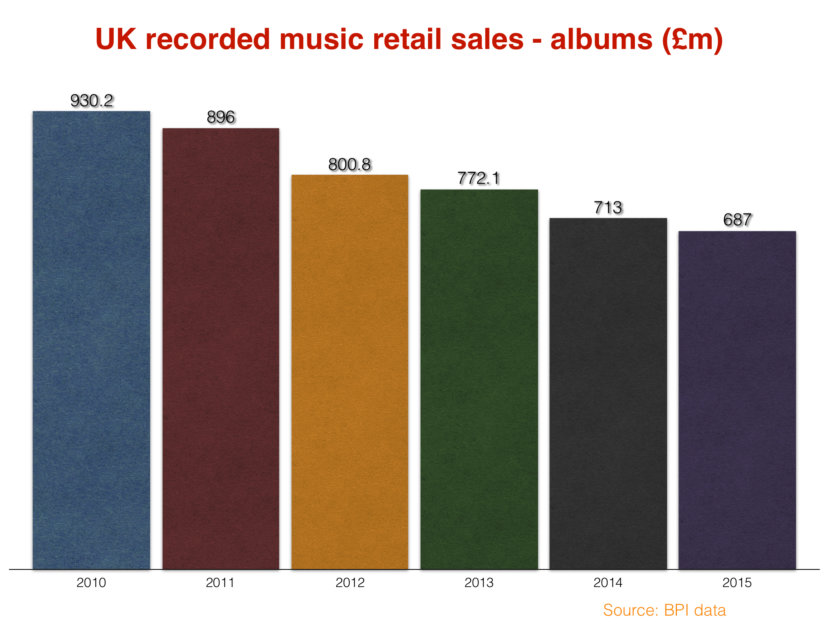 ---
The BPI also provides some interesting unit-based stats for 2015.
The number of audio streams served in the UK in 2015 across both ad-funded and subscription platforms rose by 82%.
26.8 billion songs were streamed in the market from digital services such as Spotify, Deezer and Google Play as well as Apple Music (2014 – 14.8 billion).
UK digital album sales declined 13.5% in 2015, falling to 25.7m as consumers continued to switch to streaming.
Meanwhile, CD album sales stood at 53.6 million units, down just 3.9% on 2014 – and still accounting for 66% of all albums purchased in the UK.
This represents a softening in CD's rate of decline, compared to a 20% fall in 2012 (and a 7.9% decrease in 2014),
The number of singles purchased (almost entirely via download) was down 15% – from 156 million in 2014 to 133 million in 2015.
Vinyl had another cracking year, up 64% from 1.3m units in 2014 to 2.1m copies.
---
MBW doesn't tend to report on 'Album Equivalent Sales' because, well, it's self-evident madness, so sorry if you were expecting some of that.
(When you have empirical value data to play with – as we have above – why on earth would you bother piddling about with an arbitrary conversation metric based on human guesswork? Let alone one designed to awkwardly conflate massively different formats? Exactly. It literally makes no sense. But there we go.)
Geoff Taylor, Chief Executive BPI and BRIT Awards, said: "The soaring popularity of music streaming and the burgeoning vinyl revival mean that UK music consumption rose again in 2015.
"Services such as Spotify and Apple Music are going mainstream as more people discover how wonderful it is to have all the music in the world to listen to, whenever and wherever you want. Millions of fans also continue to build treasured collections of favourite albums on vinyl, CD or downloads.
"Yet again it's UK artists who are driving this growth and inspiring the fans – at home and across the planet – with their award-winning song-writing and performances, whether it's global icons such as Adele, Ed Sheeran, Sam Smith and One Direction, or recent British breakthroughs and newcomers like Jess Glynne, Little Mix and James Bay."
[PIctured: Omi, whose Cheerleader was the most streamed song of 2015 in the UK, followed by Major Lazer's Lean On.]
nb. 2015's year included 53 'chart weeks', ostensibly due to the number of release dates – now each Friday around the world – that it contained.Music Business Worldwide