The UK's recorded music business is on course for a massive year.
UK retail music sales across subscription streaming, download and physical grew by a very promising 11.2% in the first half of 2017 – banking over £50m ($65m) more than the industry did in the same period of 2016.
According to data provided by the Entertainment Retailers Association, the growth of streaming, combined with major releases led by Ed Sheeran's Divide, pushed the amount spent on recorded music by UK consumers in Jan-June up to £564.7m ($736m).
If the UK music industry could maintain that 11.2% growth across the whole of 2017, it would finish the year with a £1.23bn retail haul – up by more than £120m ($156m) from a £1.11bn tally in FY2016.
Naysayers may point out that Sheeran's album – the biggest-selling UK entertainment title across music, games and video games in H1 – skews this set of six-monthly figures.
But what if new albums arrive, and then perform, from the likes of Sam Smith, Taylor Swift, Justin Bieber, Eminem, Drake and Kanye West in the second half of 2017?
All of them are roughly in cycle for a new LP (and yes, we've noticed they all release via one major music company in particular).
Could the UK end the year with an even higher double-digit growth figure? Optimism abounds.
The 11.2% rise in retail revenues enjoyed by the UK industry in H1 was, by the way, a significantly higher climb than that seen in Germany in the same period (+2.9%).
Meanwhile, three quarters (75.4%) of the UK's H1 music retail revenues were accounted for by digital services.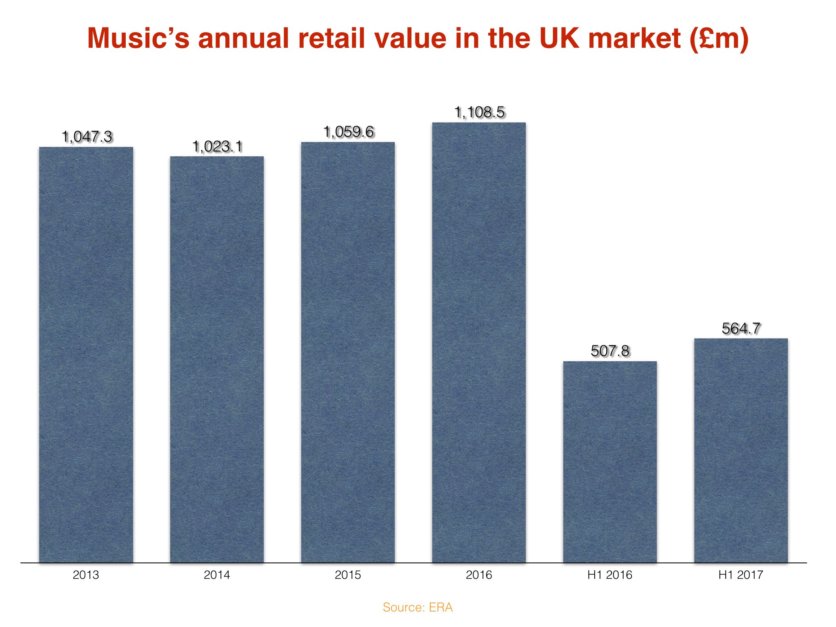 ---

Ed Sheeran's Divide (Atlantic/Warner) was the biggest-selling entertainment product in H1 on a units basis, selling 2.065m units, ahead of two movies: Rogue One: A Star Wars Story (1.18m sales) and Fantastic Beasts And Where To Find Them (1.03m).
The UK's next biggest-selling album was Rag N Bone Man's Human (Columbia/Sony), which shifted 694,194 copies in the first half of the year.
Interestingly, on a value basis, music is punching harder than it has in some time compared to other entertainment products.
That £564.7m retail tally gave music sales an 18.8% share of total entertainment revenues in H1 2017 – with video games on 48.1% (£1.44bn) and video on 33% (£990m).
In the same period of 2016, music took an 18% share, with video games on 47.3% and video on 34.7%.
Video's total revenues in H1 2017 were up 1.2% year-on-year, with video games sales growing 8.4%.
(To be clear: music 'retail' revenues refer to the cash handed over by consumers to subscription streaming services – based on ERA estimates – plus download stores and physical music retailers. The wholesale figures – ie. the portion of this money which ultimately ends up with rights-holders – is yet to be calculated.)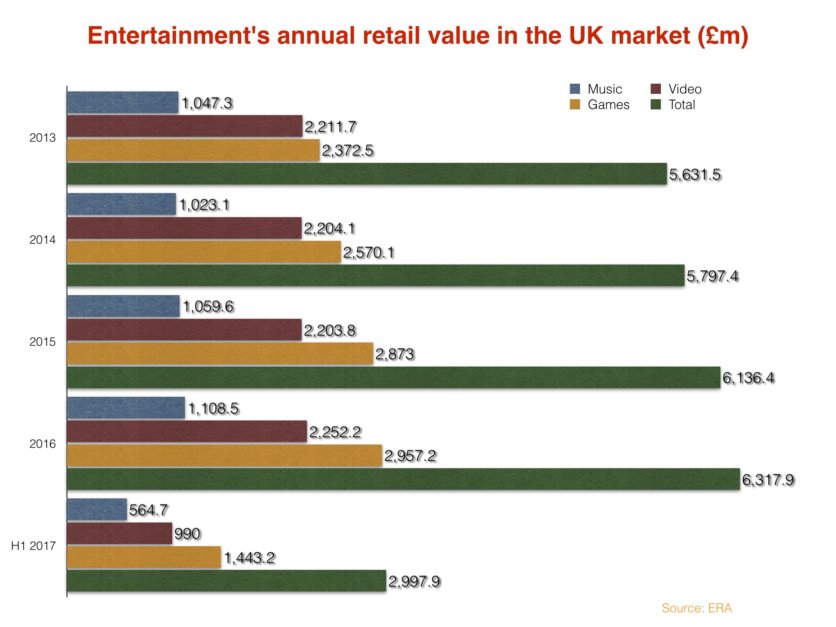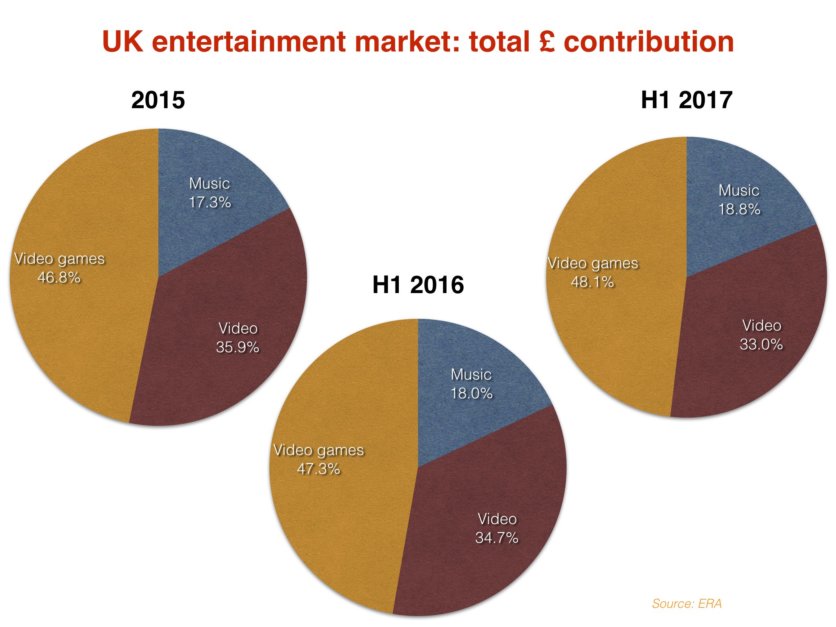 ---

Across all three formats, UK-based music, video and games sales surged by 6.4% in the first half of 2017 (up to to £2.997m) compared with same period of 2016.
That marks a sharp acceleration on the growth seen in calendar 2016 when sales grew 3% compared with 2015
ERA said that the key factor in this growth was 'increasing take-up of streaming services such as Spotify, Amazon and Netflix'.
Once again, the industry tips its cap to Daniel Ek.
ERA CEO Kim Bayley said, "Entertainment has now seen over four years of continuous growth thanks to a combination of digital services pioneering new ways of consuming music, video and games, and physical retailers working hard to maximise sales of discs.
"To now deliver another £180m worth of [total entertainment] sales in the first half of 2017 is really extraordinary."

Music Business Worldwide