The UK's recorded music business attracted more than £1.2bn ($1.5bn) in consumer spending last year – a jump of over £100m, or 9.6%, compared to 2016.
The driving force behind this rise in retail revenues was subscription streaming services, which pumped £577m ($743m) into the British music business last year – up 41.9% year-on-year.
That's more than double the amount of money generated by UK-based music subscriptions compared to 2015 (£253.5m).
These figures appear in new preliminary year-end stats from the UK's Entertainment Retailers Association, whose data does not include ad-funded revenues from streaming platforms.
Physical music formats held up well in 2017, with combined retail spending on CD and vinyl falling by just 3.4% to £459.4m ($592m).
Within this figure, vinyl album sales grew 33.7% to £87.7m ($113m).
Download sales plummeted 23.1% in the year, however, to £165m ($213m) – less than half the retail value of the category just three years before.
(To be clear, these 'retail' figures show only consumer spending on music in the UK – not the wholesale value that makes its way back to labels, artists and other rightsholders.)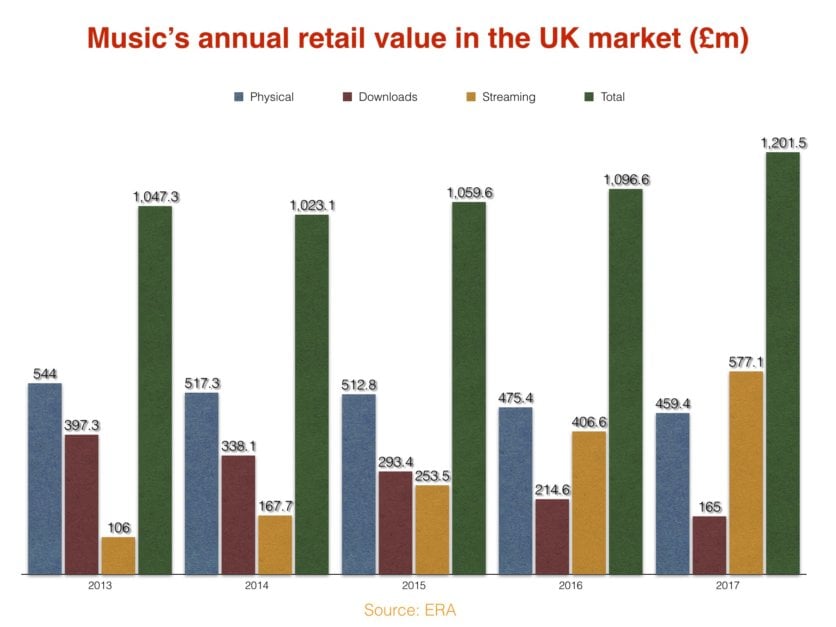 ---
The wider UK entertainment market, including video games and film, reached a new all-time-high of £7.24bn in 2017, according to ERA's stats – representing 8.8% annual growth.
Digital services captured 71.9% of entertainment sales value in 2017, according to ERA figures.
Entertainment's 8.8% growth rate in 2017 was more than four times that of the wider UK economy.
According to latest UK Government statistics, UK GDP grew by 1.9% in the first three quarters of 2017 compared with the same period of 2016.
ERA CEO Kim Bayley said, "This is an historic result which demonstrates the benefits of innovation and investment in new technology. New digital services are bringing ever increasing numbers of the UK population back to entertainment with 24/7 access to the music, video and games they want. In the past the growth of the market tended to be dependent on the release schedules of games publishers, film studios and record labels. Now we are seeing a market which is also driven by digital platforms and technologies."
ERA's market figures aggregate data from respected market analysts including the Official Charts Company, GfK and IHS. Preliminary numbers will be updated and confirmed with the publication of the ERA Yearbook in March 2018.
Added Bayley: "Physical may no longer be the default option for many people that it once was, but it remains a substantial £2bn business. Where physical really comes into its own is where it offers something distinctive and additional to the content, whether it be the tactile experience of vinyl or the simple fact that physical objects work well as gifts. I remain confident that physical entertainment formats will continue to be with us for years to come."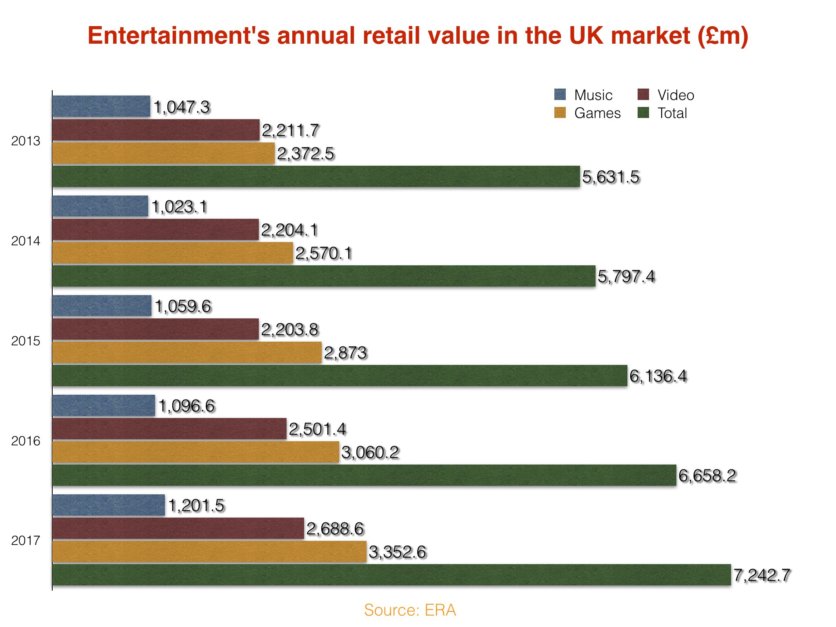 According to BPI stats, Divide by Ed Sheeran (pictured) was 2017's most streamed, physically purchased (both on CD and LP) and downloaded album in the UK.
Music Business Worldwide