MBW's Stat Of The Week is a series in which we highlight a data point that deserves the attention of the global music industry. Stat Of the Week is supported by Cinq Music Group, a technology-driven record label, distribution, and rights management company.
---
The annual amount of money spent by UK consumers on recorded music – across physical and digital sales, plus subscription streaming – grew by £98.3m ($126m) in 2020, up 6.8% year-on-year to £1.55bn ($1.99bn).
That's according to preliminary figures released by the UK's Entertainment Retailers Association (ERA), whose members include the likes of Amazon, Deezer, SoundCloud, Spotify and YouTube, in addition to major and indie physical music retailers.
The figures reveal that annual UK music subscription streaming revenues grew 15.5% in 2020, with a total spend by consumers of £1.208bn ($1.55bn). (To be clear, this is retail spending, meaning the money received by streaming platforms, rather than the wholesale figure they then paid out to record labels and distributors.)
---
MBW's Stat Of The Week

: Subscription streaming revenues in the UK topped $1.5bn in 2020 – up 15.5% YoY, and more than three times the size of the money spent on physical music. 
---
That all meant that UK consumers spent £162.4m ($209m) more on subscription streaming in 2020 than they did in 2019.
However, this rise represented a significant slowing down of annual music subscription growth in the market: according to ERA's revised figures for 2019, UK subscription streaming retail revenues grew by £233.8m that year.
In other words, the annual growth margin of streaming subscription revenue in the UK fell by 30.5% from 2019 to 2020 (from £233.8m to £162.4m).
---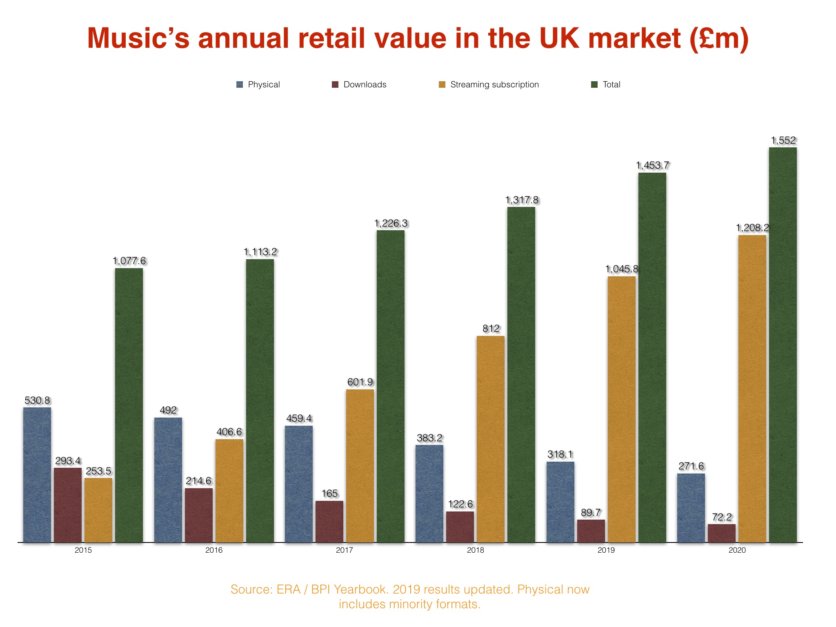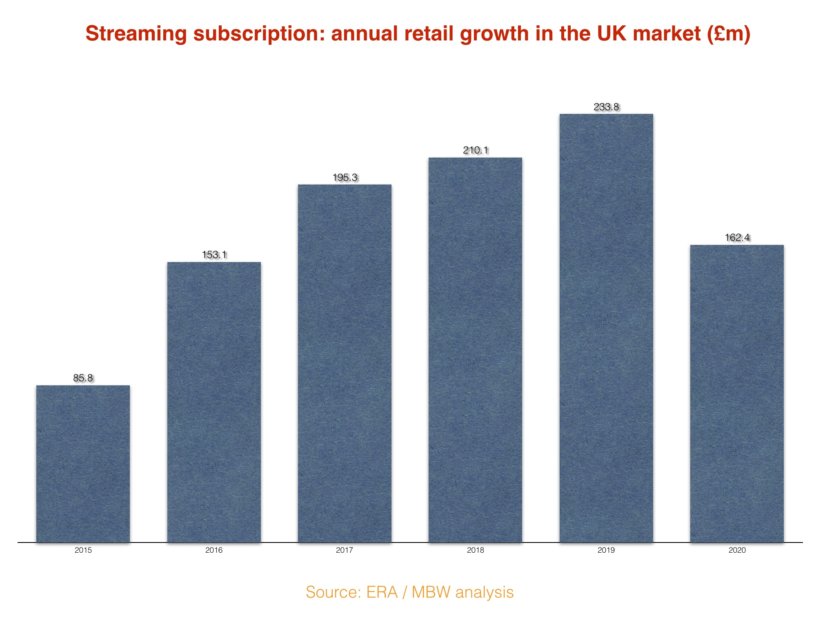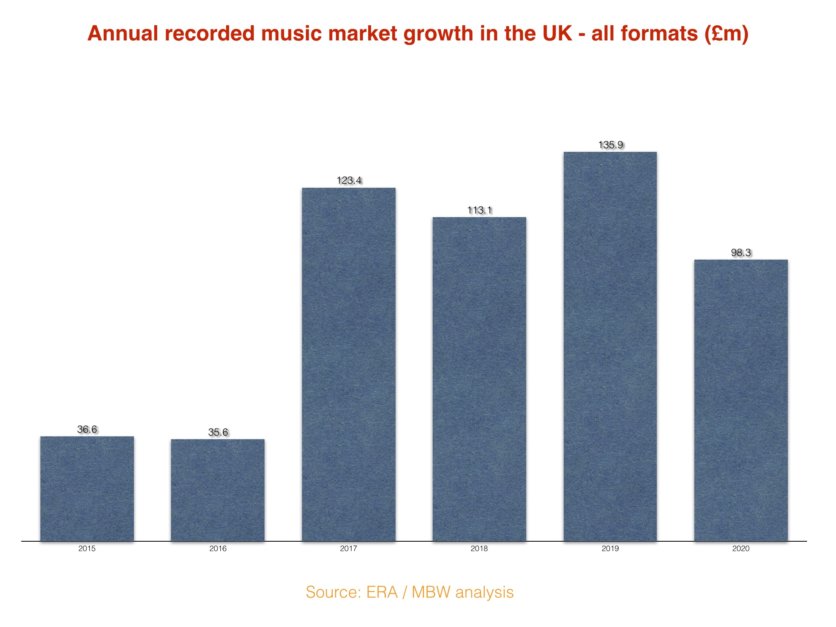 ---
This trend is obviously not ideal for music rightsholders, especially when you consider that the volume of audio streaming plays in the UK (across free and subscription services) grew by its bigger ever margin in 2020.
That said, a £162m annual growth in subscription revenue is not to be sniffed at – especially in a pandemic-hit 2020 that caused major problems not only for the live industry, but also for public performance licensing and physical sales on the copyright side of the business.
Speaking of which, according to ERA's numbers, annual physical music sales in the UK fell by 14.6% at the retail level in 2020, down to £271.6m ($408m) from £318.6m in 2019.
That was down £46.5m YoY, actually a smaller decline than that seen on UK physical music spending in 2019, when the annual amount consumers spent on CD and vinyl etc. declined by £65.1m.
---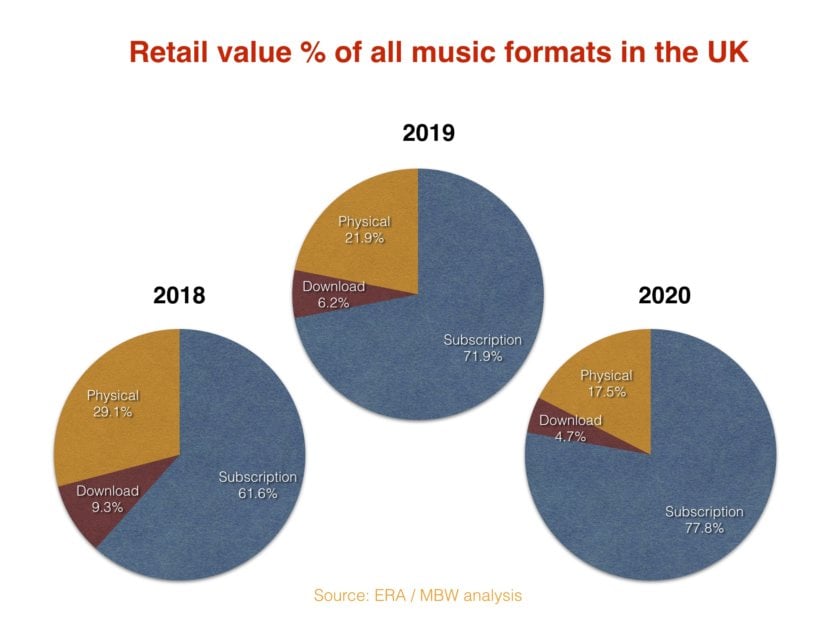 ---
Throw all of that into the calculator, and we find that subscription streaming claimed 77.8% of all UK recorded music retail spending in 2020; bear in mind that these figures don't include a further chunk of streaming money from ad-supported services.
In fact, subscription streaming revenue is now more than four times bigger than the amount of money generated by physical music formats in the UK, the world's third biggest recorded music market.
---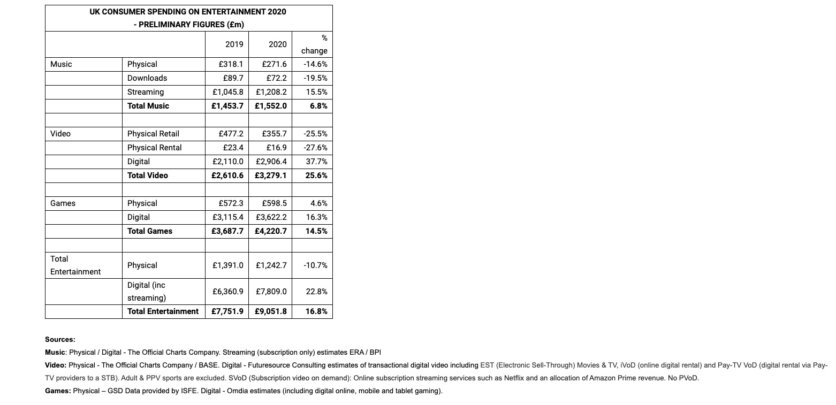 ---
Putting things into perspective are ERA's numbers for other entertainment media (see above).
Video games, across physical and digital, generated £4.22bn (£5.42bn) in the UK in 2020, says ERA's data – not far off three times the size of music's total revenue haul.
Movies and TV shows, meanwhile ('Video') generated £3.28bn ($4.21bn), more than double the size of music.
* All conversions from GBP to USD in this analysis have been made at OFX's yearly average rate for 2020.
---

Cinq Music Group's repertoire has won Grammy awards, dozens of Gold and Platinum RIAA certifications, and numerous No.1 chart positions on a variety of Billboard charts. Its repertoire includes heavyweights such as Bad Bunny, Janet Jackson, Daddy Yankee, T.I., Sean Kingston, Anuel, and hundreds more.Music Business Worldwide