Digital album sales have enjoyed unbroken annual growth in the UK ever since iTunes launched in Europe back in 2004.
But if the subsequent decade provided the industry with the story of digital music purchases eating into the domination of CD, a new chapter now appears to be underway: the natural decline of downloads as the age of streaming goes supernova.
Not only did the UK streaming market generate more revenue than the single-track download market in 2014, but according to new BPI/Official Charts Company stats, the UK's volume of music streams almost doubled, up from 7.5bn in 2013 to a whopping 14.8bn in 2014.
Meanwhile, annual UK unit sales of digital albums declined in the territory for the first time in history.
After reaching a peak of 32.6m unit sales in 2013, in 2014 album downloads tapped out at 29.7m, representing a drop of 9% year-on-year.
Obviously, it's hard to pin down a single causal factor for this slip: did streaming services like Spotify, Deezer and Google Play attract people away from iTunes?
Did the new blockbuster albums releases across the course of the year simply fail to ignite the imagination of consumers?
Perhaps music fans just began spending more of their money and time on other entertainment products – or even tightened their belts and saved their cash?

Whatever the reason, it didn't stop digital formats technically outperforming physical albums in the UK in 2014; at least, according to the BPI's very modern-but-arguably-slightly-illogical way of adding up.
The maths here is complicated, to say the least.
According to the BPI's Album Equivalent Sales methodology,  49% of all albums sold in the UK in 2014 were physical – meaning digital formats claimed the majority of the annual market with 51%.
But it's not quite as simple as that sounds. Because that stat only makes sense, frankly, if you fiddle the numbers a bit:
(i) if you combine UK singles downloads in 2014 and divide by 10, you get what the BPI calls 'Track Equivalent Albums (TEA)' for the year – a number that can technically claim 13.3% of the total UK albums market;
(ii) and then by taking all streams, dividing by 100 (the same system used to convert streams into the Official Singles Chart), then dividing again by 10 to replicate the approximate number of tracks on an album… you get the BPI's 'Streaming Equivalent Albums (SEA)', which would technically claim 12.6% of the total UK albums market in 2014.
If you then add those percentages to the annual market share of standard digital album sales in the UK – which in 2014 was 25.3% – digital album sales technically lay claim to 51% overall.
Of course, another way of looking at it is much simpler: in 2014 in the UK, digital album sales – that's real albums, which people have chosen to buy in one go – amounted to 29.7m.
In the same period, physical album sales – that's real albums, which people have chosen to buy in one go – reached 57.2m.
Added together, that makes a total albums sales market of 86.9m units, of which digital albums claim 34.1% and physical albums claim 65.9%.
In these more traditional terms of combined physical and digital albums, overall LP unit sales declined 7.6% from 94m in 2013.
But if you apply the BPI's 'TEA/SEA' method to the numbers – i.e adding in single-track streams and downloads to the mix – that yearly drop is reduced to 2.1%.
Regardless of how you add it up, physical album sales declined 6.9% in the year, dropping from 61.4m (2013) to 57.2m.
Vinyl unit sales were up 65% to 1.3m, but the CD format dropped 7.9% to amass 55.7m sales.
As reported earlier, the most important thing for the UK recorded music industry is that, despite these declines, total revenue generated across the year was broadly flat – down just 1.6% to £1.03bn.
This was largely thanks to the growth of audio streaming, which gained 65% in value terms to generate £175m for the business.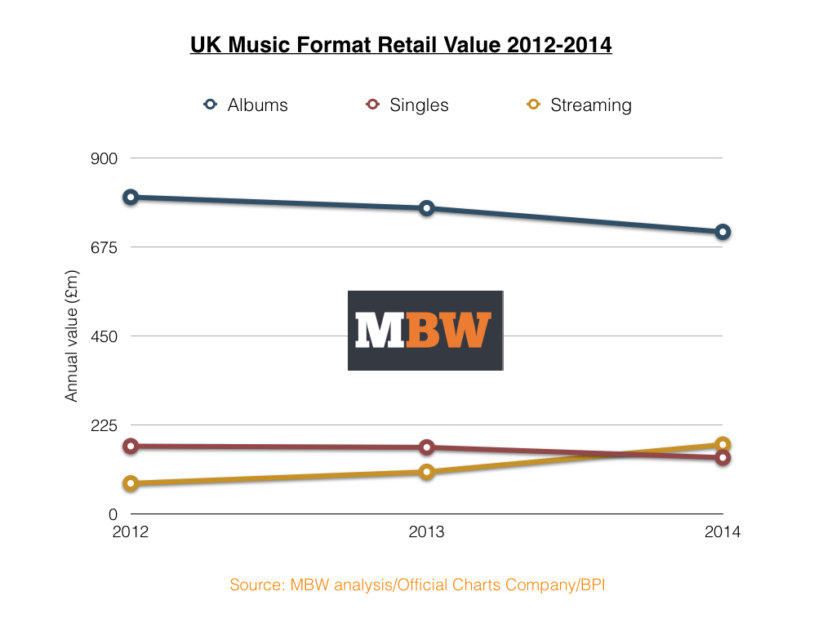 The value of the annual UK albums market dropped 7.8%, down to £713m compared to £773m in 2013.
The biggest selling LP of the year was Ed Sheeran's X, which sold 1.7m (1,689,124) copies after since its UK release in June 2014 – the largest total for an artist album release since Adele's 21 in 2011. Nearly half a million of these sales (425,619) came in the last two weeks of the chart year, driven by Christmas gifting.
X was the most popular digital album of 2014, with 471,194 copies downloaded. Sheeran (pictured) was also the UK's most streamed artist of the year.
Meanwhile, Sam Smith's debut LP In The Lonely Hour, released in May, sold more than a million copies in the UK across all formats (1,247,703). Smith was the second most streamed artist in the UK after Sheeran, with In The Lonely Hour the second most streamed album.
Now! That's What I Call Music 89 was the third best-selling album of the year overall, with 954,417 copies purchased in the five weeks since its release in December. Now! 89 was also the year's biggest selling compilation title in the UK, ahead of Disney's Frozen soundtrack. Released at the end of 2013, Frozen's OST has racked up a total of 950,522 UK sales to date.
Geoff Taylor, Chief Executive BPI and BRIT Awards, said: "The remarkable success of British artists in 2014 is exciting news for the future. Our record labels are backing home-grown talent like Ed Sheeran, Sam Smith and George Ezra, who in turn are catching fire around the world.
"With major new premium services from Apple and YouTube set to boost subscription streaming even further in2015, we believe the UK's world-leading music industry is strongly positioned for future expansion."
OFFICIAL UK ARTIST ALBUMS CHART 2014
Ed Sheeran, x – Asylum/Atlantic Records UK (Warner Music UK)
Sam Smith, In The Lonely Hour – Capitol/Capitol (Universal Music UK)
George Ezra, Wanted on Voyage – Columbia/Columbia Label Group (Sony Music Entertainment UK)
Paolo Nutini, Caustic Love – Atlantic/Atlantic Records UK (Warner Music UK)
Coldplay, Ghost Stories – Parlophone/Parlophone (Warner Music UK)
Paloma Faith, A Perfect Contradiction – RCA/RCA Label Group (Sony Music Entertainment UK)
One Direction, Four – Syco Music/Syco Music (Sony Music Entertainment UK)
Olly Murs, Never Been Better – Epic/RCA Label Group (Sony Music Entertainment UK)
Pink Floyd, The Endless River – Rhino/Rhino (Warner Music UK)
Take That, III – Polydor/Polydor Records (Universal Music UK)
© Official Charts Company
OFFICIAL UK COMPILATIONS ALBUMS CHART 2014
Various Artists, Now 89 – Sony Music CG/Virgin EMI (Sony Music Entertainment UK/Universal Music UK)
Original Soundtrack, Frozen – Walt Disney/UMC (Universal Music UK)
Various Artists, Now 88 – Sony Music CG/Virgin EMI (Sony Music Entertainment UK/Universal Music UK)
Various Artists, Now 87 – Sony Music CG/Virgin EMI (Sony Music Entertainment UK/Universal Music UK)
Various Artists, Disney Sing-Along: Frozen – Walt Disney/UMC (Universal Music UK)
Various Artists, BBC Radio 1's Live Lounge 2014 – Rhino2/Sony Music CG/UMTV (Warner Music UK/Sony Music UK/Universal Music)
Various Artists, Now Christmas – Rhino/Sony Music CG/Virgin EMI (Warner Music UK/Sony Music UK/Universal)
Various Artists, Keep Calm And Chillout – Sony Music CG (Sony Music Entertainment UK)
Various Artists, Now Disney – Sony Music CG (Sony Music Entertainment UK/Universal Music UK)
Various Artists, Now 21st Century – Sony Music CG/Virgin EMI (Sony Music Entertainment UK/Universal Music UK)
© Official Charts CompanyMusic Business Worldwide