It was one of the music industry's biggest stories of 2019: In February that year, satellite radio giant SiriusXM announced it had completed the acquisition of Pandora in a $3.5 billion all-stock transaction.
At the time, Pandora remained a predominantly free, non-interactive music streaming service, but had launched two nascent subscription tiers: the $4.99-per-month Pandora Plus, and the $9.99-per-month Pandora Premium.
The latter was once billed by Pandora as a Spotify killer. (Pandora's ex-CEO, Tim Westergren, even boasted that Pandora's $9.99-per-month platform would be the music streaming market's first "true premium product.")
Yet two years on from the moment Sirius committed a multi-billion dollar sum to buying Pandora, the US-only music service's user base continues to shrink rapidly.
According to SiriusXM's just-released Q2 2021 results, some 55.1 million monthly active users (MAUs) were engaging with Pandora in the three months to end of June this year.
Continuing a long-running decline in Pandora's MAUs, that 55.1m figure was down by nearly a third (-32%) on Pandora's all-time MAU peak of 81.5m in Q4 2014.
It's also down by nearly 11 million on the platform's MAU count (66.04m) at the close of Q1 2019, shortly after Sirius acquired Pandora.
How swift has Pandora's user reduction been? Pandora's own website still suggests that it offers a "highly-personalized listening experience to approximately 70 million users each month".
That was true three years ago. Now it's a full 15 million out.
---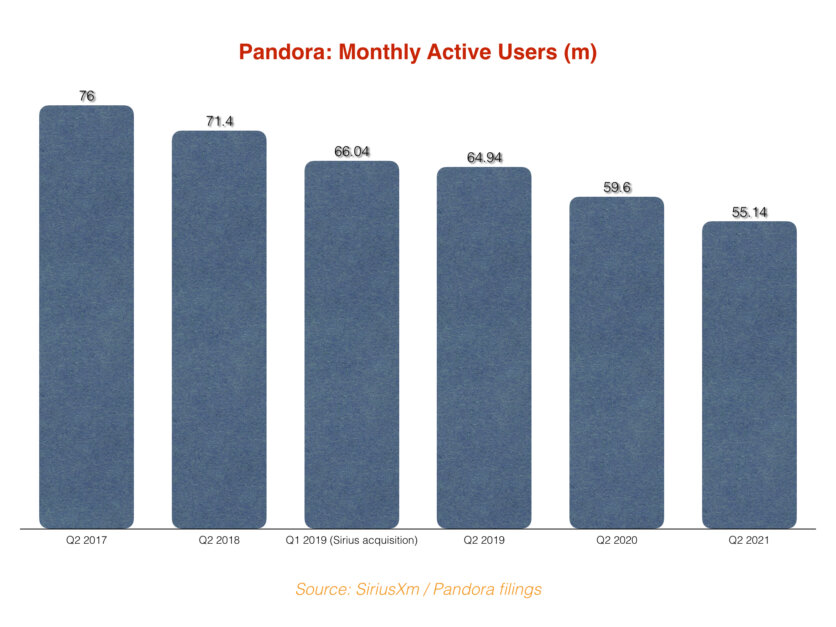 ---

Not that any of this has hurt SiriusXM's own prosperity.
For one thing, despite that ongoing shrinkage in users, Pandora's total advertising revenues actually climbed 82% year-on-year in Q2 2021 (following the Covid-hit turbulence of 2020) with $383 million generated in the quarter.
That $383m revenue figure included off-platform results such as Pandora's AdsWizz business, and was also up on Pandora's pre-pandemic performance: the platform generated $306 million from ads in Q2 2019.
"Including Pandora, total revenue at SiriusXM in Q2 2021 stood at $2.16 billion, up 15% on the $1.88 billion generated in Q2 2020."
Another set of numbers worth keeping an eye on: Pandora's "self-pay" (i.e. not bundled into car purchases) subscriptions business.
In Q2 2021, the net number of Pandora self-pay subscribers crept up by 118,000 across Pandora Plus and Pandora Premium.
The platform ended the quarter with 6.51 million self-pay subs, versus 6.25 million in the equivalent quarter of 2020.
Pandora's total revenues – across advertising and subscription – in Q2 2021 stood at $516 million.
That was up on the $336 million generated by Pandora in Q2 2020, and the $441 million generated by the platform in Q2 2019.
---

---
Including Pandora, total revenue at SiriusXM in Q2 2021 stood at $2.16 billion, up 15% on the $1.88 billion generated in Q2 2020.
The SiriusXM platform itself generated $1.64 billion in Q2 2021, up on $1.54 billion in the equivalent period of last year.
---
Another standout metric for Pandora is its total ad supported listener hours in each quarter.
In Q2 2021 – as just announced in Sirius's latest financial results – Pandora attracted 3.03 billion ad-supported listener hours.
---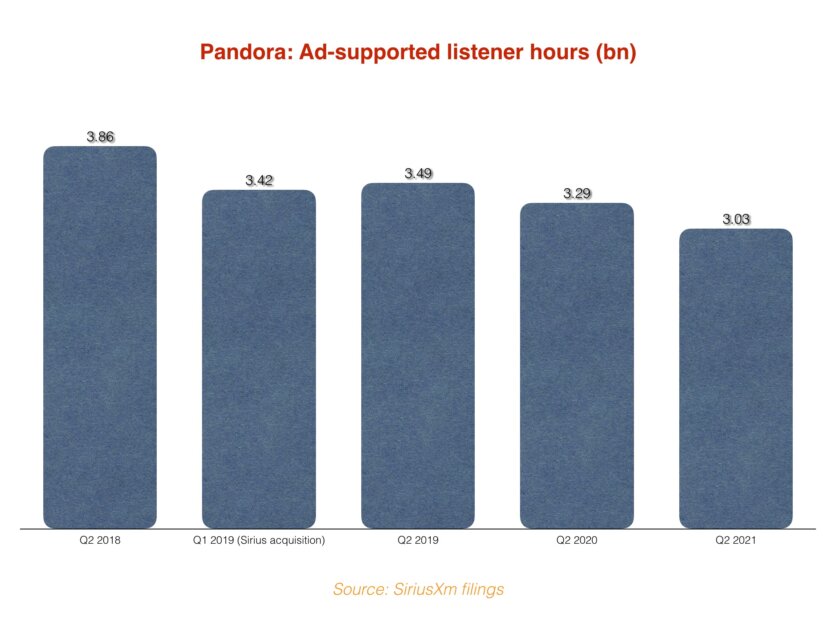 ---
That was down on 3.29 billion in the prior year quarter, down from 3.49 billion in Q2 2019, and down from 3.86 billion in Q2 2018.
---
Pandora isn't the only music-specific streaming service that SiriusXM takes an interest in these days, of course.
In February 2020, SiriusXM made a $75 million minority equity investment into SoundCloud.
In 2018, Pandora became the exclusive ad sales representative for SoundCloud in the United States.
Earlier this year, SoundCloud signed up to sell advertising in 14 European territories through SiriusXM's AdsWizz.
Pandora acquired global ad sales platform AdsWizz in a deal worth $145 million in May 2018.Music Business Worldwide