Believe-owned DIY music distributor TuneCore has overhauled its pricing structure for independent artists – in what it says is its "biggest change since opening for business 16 years ago".
Announced today by Andreea Gleeson, TuneCore's Chief Executive Officer, the platform is introducing new 'Unlimited Release Pricing Plans'.
What that means: TuneCore is – for the first time in history – enabling artists and labels to distribute an uncapped amount of music to services like Spotify and Apple Music each year for a single annual price.
TuneCore's new unlimited pricing covers four different plans (see below) of varying annual expense:
The 'New Artist' plan offers artists unlimited release of songs to the music libraries of social platforms – Facebook, Instagram, TikTok and YouTube (including Shorts, Content ID and access to YouTube's Official Artist Channel) – for no upfront fee. TuneCore will pay artists 80% of what is collected on those platforms, keeping the other 20%;
The next step up is the 'Rising Artist' plan, which costs $14.99 per year and includes unlimited distribution to over 150+ streaming services like Spotify, Apple Music, Amazon Music, Deezer and Tidal as well as social media platform libraries. Artists signed up to this plan will be paid 100% of the revenue earned by their music on these platforms. This plan also includes access to pre-schedule all release dates, official verification on Spotify and Apple Music, and promises artist support response time from TuneCore within 72 hours;
TuneCore's new 'Breakout Artist' plan costs $29.99 per year and includes every perk/service offered in the 'New Artist' and 'Rising Artist' plans (including receiving 100% of royalties from digital stores), plus free access to TuneCore's 'Automator' feature – which ensures distribution of an act's music to additional streaming and digital stores that launch / become available in the future. This tier also offers downloadable reports plus a guaranteed artist support response time "within 48 hours";
The top tier of TuneCore's new pricing menu is the 'Professional' plan. Priced at $49.99 per year, TuneCore says this tier is "designed for labels, managers and artists who are more advanced in their careers and would benefit from more sophisticated release features". The Professional Plan includes everything from the other three plans plus premium sales reporting, use of your own UPC (universal product code) and a custom label name, access to select country restrictions, exclusive partnerships, and promotional opportunities. This plan also lets TuneCore users add additional artist profiles to their accounts for $14.99 per artist, per year. TuneCore promises a support response time of within 24 hours for artists who sign up to the 'Professional' plan.
---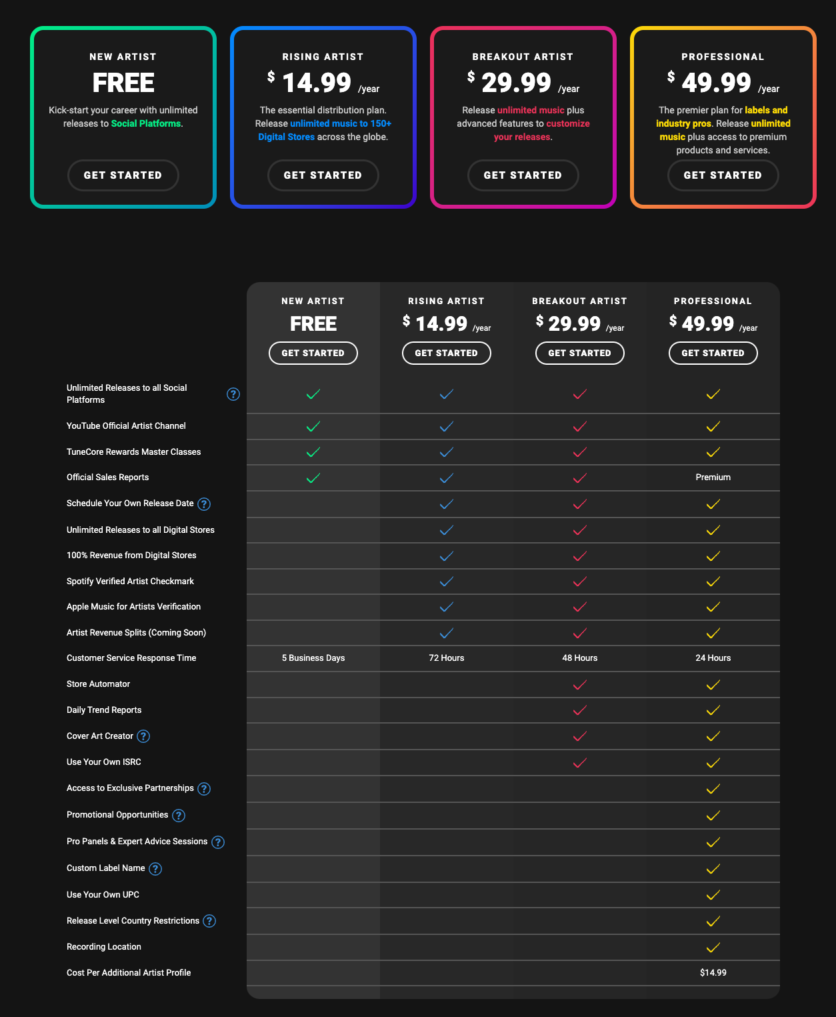 ---
TuneCore has historically charged artists under a price per-upload model, most recently at USD $9.99 per single, and $29.99 per album.
Now, with its 'Unlimited Release' plans, that's all changed – bringing TuneCore closer in its pricing structure to rivals such as DistroKid.
(DistroKid's basic 'Musician' tier for example, allows one band or artist to distribute an unlimited number of tracks to streaming services for a fixed fee of $19.99 per year. Like TuneCore's new paid-for plans, DistroKid doesn't take a cut of artist earnings from streaming royalties, which means that artists keep 100%.)
---

---
Discussing TuneCore's newly-overhauled pricing structure, Andreea Gleeson said:  "We've spent a year speaking directly to artists and labels about how we can make our service better for them.
"What emerged is: artists want to be able to test their new music for free before distributing to all services and they want to release the music they are creating instantly, regularly, and seamlessly with one annual subscription enabling unlimited music distribution.
"TuneCore's new program gives self-releasing artists at any stage of their careers the freedom to choose the plan that works best for them, while maintaining the high quality of service TuneCore is known for. With TuneCore Unlimited, artists pay less and earn more."
"WITH ALL OF THESE CHANGES, ONE THING STAYS THE SAME – TUNECORE WILL NEVER WAIVER FROM PUTTING ARTISTS FIRST AND WITH EACH UPDATE TO OUR SERVICE, WE WILL KEEP OUR ARTISTS' NEEDS FRONT OF MIND. ULTIMATELY, WE'RE HERE TO HELP THEM MAKE THEIR MUSIC BETTER, AND HELP THEM BECOME BETTER KNOWN."

ANDREEA GLEESON, TUNECORE
Added Gleeson: "With all of these changes, one thing stays the same – TuneCore will never waiver from putting artists first and with each update to our service, we will keep our artists' needs front of mind. Ultimately, we're here to help them make their music better, and help them become better known."
TuneCore artist, Papoose, commented, "Anyone who has followed my career closely would know that I believe in giving as much control to the artist as possible. This is done by allowing the artist to create what they want and to release music when they please.
"It is exciting to see that TuneCore values its artists enough to give them the freedom of consistent creation and I truly believe that this will change the face of the music industry. TuneCore has always been the best distributor and now everyone can afford it."
---
TuneCore announced in April that it has surpassed the milestone of paying more than $2.5 billion in royalties to artists since the company was founded in 2006.
According to its most recent FY results, Believe's 'Automated Solutions' business – aka TuneCore – collected €188 million ($222m) in artist royalties in calendar 2021.
In keeping with TuneCore's business model (100% of collected royalties paid back out to clients), all of this money was and/or will be paid over to TuneCore's artists.
In 2020, this annual number (of money collected by TuneCore and paid out to artists) stood at €133 million ($152m).Music Business Worldwide