The commercial clout of the self-releasing artist sector is becoming increasingly big news.
Midia Research has previously estimated that DIY artists generated $643m worldwide from recorded music royalties during 2018, up by 35% on 2017.
That figure represented larger percentage growth (off a smaller base) than any of the three major record companies in the same period – and was enough, says Midia, to claim a 3.4% market share of all recorded music wholesale revenues ($18.9bn) worldwide. (This 3.4% market share number was up on 2.7% in the prior year.)
Consider that Warner Music Group's estimated market share in this period would have been approximately 18.5% (based on WMG's $3.497bn annual recorded music revenue in 2018), and you can see how the indie artists' 3.4% portion of the pie now has real significance in the global music business.
We already know where some of that $643m came from, as MBW revealed back in January that CD Baby artists earned over $100m last year. And now, another important piece of the indie artist puzzle has been revealed.
TuneCore has confirmed that its artists earned $308m in distribution income in 2018, up 28% year-on-year.
Fitting that into Midia's $643m estimate suggests that TuneCore's market share of the indie-artist landscape may be as high as 45%-plus. (Midia's figure, to be clear, does not count 'curated' indie-artist service companies like AWAL and Empire, but rather only those digital firms that allow artists to 'self-release' via an aggregation interface.)
TuneCore, which was acquired by Believe Digital in 2015, has also announced that its artists earned $83 million in the first quarter of 2019 – a 21% increase on Q1 2018.
That's the equivalent of nearly $1m per day (across the 90 days in Q1).
100% of this distribution income belongs to TuneCore artists; the company doesn't make its money on a percentage commission, but rather on flat fees charged to customers when they upload tracks.
Interestingly, the figures here do not include publishing income or YouTube Monetization revenues (both of which TuneCore also collects).
---
What's more, TuneCore has confirmed that its lifetime earnings for artists surpassed $1.5bn by the close of March this year.
This is a useful stat when we look back at TuneCore's recent monetary progression, as it allows us to monitor the company's growth.
TuneCore has previously confirmed that, by the end of 2016, it had generated a lifetime earnings figure of $836m to artists. It then officially surpassed $1bn in lifetime earnings for its artists in Q4 (October) 2017.
What that tells us: TuneCore has collected over $500m for artists in the past year-and-a-half alone (ie. Oct 2017 – March 2019).
In addition, TuneCore has previously announced that, over the 12 months of 2016, its distribution income for artists hit $188m, up 32% year on year.
Knowing that the company's equivalent annual figure grew 28% year-on-year in 2018, we can start to map a picture of what TuneCore has been earning for its acts in distribution income:
---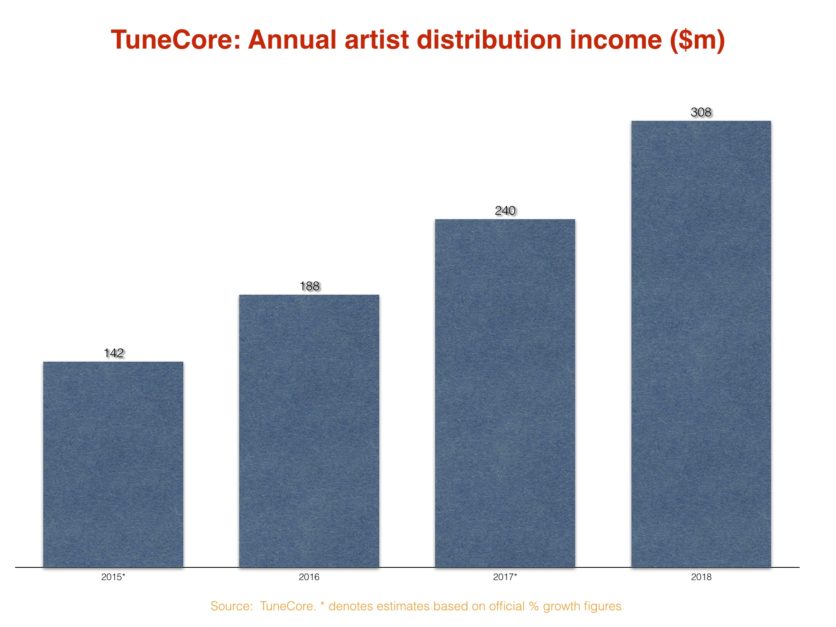 ---
An interesting comparison here is Merlin, the independent agency which negotiates and signs global deals with digital platforms, collectively, on behalf of many of the world's biggest independent labels and distributors.
According to its own Impact Report, Merlin paid out circa $500m to its members in the 12 months to end of June 2018.
With TuneCore earning just over two thirds of this figure ($308m) for its artists in the last full calendar year, it will be interesting to watch how these two numbers compare in the half-decade ahead.
TuneCore says it now distributes over 250,000 artists – which includes music by independent stars like Marshmello* (pictured) – to over 150 digital stores and streaming services.
And in 2018, it says, 'total streams and downloads' of music by its roster hit 199.3 billion, a 83% increase over 2017.
In addition to distribution income, publishing administration royalties collected for TuneCore artists grew 42% in 2018, while YouTube Monetization delivered significant new income for TuneCore artists, growing 48% over 2017.
(* For the avoidance of confusion, as explained by Marshmello manager Moe Shalizi through here, the bemasked DJ is a fully independent artist, who happens to distribute the majority of his music via TuneCore. In addition, he releases one-off pop singles featuring other artists, Like Happier feat. Bastille, in partnership with major labels.) Music Business Worldwide