Taylor Swift just became the first artist in history to claim every spot on the weekly Billboard Hot 100 chart in the US.
Swift was able to do so thanks to an extraordinary first chart week for her latest album, Midnights, which was released on Friday, October 21.
The album is distributed in the United States by Republic Records, with recordings copyrights owned by Swift herself.
Tracks from Midnights have claimed 13 of the Top 15 spots on the Hot 100 chart.
According to a media release from Republic issued today (October 31), Midnights – which was co-written by Swift with Jack Antonoff – sold nearly 1.6 million album 'equivalents' in the US during its first week, and 3 million worldwide.
The album sold – as in real digital and physical sales, not streams – over 1 million copies during its first week on sale in the States, the first album to do so since Swift's own Reputation in 2017.
Midnights also surpassed 1 billion global album streams in under one week, said Republic.
Billboard's Hot 100 chart, which is based on Luminate data, is formulated via a combination of streams, sales, and airplay audience of each track in a given chart week.
In 2020, Billboard said of the formula it uses to calculate its Hot 100 chart: "The Hot 100 has a locked-in methodology, updated at least once a year, with each metric divided by a certain number, which results in an average chart ratio whereby streams are the most heavily weighted factor, followed next by radio airplay and then sales."
Via Billboard data, below you can see the Top 10 tracks on the Hot 100 chart this week – all from Midnights and led by Anti-Hero – complete with their US weekly streaming totals:
---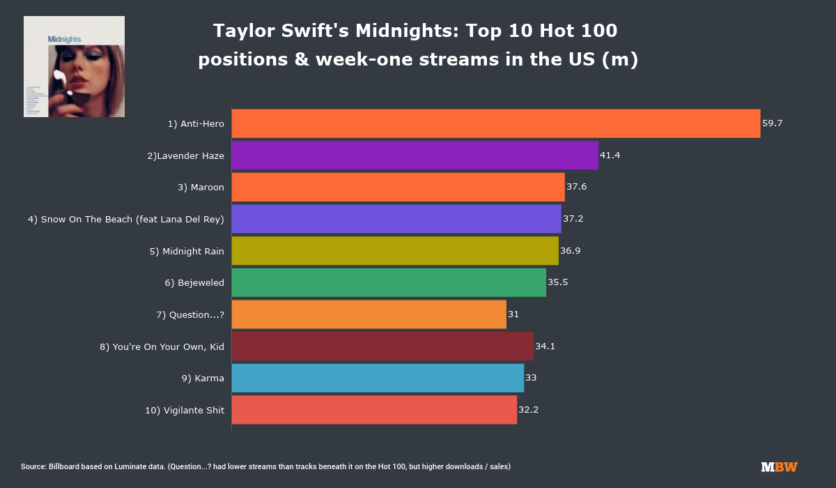 ---
Although Taylor Swift is the first artist to claim all Top 10 tracks on the Hot 100 in the chart's 64-year history, Drake has previously claimed nine of the Top 10, with his 2021 release, Champagne Lover Boy.
According to Billboard, Midnights scored the Top 10 most popular tracks in the US in the relevant chart week (to end of Thursday, October 27) both for streams and in terms of digital song sales (downloads).
Taylor Swift was the second most popular recording artist in the world in both 2020 and 2021, according to the IFPI. These rankings are based on a performer's annual recorded music revenues in a calendar year.
Swift topped the IFPI's annual list twice before – in 2019 and 2014.
Music Business Worldwide