The number of copyrights now owned or managed by the world's Top 5 music publishers is very close to 11 million, according to MBW analysis.
Earlier this month MBW calculated that Sony/ATV's haul of copyrights – which it either directly owns or controls via admin deals – had topped 4m.
Elsewhere:
Wrapping up the Top 5 is a very interesting case: BMG.
The Berlin-based company says that it manages 1.9m copyrights worldwide, which nudges it ahead of the third biggest publisher by market share, Warner/Chappell.
In total, that means the world's Top 5 publishers officially manage 10.9m copyrights between them, a number which has almost certainly topped 11m in reality.
BMG has certainly been a more acquisitive operation than W/C in recent years, snapping up catalogues/businesses such as Crosstown Songs (2009), Cherry Lane (2010), Stage Three (2010), Chrysalis Music (2011) and Bug Music (2011) as well as Primary Wave (2013) and Talpa Music (2014).
However, BMG's total consolidated sales in 2014 – including its recorded music business – are believed to have been in the region of €300m.
Warner/Chappell's global revenues last year stood at $517m (€471m).
That would indicate that while BMG may now own more copyrights than Warner/Chappell, the major publisher's repertoire is currently still comfortably worth more.
Warner/Chappell – which actually administers BMG songs in Latin America – looks after catalogues from the likes of Barry Gibb, Beyoncé (pictured), Bruno Mars, Eric Clapton, fun., Gamble & Huff, Green Day, Jay Z, Katy Perry, Kendrick Lamar, Led Zeppelin, Lionsgate Films, Madonna, Miramax Films, Muse, Radiohead, Red Hot Chili Peppers, R.E.M, Roc Nation, Stephen Sondheim and Timbaland.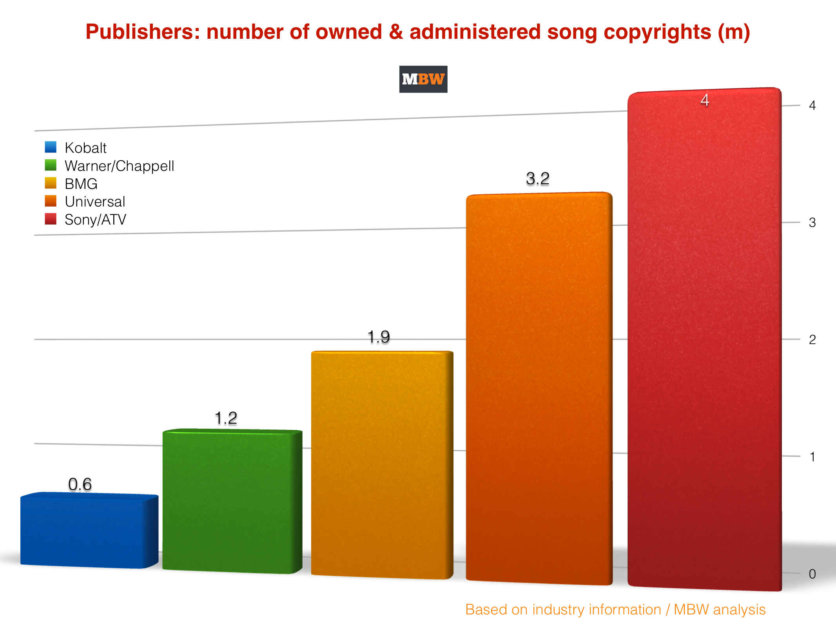 Music Business Worldwide