MBW's World's Greatest Producers series sees us interview – and celebrate – some of the greatest talents working in studios today. World's Greatest Producers is supported by Hipgnosis Songs Fund.
---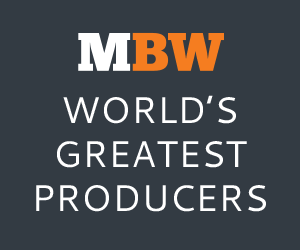 Growing up in the musically sleepy state of Pittsburgh, Grammy-nominated producer and Ariana Grande collaborator Tommy Brown didn't have location on his side.
What he did have, however, was a dad who wanted to be a music manager (he signed producer Mel-Men who eventually went onto work with Dr. Dre and Eminem) and helped shape his skill for recognising songs that had potential. Brown recalls: "My dad would play me songs and I'd pick the ones I liked."
Sadly, when he was 16, Brown's dad passed away and it was music he turned to to help him process the loss.
That started with downloading Fruity Loops and making beats to accompany the songwriting skills he'd honed with his friends while rapping at school. Then, Brown's mom bought him a keyboard; he didn't know to play it, so returned it to the store and bought himself a 12-track recorder instead.
---
Brown soon signed with a record label in his hometown, which led him to playing shows and opening for Lil Wayne. But his ambitions reached beyond Pittsburgh, and he was soon on the road to Atlanta.
That's where he got his foot in the door of the music business, working with rappers like Jeezy, Gorilla Zoe and 2 Chainz. Brown's work caught the attention of legendary producer Rodney Jerkins who signed him on a publishing deal for his Darkchild group (today, Brown's published by UMPG).
From Jerkins, Brown says he learned about song structure and producing and it was while working under him that he had his first hit, Just Can't Get Enough by Black Eyed Peas, which reached Top 5 in multiple territories including the US, UK and Australia in 2011.
A year passed by without a follow-up before Brown met a young singer at the beginning of her career called Ariana Grande thanks to an introduction via his publisher, which marked another turning point when a stroke of serendipity was sorely needed.
He explains: "I really didn't have any money at the time, my car was on its last legs — it actually broke down as I was leaving the Ariana session and I didn't have a car after that for so long."
---
Nick Jonas was in that session too, so Brown joined thinking he might be able to score a hit with The Jonas Brothers. Instead, he discovered this girl with a "crazy" voice, played her some retro beats and the next song they did after the initial introductory sessions was Honeymoon Avenue – the opener to Grande's US No.1 debut album.
Since then, Brown has worked on every one of Grande's six albums. He received two Grammy nominations in 2019 for her chart-topping single 7 Rings and album, thank u, next.
He's also worked with Fifth Harmony, Blackpink, Juice Wrld, Cardi B, Meghan Trainor, Victoria Monét and Macy Gray, and has songwriter and production credits on Justin Bieber's recent No.1, Holy feat. Chance the Rapper.
Brown's latest release is Demi Lovato's Met Him Last Night feat. Grande from Lovato's new album, Dancing with the Devil… the Art of Starting Over, which recently hit No.2 in the US.
---
---
On the day we speak to him, Brown tells us it's his first day back at the gym in three months due to working hard on building up his company, Champagne Therapy Group, which encompasses a publisher, production company and record label.
Producers he's working with under the brand include Xavi Herrera (Grande, Lovato, Megan Thee Stallion), Mr. Franks (Bieber, Blackpink, Selena Gomez), Travis Sayles (Bieber, Meek Mill, Grande), Tommy Parker (Grande, Britney Spears, Janet Jackson) and duo Social House.
New artist Gild Walton, a songwriter, pianist, composer and vocalist, is signed to Champagne Therapy Group in partnership with Republic Records, as is rapper Drewboy in a joint deal with Island Records/4th & B'way. There are a few other artists in development who are soon to be launched that Brown is keeping under wraps for now.
Here, we chat to him about how he approaches production, the best advice he's been given, and why he thinks the music business needs a long overdue update…
---
What does being a good producer mean to you?
I want to give the artists the best experience and also give the world the best experience. I want to go and listen to the song 20 times and pick out each sound and every ad-lib that doesn't mean anything.
"I feel like I'm Dr. Seuss of the album — I want to give you the best, simplest, easiest story."
I want every sound, every background, everything to count for that whole three-minute journey that you're listening to, it's like a story. I feel like I'm Dr. Seuss of the album — I want to give you the best, simplest, easiest story.
---
How do you do that? What techniques have you picked up along the way?
I've learned to put myself around people who do things better than me. So if this person plays piano better, let's put him in the room, or if this person's a better songwriter, let's put all of these great things in a room and come up with the best product.
The easiest thing to do is to create a hard song, and the hardest thing to do is to create an easy song. For so long, I felt I wasn't as good as anybody because I wasn't as musical and I wasn't as lyrical and I wasn't as complicated with melodies and backgrounds, but I learned that was truly my advantage. Because I couldn't sing, I'm able to take these great people who are so great at what they do, simplify it and make it easy easily digestible.
---
What's your most memorable session and why?
When we were doing "thank u, next" it was kind of a joke because that was just something Ariana said and then we were like, "Yo, let's do a song about thank you, next". Sometimes in the moment I have to step away and come back but we were listening to it and the song was really catchy and it was really cool. Being in places where these soundtracks to the world for the time are created is just incredible, just being a part of it and watching it happen.
[During that time] I feel like a lot of times hurdles came in and so when we went to go do these songs [from thank u, next, the album] we weren't really going to do songs. That's where the name of my company came from, Champagne Therapy, because it was like "We're gonna all get in the room and just drink champagne and forget what this whole life thing is and just have fun".
That's kind of what happened. My grandma had passed at the time and of course it was the passing of Mac [Miller], a lot of things were happening. That was our moment to soothe with our friends and some of the greatest music I've ever been a part of happened.
---
You've worked a lot with Ariana. What's special about her?
She gets it. It's not an uphill battle, we go in and we all throw paint, we understand each other's process, and she's not afraid to try something and if we don't like it, we delete it.
"[ARIANA] gets it. It's not an uphill battle, we go in and we all throw paint, we understand each other's process, and she's not afraid to try something."
I'm not afraid to try things so we go and navigate through this musical maze to get to a finish line and we can do it together because there's no ego.
---
Are there any pieces of advice that you've been told along the way that have stuck with you today?
I remember talking to Pharrell one time and he was speaking to another artist. He was like: Imagine if you put [your] picture up here with these artists, you really don't stand out. But imagine if you did it in a group.
The artist I was with didn't really understand it at the time and neither did I… but fast forward to see somebody like Billie Eilish and her brother, and what they built, and it's like, [Finneas] was on that five years ago. You've got to listen to the people who have been in the game so long.
---
I saw that you tweeted support recently for the ongoing campaign to change how songwriters are paid. What would you like to see change specifically, and are there any changes that pertain to producers too?
I feel like we're extremely undervalued and underpaid but when people need something, we're the first call. A lot of times, as a group, we don't see our value. I think if everybody came together we can set the standard.
[Songwriters and producers are] extremely undervalued and underpaid but when people need something, we're the first call."
A lot of labels take a very big piece of the money, especially from streaming; songwriters don't get paid or get points when there's definitely enough points to go around, especially from a label standpoint. They can't give one point to a songwriter who's crafting the melody and lyrics? And they're giving this amount of points to a producer? I just feel like it can be a better balance.
Would you drive an Uber for a year for them to let you know if you're getting paid at the end of the year? "Oh, you didn't have any Uber hits, so we're not going to pay you, you didn't have any great trips."
I don't think that's fair. I think songwriters should get paid for their time, especially when being requested from a record label.
---
What advice would you give to a young producer starting their career in music today?
Go and find your friend that you believe in, who's an artist, and build something with them versus going to a big artist name who is getting 10,000 beats, he's getting another 5,000 songs to listen to, and he's putting out a 10-track album, and you're betting your entire livelihood on him picking one beat, or one song for this 10 track album. The odds are against you.
Build something with people you believe in; a friend, a family member, a loved one, somebody you found on the internet. I've seen too many artists come from the ground up and that's how a lot of my career was built — working with new talent and building. It's not always just about the big artists.
---
What are your ultimate ambitions for Champagne Therapy Group?
There's been a time where everybody's had their thing — you have Berry Gordy, where he had soul on lock and you had Diddy who has had hip hop on lock in these different companies with people like Dr. Dre and West Coast music.
"I want to build a label that puts out the biggest pop acts in the world."
I want to be a label that puts out the biggest pop acts in the world. Say if you had Taylor Swift, Ariana, Justin Bieber and all these great pop acts under one roof, where we can all help and build with each other and not necessarily be each other's competition. I want to build that structure.
---
How about your ultimate goals and ambitions beyond your company?
I want to create a frictionless music business where people actually get paid. Where you don't have to know somebody to know somebody to get the check that you're owed and actually get compensated for going to the studio. I feel like we're far from that but we're a lot closer than we were yesterday.
I have too many artists and producers who are so happy to now be able to do things for their family that they never have been able to do.
A lot of these people are first-generation anything in their families, they have small families who work really hard at nine to five jobs and now they ventured into this musical place. I just want to make sure they get their just [reward] for what they do.
---
It's a grand goal that would require a lot of massive structural changes.
It is but I feel like if we can get the creatives to stand together, we can get the artists because the artists will back the creators. Nobody wants to go against the people who are creating [the music] and if we get the artists, everything else follows.
We have to do that as a unit, not the egos and not the competition, and it has to be with somebody who knows all of these people and has great relationships to be able to pull it together.
---
Aside from the way that the money side of the business is structured, is there anything else that you would like to change about the music industry?
I have a laundry list, and a grocery list, and every other kind of list of things that are right, that are wrong, and there are people who should be in better positions… but I just want it to be a little more of a level playing field and have equality for everybody because it's built on something that was unfair from the beginning.
It's one of the only [industries] where the rules haven't changed. When was the last time you updated your phone?
---
Fairly recently.
There's never been an update for the music industry.
When are we going to update the rules and regulations that say that when a kid writes a song and it sells 100 million copies or whatever it is, some rules that somebody put in place back in the '50s or '40s dictates how his kids and his family lives, when it was his idea or her idea. I don't think that's fair. The music industry needs an OS update.
---
MBW's World's Greatest Producers series is supported by Hipgnosis Songs Fund. Traded on the London Stock Exchange, Hipgnosis was established to maximise the value of music… while also proving that value to institutional investors. 
Music Business Worldwide