In the following op/ed, Adam Hasslert (pictured), CEO of music creation platform Soundation, argues that the music-making software market has the opportunity to be bigger, if companies can "remove the mass amount of friction that comes with getting started with music software, learning it, and collaborating with it".
---
Music creation has a great deal of friction – it's hard to get started, hard to learn, and hard to collaborate. To begin making a song, and get it all the way across the finish line, a creator is required to move content between several services.
This can be burdensome and bulky, two elements that aren't ideal in a creative workflow.
Music creator tools could learn a thing or two from other creative fields, where friction used to dominate but has since been reduced significantly. Graphic design, website design, and mobile app design were greatly limited by training and/or access to expensive software, but have now become more widely accessible to anyone through web-based tools with a smooth, frictionless user experience at their core.
The stars of graphic design tools, Canva (valued at $40 billion) and Figma (sold for $20bn to Adobe), have made the user experience more or less friction-free. What do they have in common? They were built to be collaborative web-based tools from the start.
Canva has removed all friction to get started by letting users begin designing with their tool on their website, where account creation is first required when the user wants to export or save their work. They have a vast library of online content, such as ready-to-use templates, photos, images, and videos, fully integrated into the tool. They also offer free online classes for those who want to develop and master their design skills further.
Figma focuses on design professionals, and has made real-time collaboration frictionless. Before Figma, designers used desktop apps such as Sketch or Adobe XD to design and InVision to make prototypes.
Figma's approximately 4 million users share UI kits, plugins, and templates in their online community. Every design or prototype is just one click away for everyone from co-designers to colleagues and customers, with view-only links and embed functionality.
---
Music creation – creation in quicksand
The success of graphic design apps Canva and Figma, with their huge valuations, help to demonstrate the market potential that could come in music, when friction is reduced. If music production follows their lead and simplifies the user experience for creators of all experience levels, we will see more people interested and passionate about creation. That is just not the case yet.
The biggest hurdle right now in music creation is that the most popular Digital Audio Workstations (DAWs) are built as single-user traditional desktop apps. These apps need to be downloaded and installed before they can be used, and then can only be used on one device. Real-time collaboration is nonexistent, and sharing is painful. Creators have to export their stems, zip and upload them to Dropbox to share their work, which takes away the magic from co-creation in real-time.
Plugins are used in more or less every production and are a very important part of a producer's sound design toolbox. Plugins are also desktop applications that are installed on a specific device and and used within the DAW, making presets difficult to move and un-shareable between users. Sharing presets between users and letting potential customers test them out before buying is arguably the biggest growth opportunity that plugin companies have today.
Many steps of the creation workflow aren't integrated into desktop DAWs and are hosted by distinct third parties online, such as finding samples, AI mastering, distribution and collaboration services, which adds more and more friction for each step. And there isn't an integrated online community to connect, learn or share samples, presets and projects. Creators often learn by trial and error and via YouTube videos. Each of these examples is vastly different from the simplified processes available with Canva and Figma.
---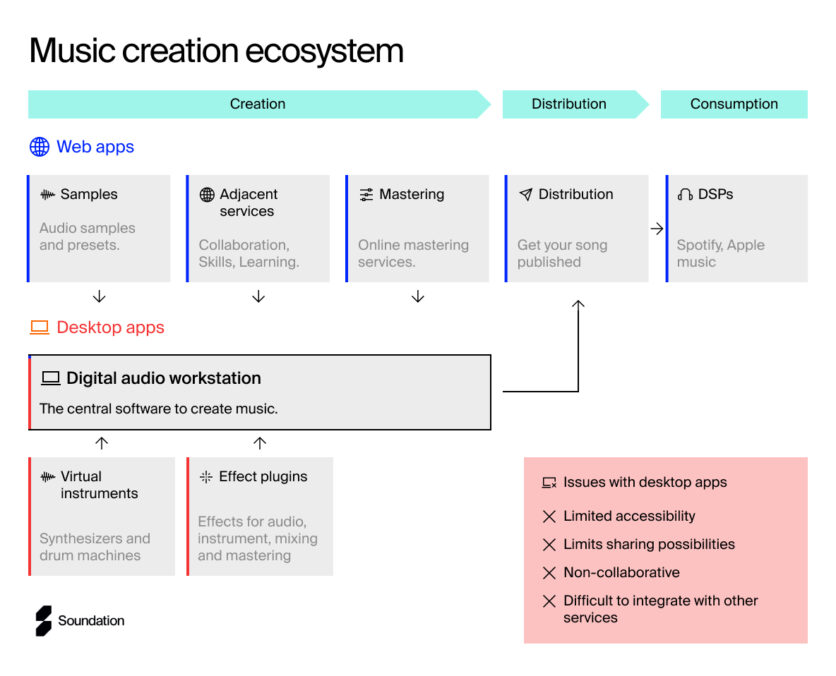 ---
 DAWs will become web tools
The desktop DAW has revolutionised music creation in the last 20 years. It has enabled anyone with a capable computer to make music in their bedroom, rather than having to rent an expensive physical studio by the hour. The desktop DAW is still superior to a web DAW in many ways, including the capability to record audio with low latency, mixing with advanced audio routing, and the thousands of available plugins to create any sound.
However, creators lose extremely vital elements that are essential to the creative process. Friction within these desktop DAWs greatly reduces the user's abilities to get started quickly, learn as they go, and collaborate with others.
I can see growth in this market as web-based DAWs remove this friction, as mirrored by apps like Canva and Figma. The market will dramatically change when users can head to online DAWs and begin creating without the need to sign up for or log into an account. For new creators, step-by-step guides would help walk creators through their first project, showing them how to use the platform. After completing their track, and wanting to export or save their work, users would be prompted to sign in or create an account, ideally with their existing Google or Facebook accounts for a smooth user experience.
The processing power of web apps has improved considerably in recent years. This is mainly due to Google and WebAssembly Threads, but processing for online DAWs is still not to the level of desktop DAWs. That's not to say creators can't and won't have a positive production experience on these web-based DAWs–they most certainly will. But to enter this next stage of market potential and reduce the friction in the industry, challenges like accessing more professional plugins, available memory, and audio latency via the browser remain to be solved.
I'm fully convinced that DAWs will also go online, just like Figma and Canva. By taking design fully to the cloud, these apps challenged Sketch and Photoshop, the same way Google Apps challenged Microsoft Office–and it's about time music creation did the same. By webifying DAWs and plugins, we will enable more users to try out music production more easily, learn more quickly, and inspire more of them to become passionate hobby producers. We would widen the top of the funnel and increase collaboration and sharing, which would grow the market.Music Business Worldwide