Over 70% of TikTok users in the United States think the country's government should not decide which apps they are permitted to access on their devices.
The viewpoint was expressed late last week in a timely survey of TikTok users in the States by respected research and analysis company, MusicWatch. (On Friday, Donald Trump stated his administration plans to ban the app in the United States; by Sunday, Microsoft had confirmed it's in talks with Bytedance over acquiring the platform's operations in markets such as the US, Canada, Australia and New Zealand.)
Musicwatch's survey covered basic usage habits, preferred genres of video content, discovery modes and a host of questions about music content.
The survey showed a high level of concern amongst TikTok users over the security of their personal information, with 54% of users saying they would personally delete the TikTok app if they thought their personal data wasn't secure on the app.
Over a third of users (35%) suggested they were particularly concerned over foreign governments accessing their data via the apps they use.
However, another key conclusion from MusicWatch's research is that TikTok users don't want the US government taking action for them.
When asked if "the US Government should not be involve in deciding which apps I should use", some 49% of respondents strongly agreed, with a further 22% saying they somewhat agreed.
Only 11% of respondents said they overtly disagreed with the idea that the US Government shouldn't be interfering with the apps they use on their devices.
Musicwatch founder Russ Crupnick said: "TikTok users definitely do not want the government making the decisions for them. While the US government may have superior intelligence on the security of an app, users would prefer to make their own decisions about which apps to delete."
---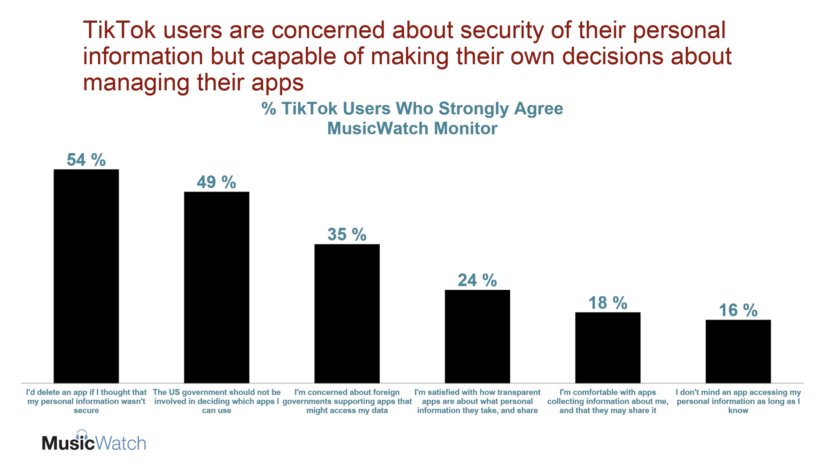 ---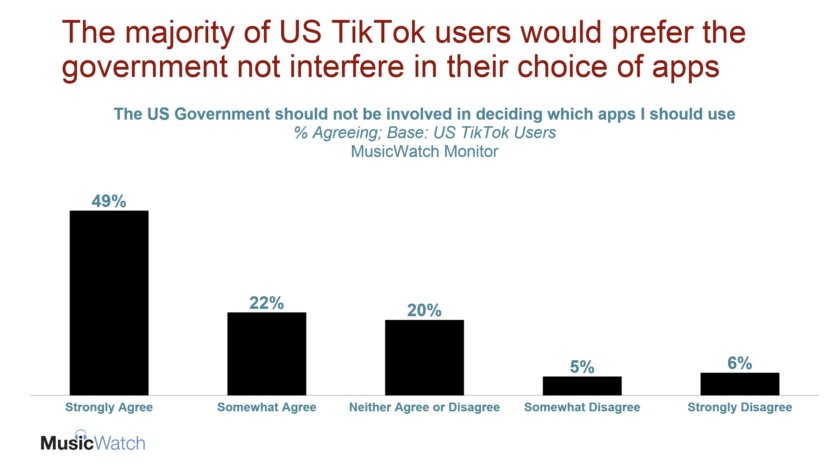 ---
TikTok has been at the center of a swathe of headlines in the past few days, with Microsoft posting a statement over the weekend to confirm reports that it is exploring the acquisition of TikTok's operations in the US and other countries.
Microsoft wrote yesterday (August 2): "Following a conversation between Microsoft CEO Satya Nadella and President Donald J. Trump, Microsoft is prepared to continue discussions to explore a purchase of TikTok in the United States.
"Microsoft fully appreciates the importance of addressing the President's concerns. It is committed to acquiring TikTok subject to a complete security review and providing proper economic benefits to the United States, including the United States Treasury.
"Microsoft will move quickly to pursue discussions with TikTok's parent company, ByteDance, in a matter of weeks, and in any event completing these discussions no later than September 15, 2020. During this process, Microsoft looks forward to continuing dialogue with the United States Government, including with the President."
It added that Microsoft and TikTok parent Bytedance are exploring "a preliminary proposal that would involve a purchase of the TikTok service in the United States, Canada, Australia, and New Zealand and would result in Microsoft owning and operating TikTok in these markets".
It added: "Microsoft may invite other American investors to participate on a minority basis in this purchase."
Following concerns over the security of US user data on the app, President Trump told reporters on Friday (July 31): "[As] far as TikTok is concerned we're banning them from the United States… I have that authority. I can do it with an executive order."
MusicWatch surveyed 500 Tiktok users for its research, a market sample which it said "reflects a cross-section of TikTok users based on demographic profiles that we collect in other MusicWatch research".Music Business Worldwide