The day has finally arrived. Following months of speculation and analysis about TikTok's plans to launch a standalone music streaming service, today (July 6), 'TikTok Music', a streaming app and serious new Spotify rival, has officially arrived.
According to Ole Obermann, Global Head of Music Business Development at TikTok, the app is "a new kind of service that combines the power of music discovery on TikTok with a best-in-class streaming service".
TikTok Music has launched as a premium-only music subscription service in Indonesia and Brazil, and it is licensed by, and includes the catalogs of all three major record companies: Universal Music Group, Warner Music Group and Sony Music.
In September, Sony Music's catalog was pulled from ByteDance's other music streaming app, Resso (which operates in India, Indonesia and Brazil), but according to TikTok, the company's catalog is available again on Resso, and now on TikTok Music, as of Thursday, July 6.
And there's more news about Resso: Following today's launch of TikTok Music, Resso will cease to operate in Indonesia and Brazil from September 5, 2023.
TikTok Music says that existing Resso users can transfer their accounts to the new app "with the click of a button".  MBW understands that the Resso app will continue to operate in India beyond the September 5 date.
Asked about TikTok Music's roll-out plans beyond Brazil and Indonesia, TikTok told MBW that, "we are excited about the opportunities for TikTok Music, for music fans, artists and the industry, but we don't have anything to share on future plans".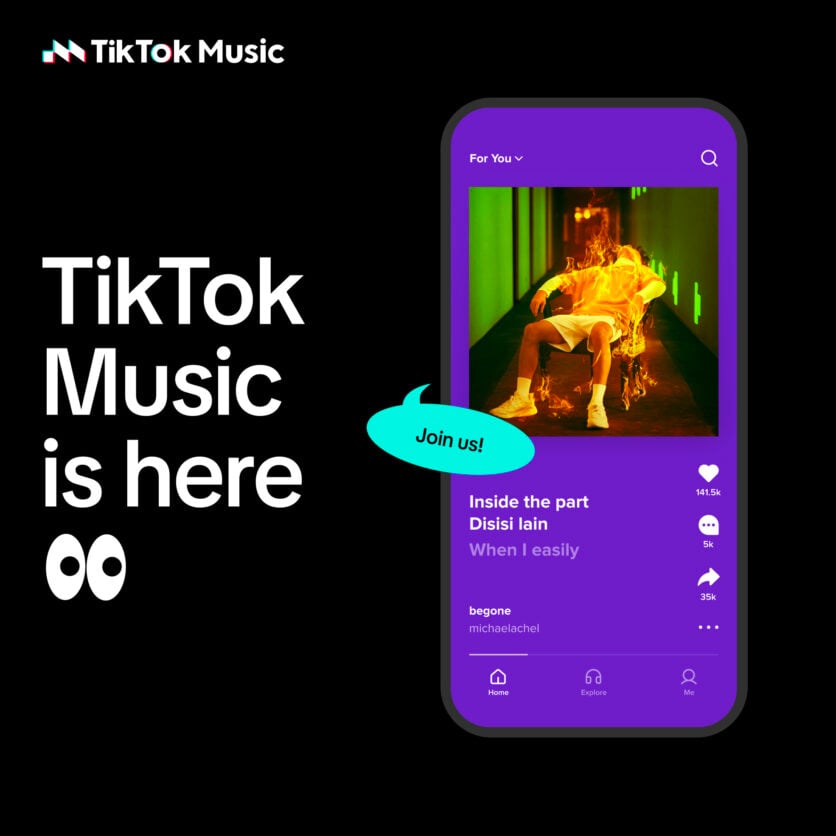 Described as a "social music streaming service," TikTok says that its new music app "will harness the power of music discovery on TikTok".
TikTok Music says that it offers users a "full catalog of music from thousands of labels and artists, uninterrupted ad-free listening and a download function for listening offline".
And, as a premium-only subscription music service, TikTok Music says that it aims to offer "a high-quality listening experience while increasing opportunities and revenue for artists and rightsholders".
A key feature of the app is that it will let its users stream full versions of viral TikTok songs on TikTok Music.
---
Interestingly, TikTok inked a trial deal with Apple Music in May to actively push users to that service (instead of Resso) when they watch a music-driven video in certain territories.
Commenting on the Apple Music deal in an interview with MBW at the time, Ole Obermann, explained: "We have a lot of conversations with our partners – labels, publishers, artists, managers – about how we can do a better job of linking everything together when discovery happens on TikTok, and we don't have our premium music subscription service [aka Resso] live around the world yet.
He added: "It's early days, but [this Apple partnership] is a nice move for us to provide a link from the discovery [on TikTok] to the consumption and monetization that happens on other DSPs. It's still in a test phase; it went live in early May, in a pretty limited way. But so far, so good. We will expand it and we're talking to other DSPs."
Other features included in the new  TikTok Music at launch include a Lyrics Search, the ability to sing along karaoke-style with a Real-Time Lyrics feature, and a Shazam-esque song identification tool called Song Catch.
---
New users signing up to TikTok Music in Brazil and Indonesia, available from today, get a one-month free trial of the new streaming service.
The costs for the new app are as follows:
Brazil (iOS and Android): R$16.9 (approx USD $

3.49)

Indonesia  (iOS): Rp 49,000 (approx USD $3.25)
Indonesia (Android): Rp 44,900 for first 12 months, then Rp 49,000
News of ByteDance's TikTok Music launch and sunsetting of the Resso app in Brazil and Indonesia comes two months after the latter app shut down its free tier.
In TikTok's own words in the press statement announcing the launch of TikTok Music, the flagship video app "is already famous for breaking artists, creating hits, and powering music discovery".
The announcement adds: "With the launch of TikTok Music, users will now be able to go one step further, to listen, share and download the music they have discovered on TikTok, as well as share their favourite tracks and artists with their TikTok community".
"We are pleased to introduce TikTok Music, a new kind of service that combines the power of music discovery on TikTok with a best-in-class streaming service."

Ole Obermann, TikTok
"We are pleased to introduce TikTok Music, a new kind of service that combines the power of music discovery on TikTok with a best-in-class streaming service," said Ole Obermann, Global Head of Music Business Development, TikTok.
Obermann added: "TikTok Music will make it easy for people in Indonesia and Brazil to save, download and share their favourite viral tracks from TikTok.
"We are excited about the opportunities TikTok Music presents for both music fans and artists, and the great potential it has for driving significant value to the music industry."
---
If we take a closer look at the markets where TikTok is launching its new music streaming app, we can identify a couple of possible reasons why they were picked. The first is TikTok's vast existing reach in both markets.
According to Datareportal, Brazil is estimated to be TikTok's third largest market with over 84 million users there (based on the advertising audience reach numbers published in TikTok's self-service tools in April 2023).
Indonesia, meanwhile, according to Datareportal is TikTok's second-largest market with an estimated 113 million active TikTok users aged 18 and above.
Plus, both have markets have already been tested with Resso.
---
Brazil's recorded music market grew 15.4% last year, according to the IFPI, and as the largest music market in Latin America contributed to the wider region's own 25.9% growth in 2022.
Music streaming is also a booming business in Latin America, with the region likely to be the perfect testing ground for a new subscription music streaming service. Streaming revenues accounted for 85.2% of the Latin American market in 2022, according to IFPI.
TikTok Music rival Spotify will likely be watching the launch of its new competitor in Brazil, the world's 9th largest music market, very closely.
Latin America is also an important market for Spotify, whose Premium Subscriber base grew 15% year-over-year in Q1 to 210 million. This growth, according to SPOT, was led by Europe and Latin America.
If TikTok can convert a portion of its estimated 84m+ users of its flagship video app to become trialists, and beyond that, subscribers, of its new Music app, Spotify could have a serious market share problem on its hands in Latin America.
The same goes for Indonesia and South East Asia. Spotify has previously noted, citing eMarketer data, that South East Asia is the second-fastest-growing region globally in terms of internet users. In October SPOT also highlighted SEA as a region of focus for its advertising business.
---
The launch of the new app marks the second music-related app launch from TikTok's parent ByteDance in as many weeks.
On Friday (June 30), ByteDance launched a beta version in the US of a free-to-use music production app, called Ripple, which has two key features: a 'Melody to Song' generator and a virtual recording studio.
According to Bytedance, the AI model was trained on music which is licensed to or owned by Bytedance. The company told MBW that it was not trained on major record company music. MBW understands that Bytedance also used music produced in-house to train the model.Music Business Worldwide