Paris-headquartered Believe posted some impressive Q3 2022 results earlier this month, with a 37% YoY increase in revenues.
The company is now expected to record full-year 2022 revenues in excess of EUR €750 million, up by over a third compared to 2021.
Doing so would propel Believe's revenues into the land of music's 'mini-major' leagues alongside the likes of Concord, BMG and HYBE.
(Example: Bertelsmann-owned BMG turned over €663m in 2021 vs. Believe's €577m, although Berlin-headquartered BMG has a significantly larger profit margin than Believe, and is more exposed to the US dollar's value due to its significant US operation.)
Indeed, if Believe could maintain an ≈33% annual growth rate next year, it would start turning over around a billion Euros annually.
---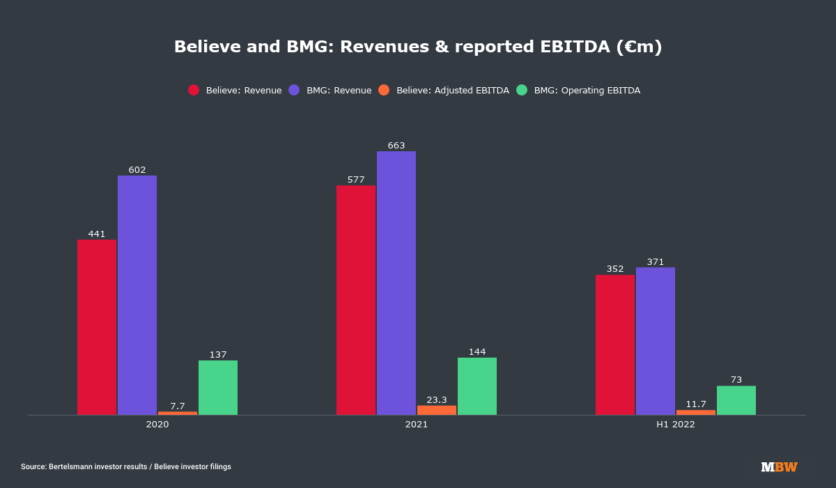 ---
On an earnings call with analysts following the announcement of its Q3 results on November 3, Believe's founder and CEO, Denis Ladegaillerie and the company's CFO, Xavier Dumont, answered piercing questions from analysts on a number of topics, including TikTok, Russia, the growth of paid streaming, and the firm's relationship with Meta.
Here, we pick out some of the most revelatory highlights from that call…
---
1) Believe expects to be making a lot more money from TikTok next year
Analyst Richard Eary from UBS asked Believe's bosses for an update on the French company's discussions with TikTok about monetization.
This was a timely query: Denis Ladegaillerie has previously discussed his preference for 'revenue-share' royalty deals with digital partners – rather than 'blank' advance deals not tied to consumption.
Reports now suggest the three major music companies are piling pressure on TikTok to switch to 'revenue-share' royalty agreements, and away from advance-based blanket licensing deals with labels.
"We expect a significant increase in our pay-out coming from TikTok for 2023."

Denis Ladegaillerie, Believe
On Believe's Q3 call, Ladegaillerie didn't directly comment on the possibility of TikTok switching to a 'revenue-share' agreement with music rightsholders, or when this might happen.
He did, however, note that Believe is "currently in our renegotiation cycle" with TikTok, and that to date Believe's deals with the ByteDance company have been two-year agreements.
Added Ladegaillerie: "Given our significant increase of [industry] market share and, globally, our very significant market share on TikTok, we do expect a significant increase in our pay-out coming from TikTok for 2023."
---
2) Believe thinks streaming pricing will rise at Spotify and co following Apple Music move – but the music company is not giving away extra margin to make it happen
One topic on the lips of a few analysts questioning Believe was the recent rise in Apple Music's standard monthly pricing in the US– up from $9.99 per month to $10.99 per month.
On the Believe Q3 call, Tom Singlehurst from Citibank wondered aloud if Apple's price rise move was the sign of slowing subscription growth in the music market, i.e. a large player in music streaming upping their price in anticipation of their user acquisition decelerating.
Denis Ladegaillerie replied: "On the outlook for paid streaming, at this stage, we feel very good. What we hear from the market – whether that is from Apple or Spotify or YouTube or others – is that generally, at this stage, all paid streaming services are telling us that they feel very good about paid subscriber growth [in] Q4 of this year. Like us, their customer acquisition engine is getting better and better every day."
Added Ladegaillerie: "Overall so far, on paid subscription, we are not getting any signal from any partner… that points towards a slowdown in growth, at least in the foreseeable future."
"on paid subscription, we are not getting any signal from any partner… that points towards a slowdown in growth, at least in the foreseeable future."

Denis Ladegaillerie, Believe
Analyst Nicolas Cote-Colisson from HSBC picked up on something specific from Apple Music's announcement of its price rise last month: the line in which the DSP said that "[music] licensing costs are going up".
Cote-Colisson asked whether, in turn, Apple would be getting a higher margin of the additional $1 on its new monthly US pricing than it has received from its $9.99 pricing to date.
Said Ladegaillerie: "I read [Apple's] sentence around licensing costs, and I did not quite understand it. As you know, all of our deals with Digital Service Providers, whether it is Apple or others, provide that we… essentially receive a [set] percentage of the revenues that they generate. Once these revenues are increased as they increase paid subscription [prices], our revenues will be increased proportionately to the price increase.
"That is what our agreements with the main DSPs provide. To my knowledge, it is the same for other players [in the music business]."
Ladegaillerie further predicted that, following Apple Music's price rise, similar price rises on other music streaming platforms would come "relatively rapidly – whether between now and the end of the year or in early 2023".
---
3) Believe is experimenting with Meta…
Analyst Jérôme Bodin from ODDO asked a speculative question about Meta's recent switch to a 'revenue-share' model with music business partners for certain types of UGC on Facebook.
Denis Ladegallerie gave a positive response – while revealing an interesting nugget of news.
"[We] have had a deal in place with Meta regarding UGC synchronization for some time," said the French exec. "Our market share of sync on UGC on Meta has increased in the past couple of years, and therefore we [have] renewed our deals with similar conditions."
"Meta right now is beta-testing synchronizing music for small and medium businesses… [We] have been one of the few beta testers around the world with them around this offering."

Denis Ladegaillerie, Believe
Then came the revelation from Ladegaillerie: "The second thing that we are currently engaged [in] with Meta right now is they are beta-testing synchronizing music for small and medium businesses [i.e. for video advertising on Meta platforms].
"[Believe] have been one of the few beta testers around the world with them around this offering. So, we do expect that opportunity to enlarge, and we are seeing other players like TikTok explore that opportunity in similar ways as well."
This is an interesting development: TikTok's Global Head of Music, Ole Obermann, has previously spoken to MBW about why he thinks a more-easily-cleared library of premium music for brands looking to create short-form videos on TikTok could actually multiply the size of the entire global music sync industry.
It seems Meta agrees with him.
4) without Russia and Ukraine, Believe's Q3 results would have grown even faster
A few people around the music business (and beyond) have criticized Believe for continuing to run bare-bones operations in Russia following Vladimir Putin's invasion of Ukraine. A group of UK politicians even tabled an 'early day motion' last month expressing concern for Believe's actions (though it only attracted five signatures).
On Believe's Q3 call, Denis Ladegaillerie explained: "We keep operating in [Russia] with the same principles, which is security of our [employees] and no extra investment," he said, adding that this "situation can evolve every day".
Believe's 37% YoY growth in Q3 may have led some in the music business to assume that its operation in Russia was a defining factor in this growth – especially as others in the market close or suspend operations.
However, Ladegaillerie explained that Believe's global business would actually have grown faster in Q3 – the company says by 40.5% YoY – had Russia and Ukraine's contribution been omitted in a like-for-like comparison.
"Because Russia and Ukraine is growing at a lesser rate than [other territories] the weight of Russia and Ukraine in the [Believe] group revenue is decreasing," said Ladegaillerie, explaining that revenues from Russia and Ukraine made up 7% of Believe's revenues in Q3 vs 9% in the prior year, and that the company expects this figure to decrease further as time goes on.
Also worth noting: Believe's 37% YoY growth in Q3 wasn't unduly helped by exchange rates – despite the immense strength of the US dollar during the period.
According to CFO Xavier Dumont: "We saw in the communication made by other music [companies for their Q3 results] that, contrary to Believe, they had a positive exchange rate impact [in the quarter]… but it is very likely that this impact is much, much less significant [for Believe] than for the other actors.
"Because of our geographical footprint, we are less exposed, for example, [to changes in] US currency."
---
Credit: QuiteSimplyStock/Shutterstock

5) Expect Believe's acquisitions to ramp back up in 2023
When Believe IPO'd on the Paris stock exchange last summer, the company told the markets that it had earmarked up to EUR €100 million per year for acquisitions in 2021, 2022, and 2023.
So far this year, Believe hasn't spent that kind of money on M&A – although it has still made part-acquisition deals with a handful of companies like Play Two in France in 2022.
Denis Ladegaillerie was questioned about this acquisition slowdown on Believe's Q3 call.
"We are going to be much more active in 2023 than in 2022."

Denis Ladegaillerie, Believe
He replied: "[We] executed on the deals that we had identified at IPO. And then, with the global economic uncertainty… we have been very selective in our current discussions.
"The good news is that we have been preserving our full firepower. We are getting now [to] the stage where there is a number of really interesting conversations that we are starting to [enter into].
"In terms of timing, we do not expect these [acquisitions] to come in 2022, but we are going to be much more active in 2023 than in 2022."
Xavier Dumont, Believe's CFO, clarified that Believe had spent €60 million on M&A in 2021, but had "voluntarily chosen to pause those M&A opportunities at the beginning of [this] year, seeing what the economic situation was".
Added Dumont: "When the financial performance and the outlook is much clearer, then we are going to resume do the M&A operations."Music Business Worldwide